As a small investor who reads a lot about stocks, I always sigh about that typical line that comes back and back on investor sites: "What if you had invested $10,000 in…" (and then for example 'Apple in 2003'). I am just an Average Joe, working from 9 to 5. I don't have 10,000 dollar to invest at one moment at a time. And I know a lot of you are in the same situation. We have to save, first for their 'emergency fund,' for a house, a car, maybe for other necessities and only then we buy stocks.
My wife and I are the proud parents of a wonderful almost two-year-old girl. When you have children, the ideal moment to start investing is from birth. But, as is the case with many middle-class people, we don't have thousands of dollars to invest for the apple of our eye. We decided to put aside about $150 a month for her that we can use to create a portfolio. Every month I will buy some stocks and I will update the state of the portfolio here on SA.
I chose to call it the Pink Portfolio because that is her favorite color. (By the way, if you abbreviate that, you also have one of her favorite words of the moment). I will try to diversify from the beginning. Since we started saving from her birth but haven't bought any stocks just yet, I will sometimes accumulate a stock I have bought before, but then I will report this in a next write-up. It may as well be that I keep the cash for when the stock market seems to have corrected.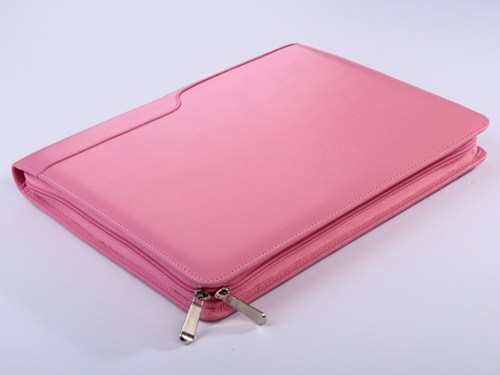 (Source: artfire.com)
For a lot of big shots, $150 a month means nothing - maybe just a tip in a fancy restaurant, a drop in the ocean, but for us this is something. Next to that $150 a month for our sweetie's Pink Portfolio, we also put money aside for our own retirement portfolio and we still have quite some costs to pay off our mortgage and to refurbish our house.
The time frame for this portfolio is really long: 20 to 50 years, depending on what our daughter wants to do with it once she is an adult: make the honeymoon of her dreams, buy a house or use it to retire earlier.
I will analyze the stocks that I buy for her, give my reasons for adding them to the Pink Portfolio for the really long term and talk about valuation. I will also explain the rules that I will use for this portfolio and apply them on the stocks that I buy.
The first buy for the Pink Portfolio
It took some time to decide on the first buy for the Pink Portfolio. I considered WhiteWave (NYSE:WWAV). Our little girl is allergic to cow milk and she always drinks almond milk. I have written an article on WhiteWave and we own some shares as well, so I believe in this company.
I also thought about Hannon Armstrong Sustainable Infrastructure Capital (NYSE:HASI), a company I believe in as well. Again: we have some shares and I wrote about it. This is a green energy play and in her life this will be even more important than in ours.
But I decided to buy something else, a brand that already has influence on her at this young age. She has a sweater of Nike (NYSE:NKE) that she really loves. She looks so pretty in it and, very important for her, the color is pink. So the die is cast. What could be a better first buy for her Pink Portfolio than the company of her pink sweater?
But before I will buy the stock, I will make an analysis. Can the stock live up to the rules that I have set up? Let's find out together.
1. Less than $150 per share
The first rule is very simple: the stock should be under $150 per share because I want to buy every month. With a share price of less than $60, there is no doubt: PASS.
2. Safety

The companies I invest in for our girl must be safe. For the credit rating, I want A- or higher (except for some special situations). Nike's credit rating is AA-, so this is excellent safety.
I also think that this graph shows clear enough that debt is no problem for Nike.

This is a comparison of the Debt/Equity ratio of Nike and its competitors Under Armour (NYSE:UA) and adidas (OTCQX:ADDDF) (OTCQX:ADDYY).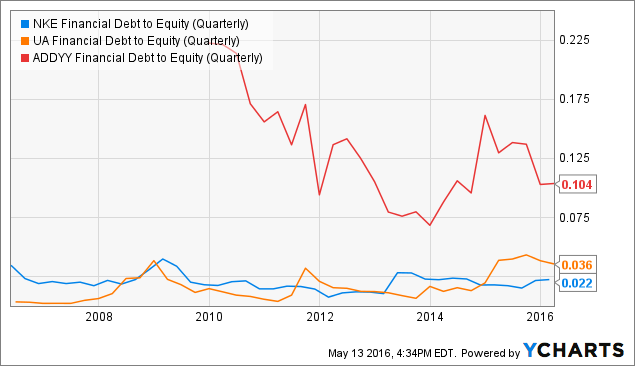 NKE Financial Debt to Equity (Quarterly) data by YCharts
As you can see, adidas has a high D/E and that means it has taken on a lot of debt. Under Armour has taken on some more debt recently, so Nike has the least debt compared to their equity.
The risk assessment tool of the Nasdaq website shows that Nike is quite safe. I added some stocks:
the much-discussed FANG stocks HASI and WWAV because I considered them too as a first buy for the Pink Portfolio
what is considered to be Nike's most competitive rival: Under Armour (the risk assessment tool didn't find adidas, probably because it is not American)
Microsoft to put things into perspective because this is one of the only two companies that have an AAA rating (the other one is JNJ).
For the Pink Portfolio I prefer a risk number under 200 and that is not a problem at all for Nike, which seems to be quite safe at 126.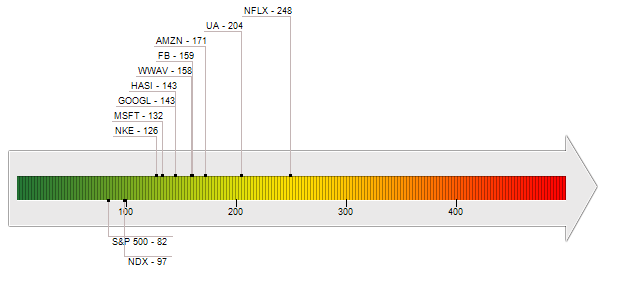 On the website SimpyWall.st you can find this 'snowflake' for Nike.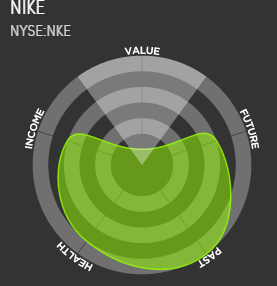 The green shows that something is good. The further away from the centre, the better the fundamentals in that part of the pie. So we see that Nike's (financial) health is great, which again indicates its safety. All the assessments point in the same direction: Nike is really a safe investment.
The snowflake shows that Nike's past performance is outstanding as well. Its future and income (this is the dividend) are reliable. Only the value is very low. This leads to the third criterion.
3. Valuation: fairly or undervalued
I want stocks in the Pink Portfolio that are undervalued or fairly priced, with a maximum premium of 10% for top stocks. Let's see how Nike is holding up here. I will look at different opinions about the stock value and then take the average for a fair valuation.
Simply Wall Street provides a fair value based on future free cash flows. The conclusion is that Nike's fair stock price is $41.12, while its current price is $57.99. That is an overvaluation of more than 40%.

Of course, this is just one method. As a lot of you know, valuation can differ a lot, depending on the method that is used.
Morningstar has a three stars rating on Nike, which means that it considers the stock fairly valued. It has a current P/E of 26.9 and a 5-year average P/E of 24.7. So let's take the current price of $57.99, divide it by 26.9 and multiply it by 24.7 for this calculation of the fair value. You become $53.2 as fair value then.
You could also look at the competitors in the sector for the valuation. The biggest worldwide competitor for Nike is adidas. adidas' P/E stands at 30. If you take Nike's price again, divide it by its current P/E and multiply that with adidas' P/E, you get a fair value of $65.3.
A dividend discount model (DDM) is also an often used valuation tool for dividend stocks. You can do that yourself, but stockanalysis-on.net has done it for us:

We see a fair value of give and take $62.
Another valuation method is the Free Cash Flow to Equity or FCFE. Again we take this from stockanalysis-on.net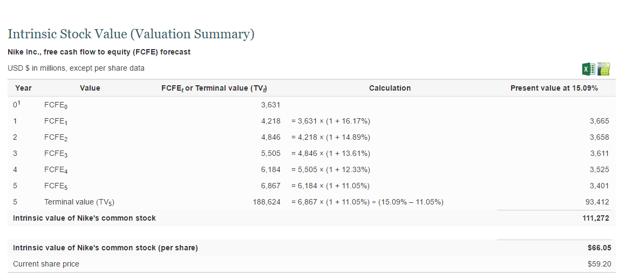 So here the fair value is $66.
According to finviz.com, the average target price of the analysts is $71.32.
So, let's put it all together:
| | |
| --- | --- |
| Method | Fair value |
| FCF | $41.1 |
| Historical P/E | $53.8 |
| P/E comparable competitor | $65.3 |
| DDM | $62 |
| FCFE | $66 |
| Analysts | $71.3 |
| AVERAGE | $59.7 |
So the average fair price of these six methods of valuation for Nike is $59.7. That means that the stock trades more or less at fair value. So PASS.
4. Future return: value or growth quality
I want either a good dividend or high growth or a mix of both for the Pink Portfolio.
Nike's stock may be one of those few companies that combines both growth and value. This is interesting for this article, since I can explain my Pink Portfolio rules for both value stocks and growth stocks.
The first question we want to investigate is if Nike is a good value stock.
Nike's dividend rate is $0.64, which means a yield of 1.10% with a price of $57.99. For dividend investors this doesn't seem to be very much, but if you look at the dividend growth, you see that the quite low yield is because the stock price goes up together with the dividend. Both the 3-year and the 5-year dividend growth rate are about 15%.
Only in the after days of the Big Recession the dividend was raised with a single digit. The average raise was 15%. Now that is what I like for a dividend. The fact that Nike's yield is still only just above 1% just means that the valuation went hand in hand with the dividend. Nike is a dividend contender on the list of David Fish, with a 14-year streak.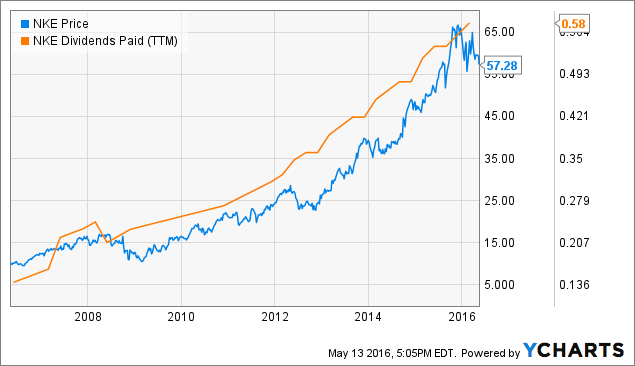 NKE data by YCharts
The Chowder Rule says that if a stock has a dividend yield of less than 3%, its five-year dividend growth rate plus its dividend yield must be 15 or higher. Nike has a 15% dividend growth both for ten and five years. If you add up the 1% dividend, then you see a PASS.
Is Nike still a growth stock too?
Being a growth stock means you grow considerably faster than an average stock. But it is always difficult to evaluate a growth stock. I like to use the criteria of Better Investing, the magazine of the NAIC (National Association of Investors Corporation), which is the umbrella organization of more than 13,000 investment clubs. The NAIC has given its members guidelines to evaluate growth companies. We consider some of the most interesting questions for Nike.
1. Is there a strong historical earnings growth?
The NAIC wants the annual revenues to go up. What they (and I) want to see is a minimum of 5% growth per year for at least five years.
This is the evolution of Nike's revenue growth: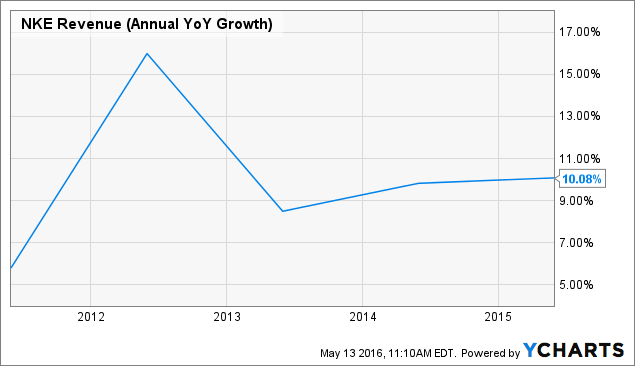 NKE Revenue (Annual YoY Growth) data by YCharts
As you can see, there is not a shred of doubt: the revenue growth is always above 5%, so PASS.
2. Is there a strong forward earnings growth?
NAIC would like to see a projected five-year growth rate of 10 to 12%. Finviz.com estimates Nike's five-year growth rate to be almost 14%, which is great for a company that is already this big. This graph also shows the earnings are expected to continue their EPS in the same way as before. Without a doubt, PASS.

(Source: SimplyWall St.)
3. Is the pre-tax growth high enough?
It is good if revenue grows, but if you burn money by excessive costs, your company has no future. Therefore, you should look at the pre-tax profit too.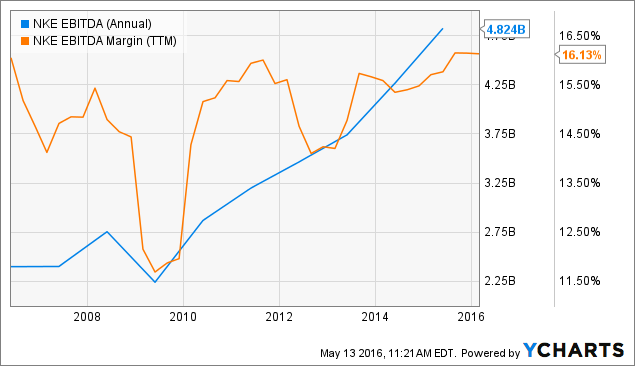 NKE EBITDA (Annual) data by YCharts
For a company with such a big market cap (almost $100 B) these results are quite impressive: there has never been an EBITDA margin with single-digits in the last ten years. In the last six years alone EBITDA more than doubled from $2.25B to $4.82B.
It even becomes more impressive if you compare this to the chart of adidas.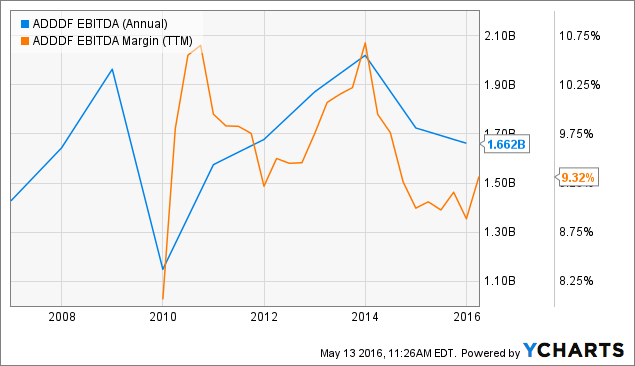 ADDDF EBITDA (Annual) data by YCharts
You can see that adidas' peaks never even can touch the bottoms in Nike's EBITDA margins.
Even the much-lauded growth stock, Under Armour, can't compete with Nike on the EBITDA margin since 2010.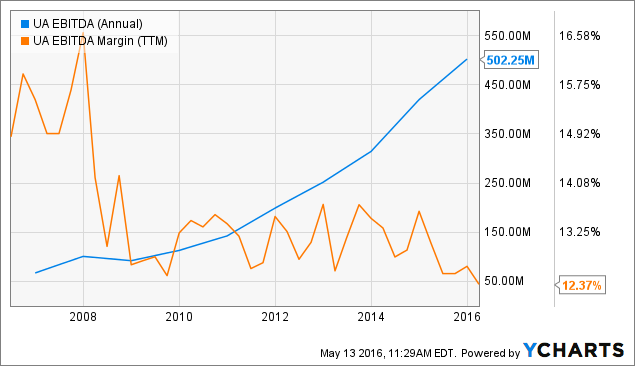 UA EBITDA (Annual) data by YCharts
So these impressive data clearly indicate a PASS.
4. Is the ROE high enough compared to the average of the industry?
This is about efficiency. The ROE (return on equity) should be stable or increasing and should be higher than the average of the industry.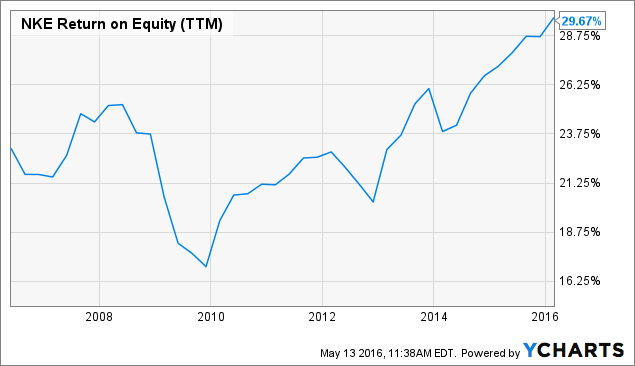 NKE Return on Equity (TTM) data by YCharts
From this chart we can already see that Nike's ROE is always above 20%, except in 2010. Compare this to the ROE of adidas. Again: the peak in the ROE of adidas can't touch the bottom of Nike's.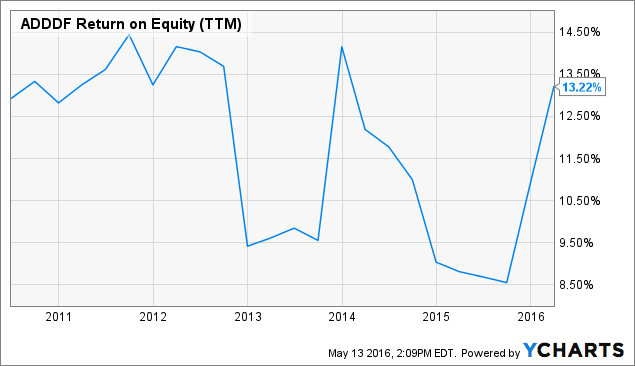 ADDDF Return on Equity (TTM) data by YCharts
After the Big Recession, Under Armour's ROE is in the mid or high teens. So here again, Nike is unbeatable.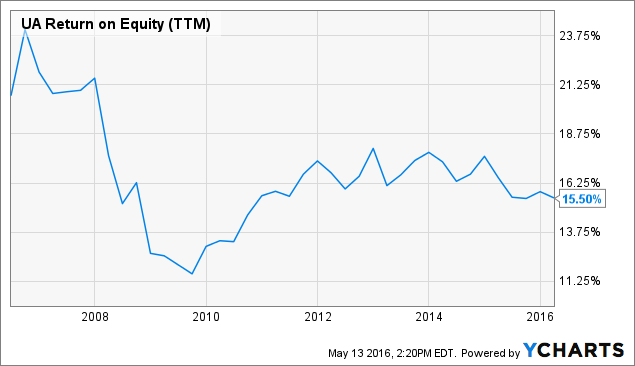 UA Return on Equity (TTM) data by YCharts
The ROE in the next three years is expected to be almost 35%, which is about 70% higher than the average of the consumer products industry.
The conclusion is very simple: double PASS.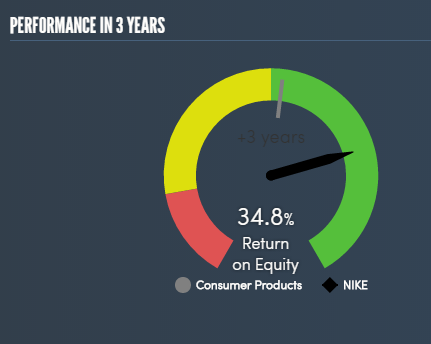 Source: Simply Wall St.
5. Can the stock price double in five years' time?
This sounds ambitious, but it means a growth of 15% per year. Of course, the stock market is unpredictable. But the question is not if the stock will double but if it has the ability to double. The best ratio to use here is EPS. If those go up and the valuation stays the same, then you get what you want.
Think of the famous quote of Benjamin Graham: "In the short term the stock market is a voting machine, in the long term a weighing machine." He meant that stock prices tend to follow earnings in the long run. The estimated EPS growth for Nike for the next five years is 14%. This would be just not enough for a pass, but we will have a look at the earnings surprise history of every quarter since 2010.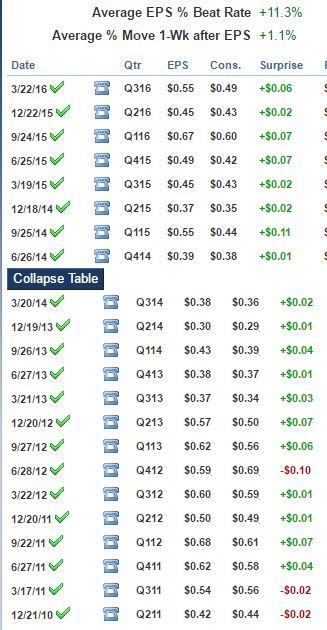 Source: Streetinsider.com
In 22 quarters, Nike had 19 earnings surprises, with an average earnings surprise of 11.3%. So if this continues, this 14% is in fact 15.6% of annual growth. This is merely a math game of course because you should not forget that these numbers are estimates and what is a 1% mistake for a forecast about a five-year period? I think Nike really has the ability to double in five years' time, so it gets a PASS.
Takeaway
Even with a small amount of money, you can build a portfolio. For our little girl, I am building the Pink Portfolio. Over time, $150 will keep coming and the Pink Portfolio will keep growing. Time will be its biggest friend. I will regularly update the Pink Portfolio. Maybe not every month because sometimes I will just accumulate in an existing position.
The first buy was Nike, which will probably be one of our daughter's favorite brands when she gets older, especially when she finds out that she owns a tiny part of that iconic company. Since you can only buy 2 shares for $150, that is exactly what I will do for now. Of course, if we have the feeling that the opportunity stays, we will accumulate.
This is how the Pink Portfolio looks like after the first buy.

If you want to see how the Pink Portfolio grows, please push the "Follow" button.
Keep growing!
Disclosure: I am/we are long NKE, UA, HASI, WWAV.
I wrote this article myself, and it expresses my own opinions. I am not receiving compensation for it (other than from Seeking Alpha). I have no business relationship with any company whose stock is mentioned in this article.
Editor's Note: This article discusses one or more securities that do not trade on a major U.S. exchange. Please be aware of the risks associated with these stocks.