As a commodity, lithium remains a resource that continues to face high demand. Within this constrained supply market, there are few key players that have thus far managed to corner the market. One such company investors should consider is FMC Corporation (FMC). While not the largest player in the market, FMC offers investors a more balanced approach towards investing in the commodity. It also offers investors a meaningful opportunity to exploit a secular demand growth trend that is widely anticipated for lithium.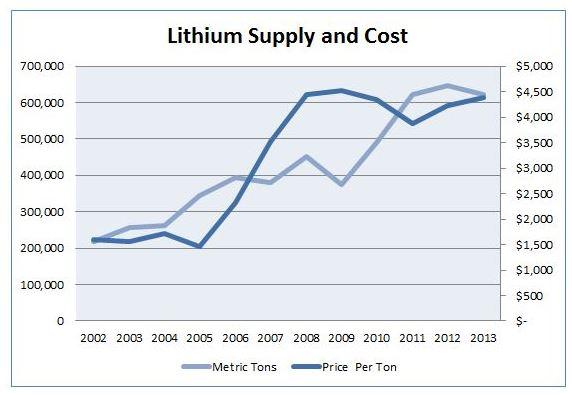 The Case For Lithium
As the world moves forward towards a more sustainable future, it is becoming increasingly clear that electric storage is going to play an important role. As hundreds of thousands of consumers flocked to pre-order Tesla's (TSLA) latest electric vehicle, the world was reminded by the rapidly growing demand for lightweight and efficient electric batteries. At the core of Tesla's operations and those of its numerous developing competitors is an increasing demand for lithium.
As an industrial commodity, lithium's functional contribution extends far beyond its use as a manufacturing input for batteries. Lithium oxide, for example, is used in special glasses and in ceramics. Lithium chloride is used in air conditioning and industrial drying systems. Lithium stearate is used as an all-purpose and high-temperature lubricant. Yet by and large, the most important use of lithium remains the rechargeable batteries used throughout the consumer sector for mobile phones, laptops and digital cameras currently in existence.
In 2015, lithium proved to be the only commodity to show positive price movement. This defied the downward spiral experienced across the commodity market which faced falling global demand in China and across a weakening industrial sector. Yet as the world moves towards a greater electric future, the strain on existing supply sources appears to be ever pressing. Tesla's own CEO Elon Musk was quoted to have said the following: "In order to produce a half million cars per year...we would basically need to absorb the entire world's lithium-ion production."
A Look At FMC Corporation
Amidst the sprawling demand for lithium, there are surprisingly very few options to invest in. Three public companies control a majority share of the entire market. These companies are Albemarle (ALB), Chemical & Mining Co. of Chile Inc. (SQM), and FMC Corporation. Out of these three companies, both Albemarle and SQM carry the greatest market share weight. While all three companies appear to have their own strengths in this sector, FMC Corporation appears to be the most diversified holding.
FMC Corporation operates largely through its business segments of FMC Agricultural Solutions, FMC Health and Nutrition, and FMC Lithium. Effectively, this diversification helps to reduce the overall volatility of operations typically found in sector concentration. Within the company's lithium segment, FMC is also well positioned to address the higher-valued specialty market. Out of the company's revenue in this segment, 72% can be noted to address this specialty side of the market.
Since 2010, FMC has gone through an extensive transformation to streamline its business portfolio and improve its operating efficiency for a sustainable long-term future of growth. Over the past six years, the company has divested or shut down five businesses and acquired or entered into alliances and collaborations with more than 15 companies. It has also invested over $750 million in research and development.
In 2015, FMC completed the acquisition of Cheminova for $1.8 billion, largely financed through the proceeds from its divestment in FMC Alkali Chemicals for $1.64 billion. Within three years, the company expects to realize $120 million in total synergies from this investment alone. FMC is now set to emerge from this transformation with a committed focus and with more efficient operations moving forward.
Today, FMC supports a market capitalization of $6.15 billion, based on the last share price of $46.00 as of May 13. According to the company's latest quarterly earnings report, the company generated consolidated revenues of $799 million, a 21% increase over the same period in 2015. This resulted in net income of $48.3 million or $0.36 per share. For the same period in 2015, the company experienced a net loss of $0.35 per share. However, consolidated adjusted earnings per share amounted to $0.58 for the quarter.
Looking forward, the company anticipates the 2016 adjusted earnings per diluted share to be between $2.55 and $2.85. This earnings outlook was an increase of $0.05 per share compared to its prior guidance. It also represents a 9% increase compared to its 2015 adjusted earnings per share of $2.47.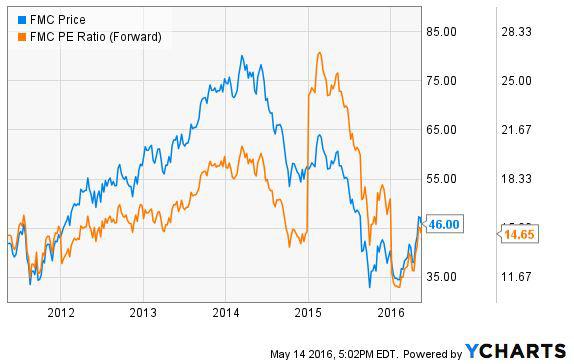 Despite the company's stable earnings outlook, the company has fallen significantly as a global bear market descended upon the commodity space beginning in 2014. FMC's stock has since begun to show signs of recovery beginning in 2016. One positive attribute that should not be dismissed is the company's solid track record for dividend growth. While admittedly FMC's yield has historically been quite low averaging around 1%, it has consistently increased its dividend rate. Such dividend stability even amidst falling share prices should bode well for investors looking to receive a stable and growing income component for their portfolio.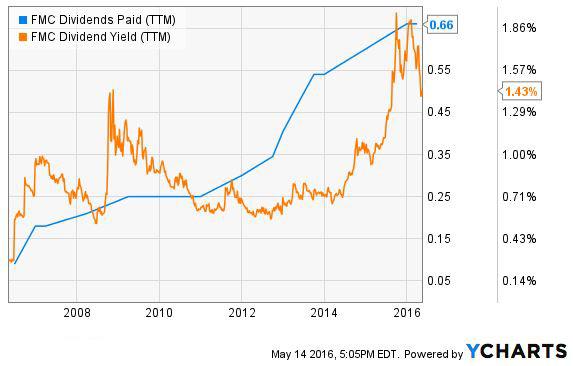 Some Additional Thoughts
For investors looking for overall diversification within the lithium market space, there is an alternative investment to consider while still maintaining a decent amount of exposure to FMC. This is the Global X Lithium ETF (LIT), which invests in the full lithium cycle from mining of the metal to its refining. It is also inclusive of companies that incorporate it in their battery production. Interestingly enough, despite its 25-company holdings portfolio, FMC Corporation accounted for 20.63% of the ETF's net assets as of May 14. It also served as its largest holding with SQM coming in second at 9.52% of the total net assets.
While by no means the most dominant player in the lithium market, FMC is still a significant market share holder in a confined space ready for extensive growth. At the same time, the company is diversified in multiple segments prone for strong demand when we consider crop protection and the restrained markets for omega-3 oils, for example.
The company is now emerging from an extensive transformation period and it should be well-positioned for growth in the coming years. While the markets have significantly discounted FMC amid an industry-wide decline, the outlook for the company overall remains steady. Having been founded in 1884, FMC's 132-year history remains a testament to its balanced approach to success. Overall, FMC Corporation looks to be a solid base holding position for investors looking to build a balanced portfolio. Its combined growth attributes and consistent dividend growth allow for an ideal combination for those looking at exposure to each.
Disclosure: I am/we are long FMC.
I wrote this article myself, and it expresses my own opinions. I am not receiving compensation for it (other than from Seeking Alpha). I have no business relationship with any company whose stock is mentioned in this article.