Fastenal Company (NASDAQ: FAST) sells industrial and construction supplies to end-users (business-to-business), and also has some walk-in retail business. The Company's product offerings include fasteners and other industrial and construction supplies, many of which are sold under the Fastenal product name.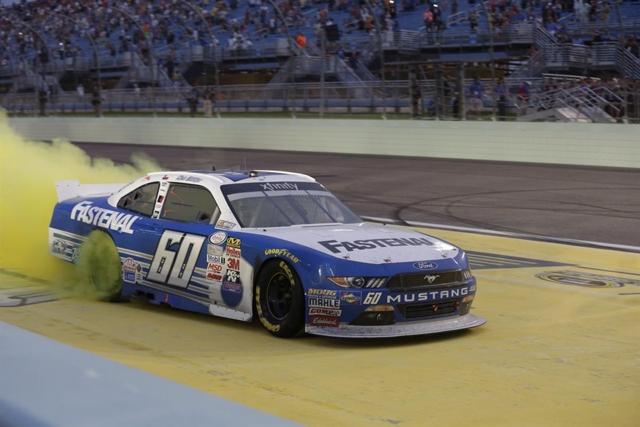 The Company's product line, which it refers to as the fastener product line, consists of two categories: threaded fasteners (such as bolts, nuts, screws, studs and related washers) and miscellaneous supplies and hardware (such as various pins and machinery keys, concrete anchors, metal framing systems, wire rope, strut, rivets and related accessories).
The Company's product line includes fasteners, cutting tools, tools, hydraulics and pneumatics etc. It operates approximately 14 distribution centers in North America.
Fastenal Company operates within the Building Materials & Garden Supplies sector. We can compare Fastenal Company with three other companies:
Watsco (NYSE: WSO),
MSC Industrial Direct (NYSE: MSM),
Airgas (NYSE: ARG).
Stock Performance.
For the 52 weeks ending 5/01/2016, the stock of FAST company was up 19.2% to $48.93. During the past 13 weeks, the stock has increased 19.9%. During the 12 months ending 12/31/2015, earnings per share totaled $1.77.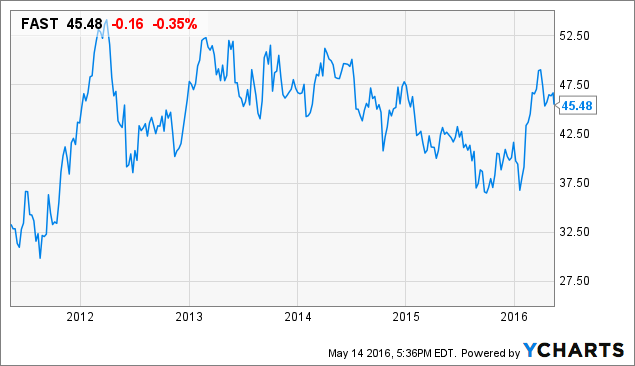 The Price / Earnings ratio is 27.64. Earnings per share rose 6.4% in 2015 from 2014. This company is currently trading at 3.65 times sales (See table below).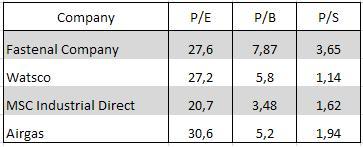 This is at a higher ratio than all three comparable companies, which are trading between 1.14 and 1.94 times sales. Fastenal Company is trading at 7.87 times book value. The company's price to book ratio is higher than that of all three comparable companies, which are trading between 3.48 and 5.80 times book value.
Dividends.
During the 12 months ending 12/31/2015 FAST paid dividends of $1.14 per share. Since the stock is currently trading at $45.48, this implies a dividend yield of 2.5%. This company's dividend yield is higher than the three comparable companies, which are currently paying dividends between 1.7% and 2.2% of the stock price.
Fastenal Company has increased its dividend during each of the past 5 calendar years (in 2010, the dividends were $0.41 per share). During the same 12 month period ended 12/31/2015, the Company reported earnings of $1.77 per share - FAST paid 64.4% of its profits as dividends.
Sales.
During the year ended December of 2015, sales at Fastenal Company were $3.87 billion. This is an increase of 3.6% versus 2014, when the company's sales were $3.73 billion. This was the fifth consecutive year of sales increases at Fastenal Company (and since 2010, sales have increased a total of 70%).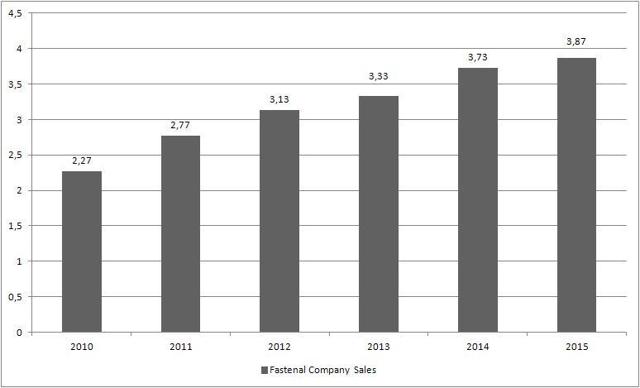 The company derives almost all of its revenues in its home market of the United States: in 2015, this region's sales were $3.44 billion, which is equivalent to 88.9% of total sales.
In 2015, sales in Other Foreign were up at a rate that was much higher than the company as a whole: in this region, sales increased 9.7% to $204.78 million.

Although sales at FAST increased at a slower rate than the three comparable companies in 2015. The sales increase of 3.6% was less than those at Watsco (up 4.3%), MSC Industrial Direct (4.4%), and Airgas (4.6%).
Profitability.
On the $3.87 billion in sales reported by the company in 2015, the gross profit was 52.6%. This gross profit margin is slightly lower than the company achieved in 2014, when cost of goods sold totaled 47.2% of sales.

The gross margin in 2015 was the lowest of the previous five years (in 2013, the gross margin had been as high as 53.6%).
The company's EBITDA were $913.94 million, or 23.6% of sales. This EBITDA to sales ratio is roughly on par with what the company achieved in 2014, when the EBITDA ratio was 23.0% of sales.
The three comparable companies had EBITDA margins that were all less (between 8.7% and 18.3%) than that achieved by Fastenal Company.
The company's return on equity in 2015 was 27.0%. This was a decline in performance from the 27.9% return that the company achieved in 2014.
Financials.
As of December 2015, the company's long term debt was $302.95 million and total liabilities were $731.17 million. The long term debt to equity ratio of the company is 0.17.
Key risks for Fastenal Company are: leverage risk, technical and operational risk, geopolitical risk, seasonal risk. It refers to the speculative segment - speculative risk ranking reflects exceptionally high financial and operational risk, exceptionally low predictability of financial results, and exceptionally high stock volatility.
Fastenal trades at modest multiples, I think it could be at least in line with peers in the Farm machinery and equipment sector. I expect FAST to perform better than its peers due to the greater leverage and a number of strong products with solid advantages and good return. I believe there could be further upside for Fastenal in the nearest future, I recommend buying FAST.
Disclosure: I/we have no positions in any stocks mentioned, and no plans to initiate any positions within the next 72 hours.
I wrote this article myself, and it expresses my own opinions. I am not receiving compensation for it (other than from Seeking Alpha). I have no business relationship with any company whose stock is mentioned in this article.