SolarCity (SCTY) has experienced an excruciating past few quarters in nearly every respect. The regulatory headwinds and financing troubles plaguing the residential solar industry are hitting it hard. SolarCity reported yet another disappointing quarterly report, causing the company to lose approximately a quarter of its value almost immediately following earnings. While it is still dominating the distributed solar industry, the company is facing unprecedented challenges.
The most disappointing aspect of the company's first quarter was it staggeringly weak bookings of 160 MW. What's more, SolarCity's Q1 bookings came in at a stunning 150 MW lower than its own expectations. As a result of the company's Q1 underperformance, it revised down its 2016 guidance from 1.25 GW to 1-1.1 GW. SolarCity's Q1 cost structure also ballooned to $3.18 per watt from its Q4 cost structure of $2.67 per watt as a result of the company's slowdown in growth. In fact, its sales cost per watt nearly doubled sequentially as a result of lower bookings volume.
On the slightly brighter side, SolarCity beat its Q1 installation guidance by 19% at 240 MW installed. In addition, the company's revenue of $122.6 million grew an impressive 82% YOY. Unfortunately, the impressive installation and revenue figures offer little reprieve in light of its incredibly disappointing bookings, guidance, and cost figures. Despite its massive recent underperformance, investors are still being overly pessimistic on the company's long-term prospects. The challenges facing the company have been more than priced into its plummeting valuations.
While SolarCity's costs skyrocketed in Q1, sales costs were primarily responsible for the increase. This means the company should be able to bring costs back down once bookings begin to pick up again.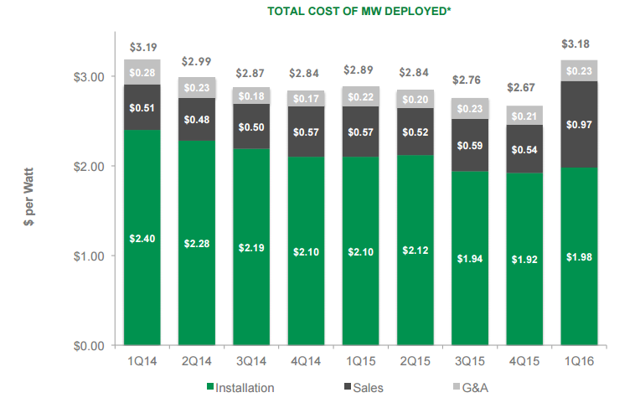 Source: SolarCity
Irrational Fears
SolarCity has undeniably lost some credibility over the past few quarters, after repeatedly failing to live up to its own expectations. While it is certainly not as promising as it once seemed, the stock is still an attractive investment opportunity at its current valuation of $2 billion. Much of the investor fears surrounding SolarCity appears to be heavily influenced by SunEdison's (SUNE) sudden and catastrophic collapse. However, such fears are largely irrational, upon closer inspection.
Aside from some financing difficulties, SolarCity's situation is not analogous with that of SunEdison. SolarCity, for instance, is not acquiring companies left and right (resulting in billions of dollars in debt) and getting itself involved in virtually every single business in solar and wind. SunEdison's willingness to recklessly acquire companies and enter new businesses was, arguably, the main cause of the company's demise. Aside from SolarCity's recent foray into utility-scale solar, the company is largely staying focused on its core distributed solar business. Even its manufacturing ambitions are geared towards lowering the company's distributed solar cost structure.
While SolarCity near-term prospects have certainly been dimmed by a greater-than-expected regulatory pushback (particularly in Nevada), its growth should recover somewhat given the company's recent regulatory wins in states such as California, New Hampshire, and Massachusetts. A likely growth recovery should also cause its cost structure to resume the downward trend. After all, SolarCity's sales cost per watt will likely return to normal levels once bookings begin to pick up pace. Even with the sales per watt increase in Q1, however, SolarCity still boasts the industry-leading cost structure among major distributed solar players. Although it is finding the regulatory environment to be much harsher than anticipated, the company is by no means in a hopeless situation.
Its Long-Term Prospects Are Still Strong
Criticisms regarding the validity of SolarCity's lease/PPA assumptions have only grow stronger over the past few weeks. Its 6% discount rate, for instance, is now being relentlessly questioned after the company completed a $227 million cash equity financing deal with John Hancock using a discount rate of approximately 8%. Even if SolarCity is being overly optimistic in some of its long-term assumptions, the company will still likely generate a great deal of value from its lease/PPA products. After all, its default rates are still very much at acceptable levels despite the fact that the company has been selling long-term solar products for nearly a decade now. This is great news for SolarCity bulls, as bear arguments are centered around lease/PPA default rates.
In addition, SolarCity is making a move towards loans, which should help reduce some of the worry surrounding its long-term lease/PPA. Given the company's highly competitive cost structure, it will almost certainly be able to carve out a dominant presence in the solar loan market. While margins will likely be lower in the loan business (assuming the company's long-term lease/PPA assumptions are at least somewhat accurate), there is far less financial engineering involved in solar loan products. If SolarCity experiences success in the loan market, it will no longer have to worry so much about financing and near-term balance sheet health.
Potential Troubles Ahead
SolarCity's growth slowdown is not as worrisome when put in context of the similar growth slowdowns of other major distributed solar companies like Vivint Solar (NYSE:VSLR). However, this does not mean smaller/regional installers are also experiencing such a slowdown. As some of the current distributed solar headwinds are somewhat limited to larger players, it would not be surprising to see smaller/regional installers start to grow faster than their larger competitors in the near term.
One of the main threats facing the company and other large distributed solar companies are regional installers. While large vertically integrated companies like SolarCity have dominated the industry thus far, this trend may not hold up in the long run. In fact, most major installation industries are dominated by regional companies. However, distributed solar is far more complex and capital-intensive than most installation industries, which puts larger and more vertically integrated companies at an advantage. Still, investors should be aware of differing growth trends between larger and smaller distributed solar companies.
Conclusion
While certainly not as promising as it seemed in quarters past, the company has far more upside at its current market capitalization. SolarCity should be able to survive its current predicament and continue dominating the distributed solar industry. With all the near-term difficulties facing the company, it is easy to forget it still has approximately one-third of residential solar's market share and approximately one-fifth of commercial solar's market share. Although SolarCity is undoubtedly operating in an increasingly harsh environment, the company has all the tools to thrive.
Disclosure: I am/we are long SCTY.
I wrote this article myself, and it expresses my own opinions. I am not receiving compensation for it (other than from Seeking Alpha). I have no business relationship with any company whose stock is mentioned in this article.