Self fulfilling prophecy is one of the most important pillars of social, political, and also financial, realities. My idea in this article is that Donald Trump believing (or at least saying it repeatedly) that the Chinese are manipulating their currency to the downside will actually affect the yuan to the downside, and this in turn will help Trump become president, further adding downward pressure on the yuan. My rationale is that the simple, erroneous but popular, idea that the Chinese authorities are manipulating their currency to the downside will in fact force the Chinese to abstain from manipulating their currency to the upside (as they have been doing for almost two years), and this in turn will weaken the yuan, giving more credence to what Donald Trump has been saying from the start of his presidential campaign - a self fulfilling prophecy, which will help Trump become the next president.
Relatively few people believe that Donald Trump will become the next US president, and I am one of those few. One of Mr Trump's oldest beliefs is that the US has horrible trade deals with other countries . And that the US is losing out very badly to the rest of the world, in numerous ways, because it is too stupid, or perhaps kind, to other countries and trading partners. Trump wants to overhaul US trade agreements with pretty much every country or economic bloc (such as the EU). Although he may say a lot of things just for the sake of winning some votes, things which are either very unlikely, or outright impossible (like banning Muslims from entering the US), to ever be implemented, his belief about the US losing out in its trade agreements is not one of them. Mr Trump argued against NAFTA in the early 1990s. Also Mr Trump's ramblings against China, and US trade deals with that country, are no novelty. These are Donald Trump's deeply held convictions.
Trump has accused China of currency manipulation, saying that the Chinese are "devaluing" their currency, "unfairly" putting US producers/employers/employees in a disadvantage. He has been repeating this over and over again, and there is no reason to believe he doesn't mean what he says. There is no indication Donald Trump is being demagogic about this issue. He has repeatedly said that he would tax (45%) Chinese imports to the US in retaliation for China's currency devaluation.
Up until recently the probability of a Trump presidency seemed remote, but things changed when he pretty much secured the Republican party's nomination. Now his chances of becoming the next US president are real. Other countries would better start preparing for a potential Trump presidency, and many are, already, devising plans for such a scenario.
The fact of the matter is that the Chinese have been pouring huge amounts of money, since 2014, to protect their currency, the yuan, against its tendency to weaken against the US dollar. Hence Donald Trump's assertion is not only untrue but actually the complete opposite of reality. As a result of their intervention (or manipulation, but to the upside) China's foreign exchange reserves have fallen from a peak of $4 trillion in 2014 to almost $3.2 trillion. Despite spending net of $800 billion to defend their currency, the Chinese yuan has lost some ground against the US dollar, from a peak of about 6.05 to the dollar to more than 6.53 now - a depreciation of almost 8% (chart below). Obviously the devaluation has not been intentional but a result of free market movements, greatly offset by the Chinese authorities' intervention to the contrary.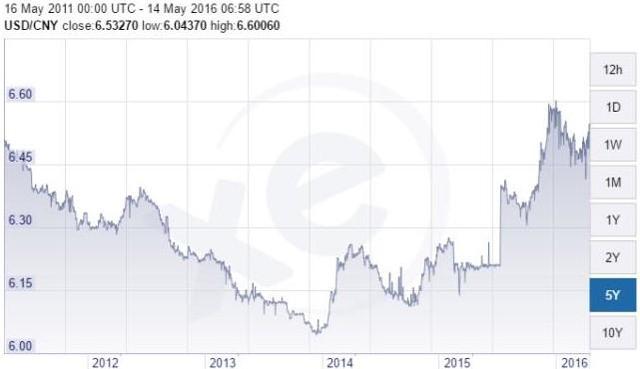 It is most likely just a coincidence that since Mr Trump assured his GOP nomination the yuan has started anew to weaken against the dollar (as the chart above can show). It is getting very close (about 1% more to go) to the lows (6.60 to a US dollar) of January which caused a serious panic in financial markets.
Let's think about the following scenario: the Chinese authorities start to think that a Trump presidency is a very serious possibility (and they sure do believe that already)! How tempted would they be to intervene in the currency markets (spending their precious currency reserves) to stop the yuan sliding further against the US dollar? In case Trump becomes the next US president he has repeatedly promised to hike (he has repeatedly said 45%, which will likely end up to be lower in reality) tariffs on Chinese exports to the US. Of course the Chinese authorities, fearing this, will not be very tempted to spend much of their foreign exchange reserves to defend the yuan. Mr Trump does not seem to appreciate what the Chinese have been doing - he is even calling them currency manipulators to the downside, while in reality the Chinese have, for two years, been currency manipulators to the upside, helping the yuan be stronger than it could normally be. Why would the Chinese intervene now, to keep the yuan strong until the US presidential election in November, in case the next US president can impose huge import tariffs on their goods, massively pushing the yuan lower, practically erasing all their efforts of defending their currency? The Chinese currency is very dependent on exports, and any significant hike in import tariffs by the US would have a massive impact on the yuan, adding to already existing market pressures.
A looming Trump presidency will, I believe, make the Chinese authorities be hesitant to use their foreign exchange reserves to defend the yuan against devaluation. This is no joking matter, for any economy in the world, but a Trump presidency is no joking matter either. He may seem a funny guy, but his declared policies are not funny to the Chinese, and they are right to be wary.
The interesting part in this equation is that Donald Trump lambasting against the Chinese can indeed lead to further devaluation of the yuan, and that in turn can prove to the American public that he is indeed right saying that the Chinese are devaluing their currency, and this in turn can significantly increase his chances of getting elected. A yuan depreciation is almost certain to have another effect, as it was seen early this year and in summer of last year - causing havoc in financial markets. This too can only be beneficial for Donald Trump, doubly increasing the likelihood that he wins the presidency. Most Americans believe (largely based on doubtful evidence) that Mr Trump is the most able candidate to handle the economy.
It is a self fulfilling prophecy that Mr Trump is orchestrating, but I seriously doubt he ever intentionally devised such a devious plan. It is simply going to be random probabilities working in his favor.
Of course the Chinese may also think that they can help Trump win the presidency in case they do not defend their currency more rigorously. And they definitely do not want to help Mr Trump get elected. However it is an even riskier bet for them to play the hero in order to influence the outcome of the elections in the world's most powerful country. It may turn out in their favor if they play their hands carefully, and they are lucky, but in case Trump does win the presidency anyway, that would mean a disaster for the Chinese, as they would not only be left with a much smaller foreign exchange reserve, but also in a situation in which they either have to pour even more money to defend their currency more (something probably impossible), or be slapped with onerous tariffs by an angry president representing angry masses in America. I believe the Chinese are simply going to be a lot more hesitant in defending their currency in the coming months, to November, and hope that the US economy goes as smoothly as possible so that the American electorate choose Hillary Clinton. And I seriously doubt the Chinese hopes will be fulfilled.
Brace for a very serious possibility - a much weaker yuan, and its financial and political consequences: a Trump presidency and trouble in financial markets.
Disclosure: I/we have no positions in any stocks mentioned, and no plans to initiate any positions within the next 72 hours.
I wrote this article myself, and it expresses my own opinions. I am not receiving compensation for it (other than from Seeking Alpha). I have no business relationship with any company whose stock is mentioned in this article.