"Finance, like time, destroys its children."

- Honore de Balzac
It was a sad state of affairs when it was announced that Exxon Mobil (NYSE:XOM) had lost its AAA rating. When I wrote approximately two months ago about the issues I had with the company paying such high dividends in the face of its upstream problems, several commenters took issue with my pessimistic assessment of Exxon. I wish I had been wrong!
By contrast, French oil company Total (NYSE:TOT) underwent a downgrade earlier this month by Moody's, from Aa3 to Aa1. The problem with Total, according to Moody's, originated from the global oil slump, whereas it seems Exxon's problems are sui generis.
Both companies have been performing rather poorly even before their downgrade, with an average decline of 75% for Exxon over the past two years, contrasted with an average decline of 14% for Total. However, the very different cash positions of the two companies are shown in the graph below.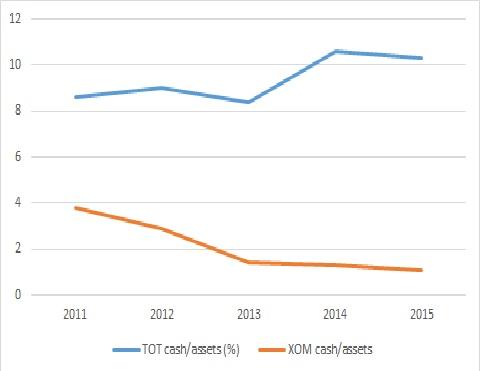 Source: Exxon and Total annual reports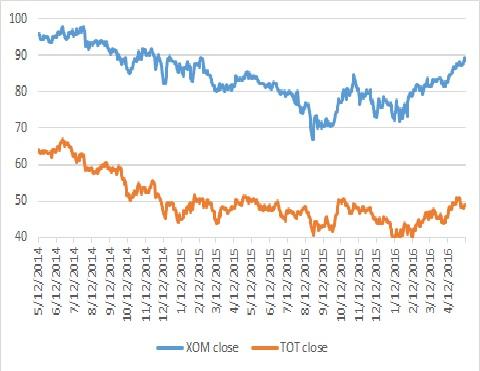 Source: Yahoo Finance
Most probably, there have been several factors behind the comparative performance of the two companies. Both of them rank in the top 25 in terms of production, with Exxon at number 3 and Total at number 10.
Cash in, cash out?
There are a number of reasons that a company like Total would hold the level of cash it does. The simplest reason is that it holds cash in a deflationary Europe, because the opportunity cost of holding cash is very low. On the other hand, a French economist, Khaoula Saddour, has written about the specific French propensity to holding cash.
In short, there could be a multiplicity of reasons that a company like Total holds so much cash, including the degree of leverage, the average time on accounts payable and the debt structure. But primarily, cash holdings affords the company a degree of independence in its future strategic decisions. (For instance, for fans of solar power, Total holds a 60% stake in SunPower (NASDAQ:SPWR), a Silicon valley company.) The following table presents some salient comparisons between Exxon and Total from the first-quarter filings. Overall, Total had a great first quarter compared to Exxon, mostly due to the decline in downstream earnings for the latter. The dividends paid were comparable.
| | | | | | |
| --- | --- | --- | --- | --- | --- |
| | Dividends per share | Earnings per share | Change in downstream earnings | Change in exploration expenditures | Change in upstream volumes |
| TOT | $.68 | $.67 | Stable | -70% | 1.8% |
| XOM | $.53 | $.43 | -45% | -7% | 8% |
Source: 1Q2016 reports for Exxon and Total
The balance sheet head-to-head between Total and Exxon
There is an additional story to be told by looking at the balance sheets for the two companies. The level of investments, debt structure and leverage can also be important, as explained above. In addition, both companies seem tilted towards dividends. Traditionally, any change in retained earnings would be considered a source of future dividends. So, other than the standard variables to consider, changes in the company's retained earnings would be key to anticipating future dividend policy. It should be noted that while Total maintains a healthy position overall (due to the retained earnings statistic and the declining position in long-term debt), its overall inventory level is unfavorable compared to that of Exxon. An interesting variable is the net receivable position, defined as the difference between accounts receivable and payable. The change in that variable is analogous to Exxon's.
| | | | | |
| --- | --- | --- | --- | --- |
| | Change in retained earnings (2014-2015) | Change in long-term debt (2014-2015) | Change in total inventory position (2014-2015) | Change in net receivable position (2014-2015) |
| TOT | 7% | -2% | -13% | -17% |
| XOM | 1% | 7% | -2.5% | -13% |
Source: Exxon and Total 2015 annual reports
The French advantage?
It's not clear how Total's strategic position compares to that of Exxon. It seems that the latter company is investing in several upstream projects in Canada, Guyana and West Africa. Total, on the other hand, is still heavily invested in Africa and, as explained above, is expanding into solar and biomass. But I would say that Total still has "that French cash thing" going for it, based on its strong cash and retained earnings position.
Disclosure: I/we have no positions in any stocks mentioned, and no plans to initiate any positions within the next 72 hours.
I wrote this article myself, and it expresses my own opinions. I am not receiving compensation for it (other than from Seeking Alpha). I have no business relationship with any company whose stock is mentioned in this article.