The bull case for lithium has been around for a while and is based on lithium's primary role in rechargeable batteries and the expected growth in solar power usage and consumer electronic devices sales, as well as the electric vehicles market boom. The biggest driver behind the expected growth in lithium demand is the expected rise in electric vehicles that use much more lithium carbonate equivalent in their batteries than other usages, as shown in the table below:
| | |
| --- | --- |
| Application | Lithium Carbonate Content |
| Cell Phone | 3 grams / 0.1 oz |
| Notebook | 30 grams / 1.0 oz |
| Power Tool | 30 - 40 grams / 1.0 - 1.4 oz |
| Hybrid ('HEV') 3kWh | 1.58 Kg / 3.5 lbs |
| Plug-in Hybrid ('PHEV') | 11.28 Kg / 26 lbs |
| Battery Electrical Vehicle ('BEV') | 19.95 Kg / 44 lbs |
| Tesla 85 kWh | 50.8 Kg / 112 lbs |
Source: Albemarle Global Lithium Market Outlook, March 2016
According to a Goldman Sachs report, the electrical vehicles market share is expected to reach 25% of the total auto market in 2025, up from only 3% today, when the vast majority will be hybrid cars, as shown in the chart below. According to the bank's auto research team, every 1% increase in BEV penetration would increase lithium demand by 70,000mt of LCE/year, which is half of the current global demand for lithium.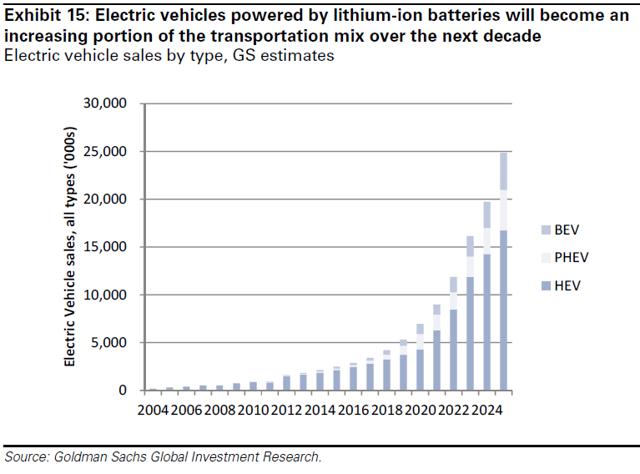 Unlike the common belief, the growth of the electric vehicles market is not based solely on Tesla (NASDAQ:TSLA) but also on EV offerings from other automakers like Toyota (NYSE:TM), Ford (NYSE:F), Nissan (OTCPK:NSANY), General Motors (NYSE:GM), and others. However, the contribution of Tesla and its Gigafactory to the buzz of the EV market and potential drop in battery costs could not be ignored, and many investors use Tesla as a proxy for the growth of the EV market. Since lithium is not a traded commodity with a liquid future contracts market, I can understand the logic behind the Tesla investment; however, it only captures a part of the expected growth in lithium demand. A Tesla investment misses out completely on the potential of Ford Fusion, Chevy Volt, Nissan Leaf, the next Toyota Prius models, etc.
So Tesla is not an ideal choice to benefit from the growth in lithium demand, but what about the Global X Lithium EFT (NYSEARCA:LIT)? This ETF is probably one of the first stops investors made on their journey to invest in lithium, but it is enough to look at this ETF's top holdings to understand that we might be looking elsewhere. LIT's biggest holding that accounts for more than 21% of the fund's assets is FMC Corporation (NYSE:FMC), which generates only 7.5% of its revenues from lithium (11% of pre-tax profit), and most of its revenues and profits are generated from agricultural solutions, health, and nutrition. When the biggest holding by far generates such a small portion of its revenues from lithium, LIT investors receive tremendous exposure to other markets like crop protection chemicals, health ingredients, and other non-lithium products. LIT also holds 3.8% in Tesla.
So LIT and FMC are also not ideal picks to benefit from the boom in lithium demand, but what about the Chilean giant Sociedad Quimica y Minera de Chile (NYSE:SQM) that holds a 26% share of the lithium production market? Investing in SQM brings all the benefits from investing in a local Chilean company that operates on its home turf and produces lithium in the heart of the 'lithium triangle' in South America to investors alongside with unique relationship with the Chilean government compared with foreign companies operating there. However, as shown in the chart below, an investment in SQM also brings a massive exposure to Potash Corp (NYSE:POT) that owns 32% of SQM. That significant portion drives a direct link between the two stocks and when POT is down 57% since February 2015 this relationship adds plenty of unnecessary pressure to a lithium investment through SQM.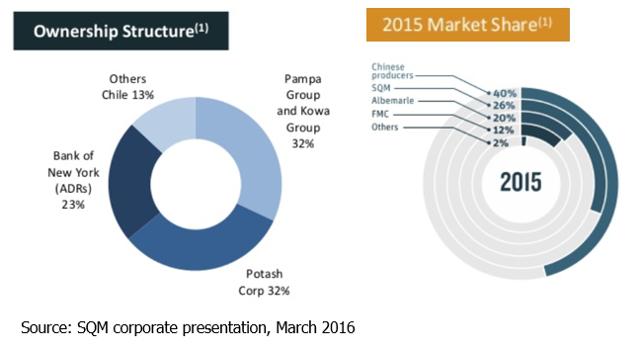 Currently, in my eyes, the best choice for investing in lithium is the Baton Rouge-based Albemarle (NYSE:ALB), which is the second-largest player after SQM and controls 20% of the lithium production market. As shown in the chart below, Albemarle's lithium business is growing rapidly with a 19% YoY net sales growth in Q1 2016 and a 26% YoY adjusted EBITDA growth with phenomenal adj. EBITDA margin of 47%.

Source: Albemarle Q1 2016 earnings presentation
Lithium is the biggest revenue stream for Albemarle and accounts for 25% of the company's revenues, while it is also the main growth driver. Albemarle's stock price has soared more than 50% since the beginning of the year thanks to its incredible growth rate, its strong positioning in the lithium market, and the rise in prices and demand for lithium. As lithium drives Albemarle's growth with extraordinary YoY growth rate in impressive margins, while lithium demand and prices are expected to grow by 10%-20% annually (according to the lithium producers' estimations), I believe Albemarle is best positioned to benefit from the growth and fits best as a proxy investment for lithium.
Even though ALB stock gained more than 50% year-to-date, Deutsche Bank believes another 10% is probable in the one-year horizon, setting an $84 PT for the stock. Personally, I prefer to open a bullish options position on ALB to benefit from a short-term rise and buy equity in the future corrections.
Disclosure: I am/we are long ALB.
I wrote this article myself, and it expresses my own opinions. I am not receiving compensation for it (other than from Seeking Alpha). I have no business relationship with any company whose stock is mentioned in this article.
Additional disclosure: The information provided in this article is for informational purposes only and should not be regarded as investment advice or a recommendation regarding any particular security or course of action. This information is the writer's opinion about the companies mentioned in the article. Investors should conduct their due diligence and consult with a registered financial adviser before making any investment decision. Lior Ronen and Finro are not registered financial advisers and shall not have any liability for any damages of any kind whatsoever relating to this material. By accepting this material, you acknowledge, understand and accept the foregoing.