(Editors' note: Universal Entertainment trades on the Tokyo Stock exchange under ticker symbol 6425.T, with average daily volume of ~$1.1B. Please note that it very rarely trades on its US OTC ticker symbol, OTC:UETMF)
Thesis Summary:
The market views Universal Entertainment Japan (6425.T, hereafter 'UE') as a Japanese gaming concern dominated by a disreputable controlling shareholder, and facing both a secular decline in its core pachinko business as well as a multitude of legal/regulatory risks from the US to the Philippines. The reality is quite different: the domestic pachinko business is not only resilient but is both growing through market share gains and throwing off plentiful free cash flow in the process, while the company maintains a 'hidden asset' via its potential 20% holding in Wynn Resorts (NASDAQ:WYNN).
Finally, UE is nearing completion of the first phase of its debut integrated casino resort in the Philippines, which could turn out to be a multi-billion dollar asset even under conservative growth assumptions. While regulatory and legal issues cannot be ignored, at the current valuation (around 1900 JPY/share) investors are paying barely a comp multiple for the best-in-class pachinko business and receiving both the Wynn stake and Manila project optionality for free. A conservative sum-of-the-parts - even allowing for a high group discount for regulatory uncertainty and lack of control - still suggests upside of 100% in the bear case, while in other scenarios, the stock could easily be a 2-3x 'multi-bagger'.
The stock is listed in Tokyo (on the Tokyo Stock Exchange), has a ~$1.2bn market cap, and trades ~$1mm ADV, providing reasonable liquidity for most small funds (however, note that only ~32% of the shares float)
There are three key parts to the UE investment case: the Japanese pachinko/pachislot business, the potential value of the Wynn stake/Wynn litigation, and the potential value of the Manila project. Following a discussion of each segment, we will look at a SoTP valuation for the group before a consideration of the risks attached to the investment.
The Pachinko/Pachislot business
UE's primary business is the manufacture and sale of pachinko and pachislot machines. Pachinko is a form of electronic entertainment and has been one of the dominant entertainment pastimes in Japan since the 1930s. Best described as an upright pinball machine, users attempt to direct small ball bearings into various slots to win jackpots. If they do, the machine spits out more ball bearings. Players can then exchange these ball bearings for prizes (or, most commonly, for cash outside the establishment). The actual gameplay is summarized quite well in this YouTube clip.
Pachislot games are often found alongside pachinko games in the same halls, though the gameplay of these variants is much more akin to Western-style slot machines. The mechanics of how players win and 'get paid', however, is similar (though users exchange coins rather than ball bearings for prizes/cash). A typical pachislot looks like this:
(Source: Google)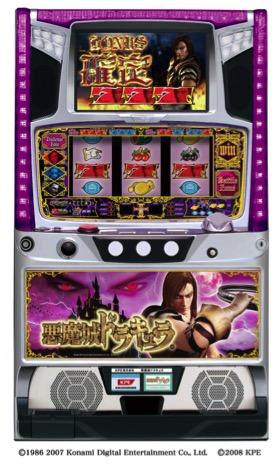 Since all forms of gambling (except horse races and lotteries) are illegal in Japan, pachinko/pachislot gaming has operated in a grey area for many, many years. The law specifically prevents the owner/operator of the pachinko parlor from exchanging prizes for cash - but it does not prevent an unaffiliated third-party from doing such an exchange. Thus, upon exiting any pachinko parlor, you generally only have to walk around the block to find a third-party store where you can exchange your prizes for cash. While it is true that the industry is highly regulated, this has generally been the status quo for a generation and it is unlikely to change rapidly in the near future.
Nonetheless, there have been numerous changes in the pachinko industry over the past few years. Due to a confluence of factors (the long doldrums of the Japanese economy; changes in the money-lending laws; gradually stricter regulation of machine types, models and functionalities; and changing consumer tastes) the pachinko/pachislot market stopped growing in the mid-1990s. As growth abated, the number of parlor operators has continuously shrunk, with smaller 'mom and pop shops' closing or selling out to larger players with more scale. Hence, the number of parlors has shrunk from a peak of ~18,000 in 1995 to less than 12,000 today:
(Source: Heiwa Corp. Feb'16 earnings presentation)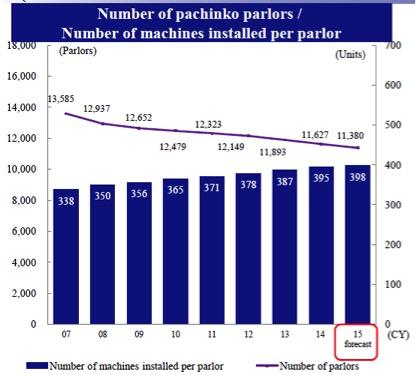 It should be noted, however, that the installed base of machines has remained basically flat for the last 7-8 years, which suggests while the total number of parlors has declined, the size of each parlor is simply increasing, and the number of machines in use has been remarkably steady:
(Source: Heiwa Corp. Feb'16 earnings presentation)
This is clearly good news for manufacturers like UE. Indeed, as the above chart suggests, the installed base of Pachislot (light blue) is in fact gradually growing, as this variant appears to be winning share from the older, more traditional Pachinko. Since UE dominates the high-end Pachislot market, this helps to explain why UE results have outperformed its peers in the past few years (UE got its start supplying traditional slot machines to Las Vegas casinos in the 1980s).
The installed base is also quite active in terms of its annual turnover: since players demand new and varying games, parlor operators are continually forced to either upgrade the software on existing machines, or replace older machines with newer ones on a regular basis (most manufacturers make both the machine and software, though often some of the software content is licensed in). It is not uncommon for hall operators to cycle new machines in and out after a matter of months to maintain variety and create the perception of new opportunities in their halls.
Annual sales as a % of the total installed base used to run almost at 100% replacement rate a few years ago but recently have declined to cycle lows of ~60% replacement (see chart below). There are a number of factors affecting replacement rate: the level of competition amongst parlors, the financial health of the parlors, availability/dearth of new offerings, and of course, new regulations on machine types and specifications.
The recent dearth of replacement sales is likely related to new rules implemented late last year which were designed to decrease the 'gambling elements' of the games (by reducing payout odds for jackpots, for example) and likely caused the majority of parlors to stop upgrading equipment until the new rules had gone into place and manufacturers had proven their compliance (government inspection of new machines is strict and can take many months). In their most recent report a couple of days ago, UE specifically mentioned the new regulations as a near-term sales headwind that should continue to buffet the broader market through at least the next six months.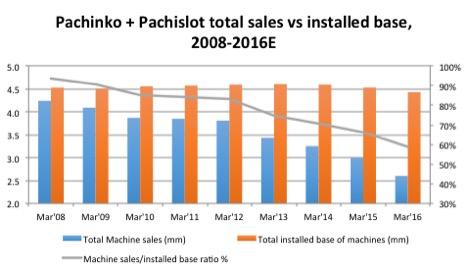 This decline in replacement rates may seem quite concerning at first glance, but it is important to remember a few points:
- The installed base has barely budged over many years. If this was truly an irrevocable secular decline, I would think the installed base would decline much more meaningfully than it has. Instead, this suggests to me a combination of uncertainty concerning regulation, as well as the decreasing profitability of small and mid-size parlors. But with replacement rates already at historical lows, as long as the market continues to exist, replacement demand will eventually return and that will be supportive to gross shipment volumes.
- Despite the market-wide doldrums, UE's individual performance in volume terms has been excellent. Triangulating market share data from competitor disclosures suggests UE's share of the Pachislot market has risen from ~13% in Mar'12 to ~25% in Mar'16 (see below). UE has been able to more than offset declining market-wide shipments with gains in share and their Mar'17 forecast pegs further share gains as likely (to be discussed shortly)
- Furthermore, UE is guiding to record unit shipments in the year to Mar'17 (252k vs. 207k shipped in Mar'16) despite the fact that competitors still see overall new shipments volume shrinking again due to the lingering regulatory hangover. That is to say - UE continues to gain share in a tough market environment:
(Source: UE/Heiwa/Sega Sammy company filings, my estimates)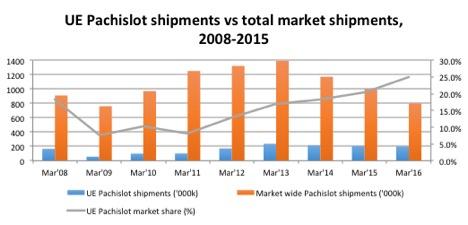 Sales trends aside, over time, the pachinko/pachislot manufacturers have consolidated, such that now only four or five players control ~70% of the OEM manufacturing for both types of machines. UE estimates that it and Sega Sammy Holdings (another listed company, 6460.T in Tokyo), account for more than 40% of high-end (top 100) parlor sales, where the majority of profits in the industry are made.
Turning now to the financials, UE's Pachinko + Pachislot segment accounts for basically all (~96%) of UE's revenues and more than 100% of operating profits (due to running small operating losses through its 'Other' segment, which includes some Manila Bay Resort-related start-up costs as well).
It is perhaps no surprise that the economics of this business are fairly attractive for a manufacturing industry: you have a consolidated group of OEMs in a highly-regulated industry selling to a more fragmented subset of halls/parlors. The three major listed players - Sega Sammy, Heiwa, and UE - have seen profitability shrink in recent years due to operational deleverage on lower sales and some price competition, as well as the increased development cost of machines compliant with the new rules. However, even at reduced levels of profitability this year, operating margins for Sega Sammy and Heiwa were not too bad (for manufacturing industry standards) around 16-21%. While UE is the clear market leader, generating OPM of ~36% even in a tough environment this year:
(Source: company filings)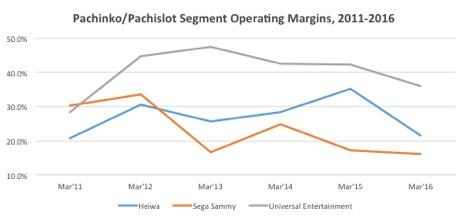 Even if we adjust UE's Pachinko/Pachislot segment EBITDA to incorporate fully the annual corporate overhead associated with the parent entity, adjusted EBITDA margins in the current difficult environment are still north of 30%:
(Source: company filings, my estimates)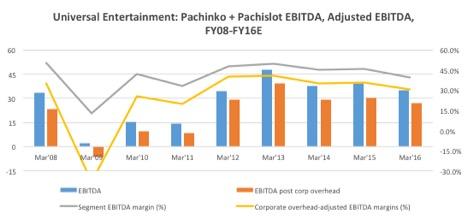 There are a couple of simple explanations for UE's superior profitability: pachislot, where UE has traditionally been very strong, is gaining share over pachinko, and UE is gaining a ton of market share. A further reason has been the trouble of Sega Sammy, UE's largest direct competitor in Pachislot, which has had some idiosyncratic issues with machine oversupply in the lead-up to the implementation of the new machine rules last year.
While it is important to acknowledge the risk of market share mean reversion if or when Sega Sammy gets its act together, for now it is fairly clear that UE is the most profitable and fastest-growing name in a stagnating industry - the proverbial 'best house in a bad neighborhood'. In fact, in the just-released guidance for the Mar'17 year, UE is guiding to record unit shipments (252k vs. 207k shipped in Mar'16) despite the fact that competitors still see overall new shipments volume shrinking again due to the lingering regulatory hangover. Market share reversion, if it eventually happens, seems unlikely at least in the near term.
Indeed, Sega Sammy perhaps recognizes this, since it recently established a design and manufacturing JV with UE that purports to lower costs and share development know-how. Sammy total shipment volumes in FY15 were ~450k versus UE at ~210k, though Pachislot shipments were about the same (essentially all of UE's shipments are Pachislot). For now, the scope of integration as well as potential synergies are unknown, but at the very least this should serve as validation of UE's process and technology edge within Pachislot from an erstwhile competitor and current market share donor.
Pachinko/Pachislot segment: prospective valuation
The cleanest way to value the Pachinko/Pachislot segment is to try to isolate its cash generation from the parent accounts and put a reasonable multiple on that. Capex intensity historically runs in the 6-8% range (looking at comps), allowing us to triangulate estimated segment free cash flow as follows (again, I fully burden the Pachinko segment with all of UE's unallocated corporate expenses):
(Source: company filings, my estimates)

As per above, the pachinko business has thrown off an average of ~15bn in FCF (pre working cap) a year the last five years - providing the majority of the cash required to support the Manila resort build-out (more on this later). FCF/EBITDA conversion is solid if unspectacular, near ~50% on a fully adjusted basis and consistently at these levels (or better) through the cycle. At the very least, the resilience and stability of these cash flows suggests this is not a 'melting ice cube' business akin to others in structural decline.
What multiple does this kind of business deserve? The lumpy nature of revenues and secular decline characteristics are clear negatives. We must also consider that top line industry trends have been weak for a couple of years (though UE has substantially outperformed its comp group). On the other hand, the highly-regulated, oligopolistic industry structure allows for solid operating margins and stable FCF generation. Furthermore, the decline - while structural - is quite clearly a very slow, genteel diminution, and there are reasons to believe industry volumes could trough and pick up in coming years. With almost no extant debt (essentially all of UE's debt funds the Philippines casino development), I feel this kind of business would trade at 10-12x FCF on a stand-alone basis, suggesting 140-168bn JPY as a starting point based on my FCF estimate for FY17.
Alternatively, we can use EBITDA multiples. The two main listed comps, Heiwa and Sega Sammy, have a number of non-Pachinko businesses consolidated within them (this is Japan, after all), but trade at 5.2x and 4.5x EV/EBITDA, respectively, and well above 10-12x FCF on a consolidated basis. At 4-6x EBITDA (adjusted for corporate overhead), the Pachinko segment would be worth 126-189bn JPY, or about 11.3x FCF at midpoint (158bn) - this seems a reasonable range for the most profitable, best volume growth business in its class, both in absolute terms and versus direct comps.
Putting this in perspective: at 1900 JPY per share (current spot), the consolidated EV for all of UE is ~170bn JPY… thus implying little value to UE beyond the pachinko business. As we shall see, this is far too punitive, as there exists significant value in the rest of UE.
The Wynn stake/litigation potential value
The second tent pole of the investment case for UE is its investment in (or litigation concerning) Wynn Resorts. The history between the principals of both companies, Kazuo Okada and Steve Wynn, is a little complex but of necessary background to understanding where we are now.
By Steve Wynn's own admission, Okada used to be his 'best friend'. on an earnings call in 2008, he effused "I love Kazuo Okada as much as any man that I've ever met in my life." Okada - through UE - originally invested in Wynn's post-Mirage business venture (now Wynn Resorts), and ended up with a ~20% stake in the company after WYNN's IPO in 2002. Okada sat on the board of WYNN (and was vice chairman at the time he was dumped in 2012), advised the company on its successful multi-year expansion into Macau, and to all outsiders appeared to have a great relationship with Steve Wynn.
But apparently, the pair began falling out in 2010, when UE began pursuing a new integrated resort in the Philippines. According to media reports, the WYNN board (and Wynn himself) were uninterested in developing a project with Okada's company, and became concerned both that the resort would compete with WYNN's business in Macau as well as for potential legal blowback in the US from the way Okada was conducting business.
Once the WYNN board decided not to pursue the Philippines opportunity, it appears Okada became disgruntled and publicly queried why WYNN had donated $135mm to the University of Macau - while still in the process of lobbying for a major expansion of its Macau operations. In response, WYNN authorized an independent report into Okada's dealings, which then alleged ~$110k in improper benefits (hotel stays in villas at the Wynn Macau, etc) had been extended to Filipino gaming regulators by Okada's affiliates, potentially constituting bribery under US FCPA statutes. The WYNN board subsequently used this report to:
- strip Okada of his vice chairmanship and kick him off the board.
- automatically redeem UE's stake in WYNN, under provisions in WYNN's corporate charter authorizing anyone deemed 'unsuitable' could be so redeemed (a move designed to maintain their gaming licenses in Nevada),
- unilaterally calculate the fair value of UE's ~20% stake in WYNN to be $1.94bn - 30% BELOW the value implied by the closing stock price at the time ($79/share vs. $112/share in mid-February, 2012),
- and finally replace the redeemed stock with a super-subordinated 10-year promissory note bearing just 2% interest per annum.
The FBI/Department of Justice opened their own investigations into Okada and UE's subsidiaries, and these remain ongoing (though have not proceeded forward in 3 years, so the status of the investigation remains uncertain).
Okada and UE rejected both the validity of this unilateral action as well as WYNN's definition of what constituted 'fair value', and both sides have been litigating ever since. The matter has not yet gone to trial (it is scheduled to begin in Feb 2017) and thus WYNN's annual 2% interest payments are sitting uncollected in a court account.
There are a number of articles online (here and here) that provide a longer summary and more background to the dispute. I want to focus on some of the potential outcomes for the case and what this implies for UE stock.
Worst-case scenario: I always like to start by gauging the downside before proceeding to the sunnier climes of optimism. In this case, a bear case outcome is UE loses all its legal appeals against WYNN's unilateral action and is forced to eat the 'fair value' and subordinated promissory note structure that WYNN devised. They may additionally be on the hook for reputational damages and legal expenses.
In this case, it is fairly easy to calculate an estimated fair value: simply, the $1.94bn principal amount WYNN decreed, discounted back from 2022 at a relatively high discount rate (this promissory note is super-subordinated), then add back interest payments as they accrue, and finally incorporate an additional haircut for legal/damages. Using a 10% discount rate (WYNN senior 7 year debt trades at ~4.5%, so this seems about right) and allowing for 10% haircut for legal costs and damages (i.e., ~$128mm), implies that a worst-case outcome for the WYNN litigation still would net UE ~$1.16bn, or ~127bn JPY (at USD/JPY 110).
Mid-case/best-case scenarios: Since UE is litigating against Steve Wynn in a town he helped build, I am not too optimistic we see much more than the downside case here. But nevertheless, reasonable base/bull cases here would involve some combination of a) a lower discount (15% instead of 30%?) to either the then-value of the WYNN stockholding ($112/share); compensation for dividends accumulated since 2012 (in total, $25.75/share, or ~$632mm in total on UE's original stake); perhaps some penalty interest (2% per annum?); and/or maybe just full restitution of UE's stake at current price (~$94/share). The various potential outcomes, bear to bull, are detailed below:
(Source: WYNN + UE company filings, my estimates)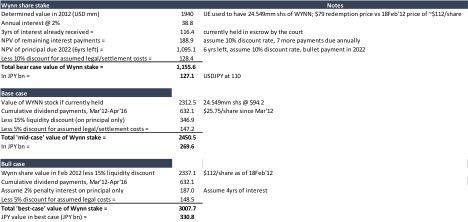 As per the above, the range of value for the WYNN stake is very large - 127bn to 331bn - but even at the very low end, this stake constitutes a huge needle mover for a company with a market cap of ~139bn JPY right now. We have already established that the stable Pachinko business is likely worth at around 155bn JPY. This means the entire WYNN stake - worth $2.3bn at market today ($94/share), and even $1.94bn principal on WYNN's onerous redemption terms - is effectively a zero as far as the market is concerned.
This is fairly incredulous on a number of levels and implies either that UE's stake will be fully expropriated by the US legal system (unlikely), or that UE will lose to Steve Wynn so badly that they will be forced to pay compensatory damages in excess of the entire value of its already-massively-haircut stake (not a complete impossibility but still highly unlikely, as we shall discuss later on).
Nevertheless, even under the most pessimistic of assumptions, the WYNN litigation process is a potential multi-billion dollar option embedded in UE that UE stockholders are getting for free.
This embedded optionality alone would constitute a strong investment case, but there is even more value here (I feel like a knife salesman!). We now need to consider the value of UE's Philippines' business under development, Manila Bay Resorts.
The Philippines gaming industry, and UE's Manila Bay Resorts project
UE's integrated casino resort in the Philippines, Manila Bay Resorts ('MBR'), represents the potential crown jewel for UE and Okada and will likely be the main catalyst for UE shares going forward (for better or worse). UE first obtained a casino license in 2008/09 and since then has been progressing towards completion of 'Phase 1' of the $2.5bn, four-phase project by the end of 2016. While we will look at MBR in some detail shortly, we should begin with a brief discussion of the Philippines gaming environment.
Casino gambling in the Philippines has been regulated since 1976 by a government entity, the Philippine Amusement and Gaming Corporation (PAGCOR). until 2009, PAGCOR operated a handful of small operations both in Manila and throughout the country, most of which were stand-alone casinos. But the explosion in tourist revenue generated by the build-out of Macau's integrated resorts prompted the government to actively promote the development of a much larger industry.
This began in 2009 with the opening of Resorts World Manila, the Philippines' first integrated resort, and a JV between regional gaming concern Genting and a local conglomerate, Travellers. Since then a number of billion dollar projects have been brought online in the new gambling enclave of 'Entertainment City': a carved out piece of reclaimed land in Manila Bay, situated close to the airport and one of the largest shopping malls in Asia. Two recent projects include:
- Bloomberry, a Filipino business, opened a $1.2bn project (Solaire Resort & Casino) in March 2013, housing ~300 tables, ~1400 slots, ~90 electronic games (EGMs), and a ~500 room hotel.
- Melco (NASDAQ:MPEL) developed City of Dreams Manila in the vein of its eponymous Macau property, first opening in December 2014: a $1.3bn project that comprised a ~950 room hotel, ~260 tables, 1580 slots, 83 EGMs and 950 hotel rooms across 3 hotels by December 2015.
Other projects remain under construction, principally UE's Manila Bay Resorts, (which we will get to, scheduled to open by end-2016) and Travellers' Bayshore City Resorts World, which broke ground last year and is estimated to open in 2018.
Despite the troubles besetting Macau, the Philippines remains an attractive option for regional (or indeed global) casino developers. Philippines' gross gaming revenue ('GGR') rose ~17% year-on-year in 2015 to $2.8bn USD. Consultants estimate GGR could hit $3.9bn in 2017 as new resorts continue to come online (see p.73 of the UE bond prospectus here).
This is still a tiny number in relation to Macau (GGR of ~$28bn USD in 2015), so the opportunity for secular growth is large, and while the number of resorts is growing, there are still less than a handful of integrated resorts under construction and only four under license in Entertainment City.
Furthermore, if you subscribe to the theory that Macanese gaming will continue to suffer due to ongoing government crackdowns (as I do), then you could also plausibly argue that non-China regional gaming centers will see further growth in Chinese gambling money looking to get out of the mainland.
There are other reasons to like the Philippines as a gambling jurisdiction. For one, licensing fees (payable to the regulator, PAGCOR) are much lower than in Macau (15-25% of GGR payable in the Philippines, depending on mass market/premium segment, plus a 2% base fee, versus 39% in Macau). Macau additionally caps commissions payable to gaming promoters at 1.25%, but there are no such caps in the Philippines - allowing for potentially higher commissions and thus better incentives to generate revenue.
This also highlights the attractiveness of the Philippines vis-à-vis Singapore (where gaming royalties are similar at 12-22% but caps on commissions are even more punitive). Additionally, there is no secondary taxation of gaming earnings, as the government has decreed that the revenue royalties constitute the entirety of the operators' tax burden (though this could change and is a source of risk).
Secondly, land and labor costs are much lower in the Philippines than either Macau or other regional centers like Malaysia and Singapore. According to the World Bank, GDP per capita in the Philippines was ~$2900 in 2011-15, versus ~$7600 in China, and ~$56k in Singapore, respectively. Labor is generally the largest cost line item after gaming royalties for 'big box' integrated resorts, suggesting impressive potential profitability once these new projects scale.
The Manila Bay Resorts project
UE's project in Entertainment City, Manila Bay Resorts, is nothing if not ambitious. Despite no pedigree as a casino developer, UE conceived the largest integrated resort in the Philippines - and double the gaming capacity of its nearest competitor.
UE was awarded a provisional license in 2008-09 and broke ground on MBR in 2012, beginning work on the $2.5bn project across four phases. 'Phase 1', now expected to be completed this year (over a year behind schedule), comprises the bulk of the project (~$1.2bn+ cost) and most all the gaming portion: 500 gaming tables, 2700 slots, 300 EGMs, around 1000 hotel rooms across two hotel towers, ~8200sqm of retail, and ~35000sqm of total casino space.
Phases 2-4, contemplated to be completed over the subsequent 2-3yrs, will add more hotel rooms, more retail, serviced apartments, high-end residential developments, and more. An artist's rendering of the fully completed complex looks something like this:
(Source: UE bond prospectus p.73)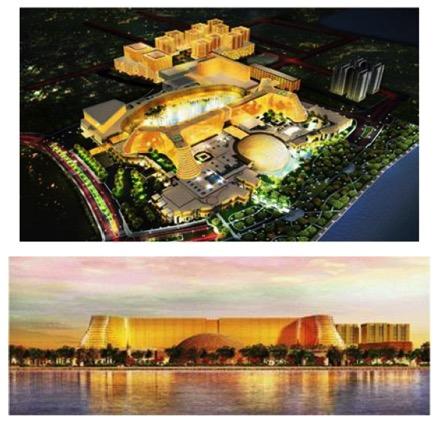 Financing for the project has encountered a few hurdles. PAGCOR originally suspended UE's provisional license (back in 2014), and then instituted a nominal fine ($2.2mm) when UE pushed back first operation from early 2015 to December 2016, though this was then rescinded. Despite the strong internal cash generation from the Pachinko business, the scope of UE's Philippines' ambitions necessitated the private placement of $600mm in 12% 2020 senior bonds (secured with the WYNN stake but no other company assets), which was only completed in the summer of 2015.
The proceeds of that issue, should be sufficient to see construction through to Phase 1 completion. As of Mar'16, UE has ~116bn JPY of PP&E on-balance sheet related to MBR and likely as much as 130bn+ JPY in total invested capital already in project. Further funding for Phases 2-4 will likely be via the addition of more debt: UE mentioned in its recent earnings report that its Philippines' 100% owned subsidiary, Tiger Leisure, had secured a line of credit for ~87bn JPY from a Philippines bank (BDO Unibank, the largest bank in the Philippines), which - combined with Pachinko and Phase 1 cash flows - should be basically enough to complete the project in the coming years.
While delays are not great and wrangling with the regulators always inspires concern, this is a massive project and the first of its kind for the company, so some teething problems are to be expected. Frankly, PAGCOR and the Philippines government have a huge incentive (both in reputational as well as revenue terms) to see MBR successfully launched and operational, and so I ultimately expect the back-and-forth with regulators to ultimately pass without too much trouble.
It is worth spending a few moments discussing the ownership structure of the Philippines' assets. Under Philippines law, foreigners can only hold up to a 40% interest in the underlying land. Thus, the land upon which MBR sits is 60% held by a local Filipino business concern, with only 40% devolving to UE. The casino/hotel operating company - Tiger Resort Leisure and Entertainment, 100% owned by UE and possessing the gaming license from PAGCOR - then leases the land upon which MBR sits. The structure is outlined in the below chart:
(Source: UE bond prospectus)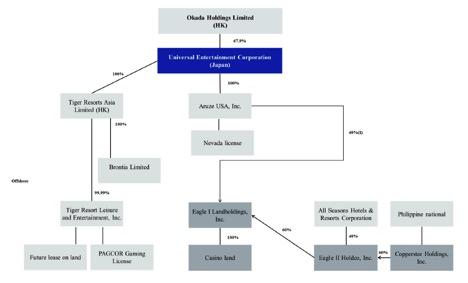 This arrangement is not unusual in developing countries with stricter land ownership laws, nor is it unique to MBR (City of Dreams Manila, Melco's operating project in Entertainment City, has a similar structure). But it does introduce an additional element of uncertainty if regulators re-examine land ownership rules for foreign entities. This situation is further complicated by Entertainment City's status as reclaimed land (making provenance of ownership a little more complex, apparently) - though again this is not unique to MBR since all land in Entertainment City is reclaimed land.
What is MBR worth today?
We have covered enough ground to at least attempt to parse out what MBR could be worth today. As a preamble, let me say that many of the pre-eminent risks associated with the MBR project - i.e., that it is still under development by an inexperienced operator, has already been delayed, and will operate in a tricky EM geography - will not be explicitly quantified here and instead will be discussed in the Risks section later on.
I should also mention that I am not a gaming analyst by trade and thus will use few of the standard metrics used to analyze gaming companies. Instead, I have tried to examine a) what MBR could earn in EBITDA under a series of conservative assumptions, and b) compared that with where other regional gaming names trade. This may seem a bit of a 'short cut' but given the degree of undervaluation and lack of operating data, at this stage, I am just trying to ballpark where valuation could fall - not divine it with the Hubble telescope.
Additionally, I have not utilized a FCF-based valuation, because a) MBR will generate negative FCF for a while as Phases 2-4 of the project will still be very capital intensive, and b) the variable nature of non-maintenance capex at other names in the space makes determining the 'right' adjusted FCF multiple very difficult.
In order to estimate what MBR could generate in terms of gaming revenue, we first need to estimate what piece of the pie they could capture once operational. Thankfully, PAGCOR releases some granular detail breaking down both the installed gaming capacity throughout the country as well as the share of GGR by region. As of September '15, Entertainment City housed ~53% of gaming tables and ~32% of EGMs.
Additionally, Entertainment City generated ~66% of all Philippines' GGR (up from 58% in 1Q 2014) and has grown much faster than the rest of the country (cumulative 33% growth in GGR in Entertainment City vs. flat growth in all other regions). This makes intuitive sense given the growing number of casinos there, as well as the network effect of clustering a number of higher-end resorts together in one place:
(Source: PAGCOR data)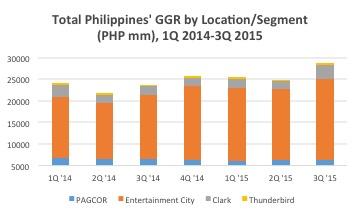 Thus, Entertainment City - even before the opening of MBR - generated two thirds of all Philippines' GGR with about half of the gaming tables in operation. We also know that MBR will have ~500 tables initially upon launch, or about half of Entertainment City's total number of gaming tables (300 at the Solaire, 260 at City of Dreams). This will surely drive Entertainment City's share of GGR much higher than 66% currently, but even if we assumed it didn't increase, it is difficult to see how MBR could not garner around half the Entertainment City market given they will have half the supply (measured in tables and slots) and will be the newest, hottest ticket in town.
Thus, working backward from the estimate of GGR in 2017 ($3.6bn, itself discounted by 10% for slower growth), and assuming MBR wins 30% of the market (a little less than 50% MBR share in Entertainment City x 66% Entertainment City share of all GGR), would suggest MBR's share of GGR would be $1.08bn.
We then need to apply PAGCOR royalties to this gross gaming number. Recall these range from 15-25% for mass market/premium segments, with additional (2%) royalties on top of all royalties. My understanding is the Philippines market is currently more weighted towards local players (and thus much more Mass Market than VIP), but let's just assume the blended royalty rate derives entirely from the Mass Market and is thus 25% entirely. This should prove conservative, especially since MBR is being marketed as a high-end resort catering to as much to Asian VIPs as to the Mass Market.
This leaves $810mm in net gaming revenue to MBR. To this, we must add hotel, retail, food/beverage revenues. For the sake of simplicity, I will ignore everything but hotel revenues for now (again, a conservative assumption). Using $165 REVPAR (in line with City of Dreams Manila in 2015) and 70% occupancy assumption in year 1 (City of Dreams ramped from 63% occupancy in the first few months to 86% in its first full year) suggests ancillary revenue of ~$114mm from the hotel part of the business, and total property revenue of $924mm.
At this point, we need to generalize about how profitable MBR could be in year one. Rather than make a long series of assumptions concerning every operating and SG&A line item, I think it is reasonable to look at how profitable the other principal projects in the area are and how they ramped over time.
City of Dreams Manila could be an instructive example: it launched recently (late 2014), was a fully integrated casino resort, and even in its first full year of operations (2015) achieved 18.4% EBITDA margins (and exited Q4 at 19%). They are also a foreign operator and have a similar land lease structure to that being employed by MBR.
Another example would be Resorts World Manila. Though not in Entertainment City, it has been in operation since 2009 and has consistently generated mid-high 20s EBITDA margins as a more mature operation, though the land ownership structure is a little different. Looking further afield, a snapshot of more mature Macau operations suggests average EBITDA margins in the 20-23% range over the last six quarters.
In sum, I feel a mid-teens EBITDA margin assumption for year one operations - say, 16%? - seems about right: it is within the context of the profitability of competing businesses, though allows some discount for lower initial efficiency due to lack of operational experience at UE. This suggests first year EBITDA of ~$148mm, or 16.3bn JPY (at 110 USDJPY).
Putting it all together looks like this:
(Source: Melco, RWM, UE filings, PAGCOR data, my estimates)

Now all we need to decide upon is a multiple for this business. This is a fairly tricky exercise as on the one hand, this could be just the first year of a long, secular growth story in a nascent gaming enclave with still limited competition and structurally superior margins. On the other, we need to provide an adequate discount for execution risk, geographic/regulatory risk, and idiosyncratic risk related to Okada and UE.
Regional comps are of some help to us: mature Macau gaming names tend to trade in the 13-15x EV/EBITDA range (with superior margins on average but real structural concerns and mature/declining growth), while Asian gaming names (from the Philippines to Malaysia/Australia/Cambodia, etc) trade at lower multiples (8-10x on average). The listed Philippines comp, Resorts World Manila, trades at 9.5x EBITDA - though it is listed only on the Philippines Stock Exchange, is a mature property, has posted declining revenues and earnings in recent years, and is not in Entertainment City - thus it seems very much a market share donor to the newer, 'sexier' integrated resorts coming online now.
Adding it all up, I feel 9-11x year one EBITDA is a reasonably conservative set of multiples for what could be a top- and bottom-line expansion story for many years. 9x is basically the low end of regional comps, many of which are either in more mature markets or face similar geographic and regulatory challenges, and implies less than UE's invested capital in the project today (at least 130bn JPY by my estimate, 115bn of which is reflected in on-balance sheet PP&E). The high end is still a large discount to mature Macau integrated names despite likely superior growth, operating leverage and scarcity value (there are very few Philippines gaming plays and only one listed in Japan). This range of values suggests ~146-179bn in enterprise value for the MBR segment - and to reiterate, none of this is in the price of the stock today.
Universal Entertainment: sum-of-the-parts valuation
Putting it all together, then, we have the following components for operating businesses:
- The Pachinko/Pachislot business, worth 126-189bn JPY at 4-6x FY16 EBITDA (after fully penalizing the segment with UE's corporate overhead costs).
- And the Manila Bay Resorts casino business, worth 146-179bn JPY under conservative year one assumptions.
This generates an operating business EV range of 272-368bn JPY:
(Source: my estimates)

Note - I ascribe zero value to the small 'Other' segment that UE maintains: it includes Pachinko-related apps and media content, generates a few bn JPY in annual revenues but runs modest operating losses (excluding MBR start-up costs), and thus I feel is of negligible value.
The full SoTP for UE, incorporating the Wynn stake/litigation value (127-331bn JPY as discussed earlier), looks like this:
(Source: my estimates, company filings):

A few additional points:
- I tax the entity a fairly large conglomerate discount (ranging from 25% in the bear case to 15% in the bull case) given the entity is 68% controlled by Okada and there are minimal synergies between segments. There is no one 'right' conglomerate discount but I feel this is punitive enough.
- The implied consolidated EBITDA multiple for the operating segments (Pachinko + MBR) is still pretty darn low (5.7x at the low end) in the context of global gaming names, so in the event MBR does actually perform this stock will screen very cheap to comps.
Clearly, the stock looks fundamentally mispriced, with 100% upside even to the bear case, and potentially 2-3x upside if things break right for the company. This justifies a more complete discussion of what the market is missing, and attendant risks to the thesis.
'Why does this opportunity exist?' and other risks
There are a few immediate causes for the market's disdain of UE at the moment: it has zero analyst coverage in Japan and it is a fairly small, controlled company ($1.3bn USD market cap). While there are decent English disclosures for a Japanese company, the very fact that not one local analyst is willing to pick up coverage doesn't exactly encourage foreigners to take a serious look at the name. Thus, we can make a strong case that UE has simply fallen off (or never made it onto) most investors' radars.
To this, we must add the 'ick' factor surrounding the investment. While certainly not illegal, the pachinko industry in Japan operates with what I would call the whiff of illegitimacy: it has historical links to organized crime, and while the machine manufacturers are well and truly above board, there is still the perception that pachinko hall operators are either directly or indirectly working with unsavory elements in Japanese society. These associations, however tenuous, are clearly another impediment to the likes of UE (and other pachinko names) achieving higher valuations.
On top of this, we need to consider the idiosyncratic risks that Kazuo Okada brings to the table. Internet searches on Okada or UE quickly bring up not only the public spat with Wynn but also the repeated allegations of bribery back in 2008, when UE apparently channeled up to $40m through intermediaries in order to secure its Philippines gaming license. In addition to the corruption allegations (which have never been proven, though various investigations in the Philippines and the US could still be ongoing), the press has focused intermittently on the delays that pushed back MBR's opening by over a year, and the ongoing wrangling with PAGCOR over land rights and the risk of losing its gaming license. It has no doubt been easy for potential investors to look at all these risks and simply throw UE stock onto the 'too hard' pile - after all, that is what all the Japanese analysts have done.
Let me attempt, though, to assuage at least a few of these concerns. The first issue - the unsavory nature of the pachinko industry - is clearly not an insurmountable problem: despite the potentially limited investor base, there are a number of other listed pachinko names (two or three large ones, as discussed, and a number of smaller players), and while I feel the valuations are certainly discounted, there is clearly a market for these kinds of businesses - the recognition of which moves the conversation from questions of 'is this really an investible name?" to "what is the right multiple for this kind of name?"
I would also add there is no reason why the 'ick' factor precludes profitable investing (ask those who bought Herbalife (NYSE:HLF) at $20 a couple of years ago for their opinion on the matter). At the same time to me it is an open question how 'icky' this business really is: there are plenty of scummy businesses in scummy industries from pay-day lending, to for-profit education, to multi-level marketing, and on that scale pachinko manufacturing scrubs up as not too bad in my book.
The lack of analyst coverage and control by Okada are a bit more problematic. I do not expect a rapid uptake of coverage from the local analyst community anytime soon, and clearly this is an 'Okada empire or bust' type of investment. Having said that - none of this information is new and less than a year ago, UE stock traded near 3600 JPY/share. Clearly this was before the Nikkei rolled over and MBR got delayed another year, but the point is the Okada control and lack of coverage certainly warrant a discount, but do not irrevocably ruin the investment case given how cheap the stock is today.
The ongoing bribery allegations and investigations are potential causes of concern, to be sure, but frankly are not as scary as the headlines read. Firstly, the various investigations in the US and the Philippines have been going on for years (the US investigation began in 2012 after Steve Wynn's 'independent report' came out. The Philippines' investigation first started in 2012 as well) and have yet to turn any allegations into concrete evidence.
In the US, Okada has already been kicked off the Wynn board and effectively has no operating businesses in Nevada. He is also in the process of potentially being removed from the WYNN registry, likely for good, and he is not an American citizen (he resides mostly in HK) and is thus likely beyond the reach of US authorities even if they could bring charges. At this point I am fairly confident in underwriting the bear case for the Wynn litigation as being what Wynn offered (a super-subordinated promissory note at 30% discount to the then stock price of WYNN), less legal costs and potentially another $100-200mm in damages (i.e., the bear case for the Wynn piece in my SoTP).
I do not think the damages Wynn could extract would be more meaningful than this given Okada's allegations against WYNN (re the Macau donations) didn't cost them anything but a couple of dodgy headlines (they still have their casinos and gaming licenses). There may be little chance for Okada to extract more value from Wynn, but at the same time, Wynn's penurious redemption terms should be as bad as it gets for UE. And, as we have discussed, even that outcome would be a huge plus for UE stockholders.
The Philippines' bribery allegations seem to be even more of a storm in a teacup. Speaking frankly, we would be hard pressed to find any casino built in an emerging markets location without some form of greasing of the wheels. Is it likely that some shadiness occurred around the time UE got their Philippines gaming licenses? Certainly.
But the exact same allegations - illegal payments to officials through an intermediary, to secure licenses) - have been made about Sheldon Adelson and his Sands buildout in Macau - indeed LVS, even admitted to violating the FCPA law against bribing foreign officials, in a regulatory filing in 2013, and last I checked they were still very much in business.
In any case, there is no incentive for PAGCOR/the Philippines government to derail a project that could generate so much direct and indirect revenue for the country over many, many years - especially when it seems all the other developers play by the same rules.
This informs my view that the main risks here are operational (execution regarding MBR) and patience (regarding the WYNN lawsuit). The WYNN suit has been dragging on for four years already. It will not go to trial until early 2017 and there is no telling how long that could take. That means it will likely not be the near-term catalyst for the stock (though it does provide floor support to the equity valuation).
Thus, a stock rerating near-term is dependent upon better news flow regarding MBR - announcing progress towards Phase 1 completion, or a formal opening date, would be big positives (though UE reiterated a December opening in their earnings report last Friday). Of course, there have been delays before and there could be again - that would certainly deflate sentiment, though given Okada's willingness to mention December 2016 twice in the last month (in an FT interview and in the earnings release), you would think they are at least close to being on the new schedule. In any case, the stock price is much, much lower than a year ago when the project was on its original timeline, suggesting expectations have been reset.
Thinking as punitively as possible about all the risks, a nightmarish conflagration of bad news regarding this name would look something like this:
- PAGCOR strips UE of its gaming license because of corruption issues. UE loses all its investments in the Philippines and is kicked out.
- Wynn wins the suit versus UE/Okada and also expropriates a huge amount of the already-discounted promissory note as damages ($500m?).
- Okada is fined/censured by the US DoJ for violations of FCPA and is never allowed back in the US.
- And the pachinko business rolls over (e.g. EBITDA halves over night from 32bn to 16bn).
What gives me comfort is that even in this hellish scenario, I still think the stock is worth ~1450 JPY/share (removing the conglomerate discount as the conglomerate disintegrates and pricing pachinko on 4x halved EBITDA), which is really not that bad (-24%) for an Armageddon of this magnitude. And of course, I don't think any of these outcomes are even likely, let alone base case.
Conclusion
While not for the faint-hearted, Universal Entertainment (6425.T) is a quintessential deep-value, contrarian play. Ignored or even hated by the Street due to a confluence of regulatory, legal, and idiosyncratic risks, UE languishes at below bargain basement levels but possesses a suite of valuable assets. At current levels around 1900 JPY/share, and putting a market multiple on the best-in-class, cash-machine Pachinko business, the stock ascribes basically zero value to the Wynn litigation and the developing Philippines casino project. The prospective launch of Manila Bay Resorts should be the catalyst that flips the script on the stock and could catalyze up to 100-300% returns over the next two years.
Disclosure: I am/we are long UETMF.
I wrote this article myself, and it expresses my own opinions. I am not receiving compensation for it (other than from Seeking Alpha). I have no business relationship with any company whose stock is mentioned in this article.
Editor's Note: This article discusses one or more securities that do not trade on a major U.S. exchange. Please be aware of the risks associated with these stocks.