Stocks finished a rough week with big losses on Friday. The Dow (NYSEARCA:DIA) fell more than 1% on the day, dropping almost 200 points. The S&P 500 (NYSEARCA:SPY) finished with a similar loss. Strength in Apple (NASDAQ:AAPL), semiconductors (NASDAQ:SOXX), and the biotechs (NYSEARCA:XBI) allowed the Nasdaq (NASDAQ:QQQ) to outperform, closing just 0.4% lower.
Retail (NYSEARCA:XRT) continues to be the biggest source of concern. Retailers had another big down session, with Wal-Mart (NYSE:WMT) leading the way with a punishing 3% decline that caused the stock to lose support.
Financials (NYSEARCA:XLF) also got hit hard; with interest rates moving lower, few people want exposure to banks. Long bonds (NYSEARCA:TLT) put in their third-highest close of the year, and that ETF is getting back near its all-time highs: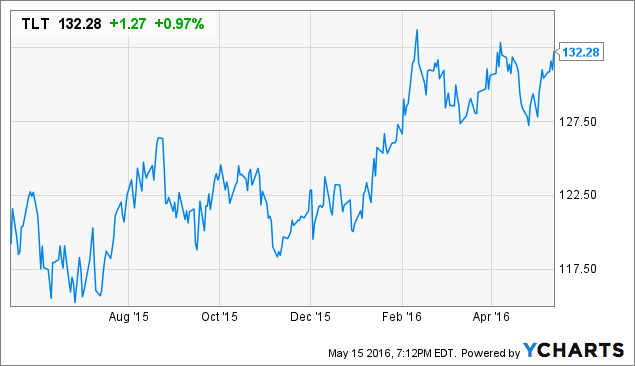 Banks had been trendy picks to profit from the supposed wave of Fed hikes, but in the end, the Fed's only been able to get one hike off - and the market is now laughing at even that, sending yields on the 10- and 30-year bonds ever lower.
Another hike, should it happen, could be disastrous for banks' Net Interest Margins (NIM), since they are having to pay more for deposits, but rates on long-term investments such as Treasuries and mortgages continue to drop.
The big banks, such as Bank of America (NYSE:BAC), Wells Fargo (NYSE:WFC) and Citigroup (NYSE:C), were all down about 2% on Friday and are seeing their charts look increasingly troubled. If you're into technical analysis, Citigroup's chart, for example, is saying steer clear: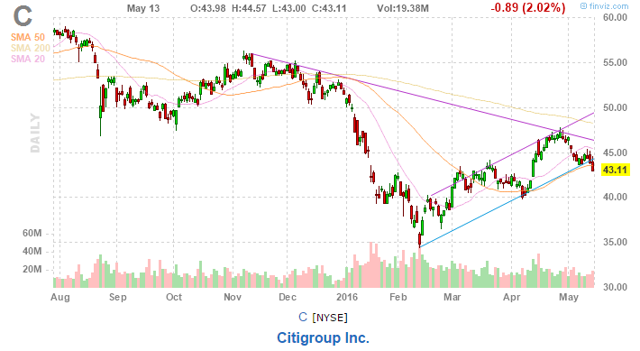 I'd continue to avoid the big banks, though there are some opportunities cropping up here and there among the regional and community banks.
Brexit Less Likely
This author is quite bearish on the market at the moment, but in the interest of keeping things balanced, let me throw in a bullish tidbit. Momentum for Brexit appears to be fading. Brexit, Britain's proposed exit from the EU, would be a majorly destabilizing event in the short run for financial markets. The longer-term effects are greatly uncertain and beyond my willingness to speculate, but the short-term volatility would certainly be something to behold.
I've been quietly nibbling on some British stocks throughout the early part of 2016 to try to profit from the current low rate of the British pound (NYSEARCA:FXB). There's been heavy speculative betting against the pound and the British stock market (NYSEARCA:EWU).
Should Brexit fail to occur, these negative bets would have to be covered, resulting in a sharp move upward in the British currency and shares. Additionally, it'd be a positive for Europe as a whole, leading to firmer footings for markets across the continent.
Betting markets now show Brexit having only about 30% odds of passage, and those in favor of Brexit are turning to increasingly desperate measures.
On Sunday, a prominent pro-Brexit spokesman was out with an interview likening the EU to Hitler's aims to unite the continent under one authority. While this may fire up the base, many undecided voters are likely to look at this rhetorical device as being over the line. I see the odds of Brexit's passage steadily falling.
Energy Stocks Keep Heading For Liquidation
We've seen an uptick in the rate that distressed oil companies are going bust. Last week brought the overdue announcement from Linn Energy (LINE) that it had reached the point of filing for bankruptcy.
Penn Virginia (PVA) also filed, as did Chaparral Energy. But the biggest event happened on Friday.
Earlier this past week, for reasons that make a mockery of the efficient markets hypothesis, shares of EXCO Resources (NYSE:XCO) hit new 52-week highs. On Friday, the company announced that it is considering strategic alternatives, including bankruptcy. The shares plunged 59%. So much for those new highs: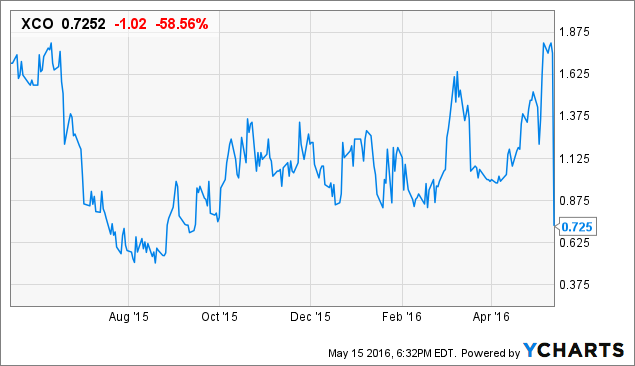 EXCO is one of the many so-called zombie companies that are clearly heading for bankruptcy, and yet traders, in a triumph of optimism over reason, keep bidding them up. In October of last year, I wrote "Short Exco Resources: Stock Is Likely Heading For Bankruptcy," and I was swamped by comments saying the company had billionaire funders and strong management, so bankruptcy wasn't likely.
This ignored the simple fact that ended up carrying the day. The company had $1.5 billion in debt and under a billion in PV10 oil & gas reserves. When the value of your assets is less than your liabilities by a wide margin, a restructuring is extremely likely and the equity is near worthless.
I wrote at the time:
I believe EXCO is a zombie company whose shares will end up at 0 and will get there in the fairly near future. As such, shorting the recent 175% rally in the company's shares is a compelling opportunity [...]

EXCO is a fundamentally flawed operation that had dubious economic returns even when oil traded close to $100/barrel and nat gas solidly in the $4s. The company has never had a positive year of free cash flow, not even one, since 2008.

The collapse in oil and natural gas prices has only hastened the inevitable. Take a moment and consider this: As of December 2014, calculated at $95 oil and $4.35 gas, the company's net debt exceeded its PV-10% reserve valuation! Even in good times, the company's debt surpassed the value of its proven reserve assets. This was a levered up business hoping for high prices and a lot of good luck. Alas, a storm came instead.
And that's pretty much what happened. A company whose business was of questionable value at $95 oil isn't going to survive, regardless of whether oil is at $30 or $50. Before buying a distressed oil & gas company, I plead with you to read and make sure you understand the financial statements.
There are plenty more companies like EXCO still clinging to life, with shareholders hoping for a turnaround. But a reading of the balance sheet shows the odds of such a reversal being vanishingly small.
Chesapeake (NYSE:CHK) is one classic example - its near-50% plunge over the past few weeks is a textbook case of a stock dropping after foolish buying sent the shares into a tizzy. Let me be frank. If you own Chesapeake and you don't analyze its financial statements and odds of survival yourself, you have only yourself to blame when the company files for bankruptcy in the next year or two and you lose your entire investment.
Reuters noted that last week's heavy round of bankruptcies take the energy sector past 60 since the oil crash began. They further comment that the rise in oil prices:
[W]ill not help smaller producers built for far higher prices. These companies have largely exhausted funding alternatives after issuing more equity and debt, tapping second-lien loans and shedding assets over the last two years to stay afloat as banks trimmed credit lines.
Moral of the story? Don't invest based on hope. And don't let your cost basis cause you to hold on to a stock that is going to zero. It's better to sell at a loss - even a steep one - than wipe out your entire investment. Most of these distressed oil & gas companies are going to zero; don't get stuck holding the bag.
Disclosure: I am/we are short CHK.
I wrote this article myself, and it expresses my own opinions. I am not receiving compensation for it (other than from Seeking Alpha). I have no business relationship with any company whose stock is mentioned in this article.
Additional disclosure: I'm long WMT and various stocks in the UK, though not the specific ETF mentioned in this article.
Editor's Note: This article covers one or more stocks trading at less than $1 per share and/or with less than a $100 million market cap. Please be aware of the risks associated with these stocks.