Shares of Breitburn Energy Partners (NASDAQ:BBEP) are set to take a beating after management released a statement on the morning of May 16th stating that the firm would be seeking a voluntary Chapter 11 bankruptcy filing. In this piece, I will dig into what this means not only for the company but for shareholders and bondholders of the enterprise moving forward.
Breitburn got burned
The main problem with Breitburn appears to be the firm's credit facility, which was undergoing its semi-annual redetermination process. Management had previously stated that the company had negotiated a 30-day delay on its redetermination and that it had been seeking for a reduced borrowing base of $1.4 billion versus the $1.8 billion the company had (with just under $1.2 billion in debt outstanding). During this timeframe, the firm had been in talks with its credit facility lenders, as well as the holders of its Second Lien Notes.
Apparently unable to strike a deal with these lenders, the company decided that the only real option was to file for protection under Chapter 11, which will allow the firm to continue operating as it has been but without the burden of debt. The fact that its share price has been tumbling these past few trading sessions suggest that some investors were likely privy to information that these negotiations weren't going well. As part of the filing, Breitburn has received a guarantee for $75 million in DIP (debtor-in-possession) financing from its lenders, which will grant it the ability to operate without seeking additional cash near-term. Management has also made several court filings to maintain other aspects of the operation as well and expects for those documents to be approved.
Management likely didn't need to file
For several months now, I've pushed management to engage in other efforts that would have drastically increased the probability of the business surviving this downturn. Much to my chagrin, they did not listen and continued to engage in behavior that was less than ideal but I still remained (and do remain though will be moving to sell) long because I viewed the firm as an attractive risk/reward opportunity. This was clearly a mistake on my part. Having said this, management likely did not need to file for protection for a few different reasons.
First and foremost, as you can see in the table below, Breitburn's cash flow picture this year was looking quite positive. In the second, third, and fourth quarter combined this year, the company would likely have generated free cash flow of $159.11 million. In the event that the redetermination would have ended in a disappointing result but not so bad that the firm would be pushed into bankruptcy immediately, Breitburn had the opportunity to spend up to 6 months collecting the cash to pay down the difference between what was borrowed and what was allowed to be borrowed. Over this timeframe, including the company's 30-day lag on its redetermination, it would have been able to generate around $123.75 million in cash.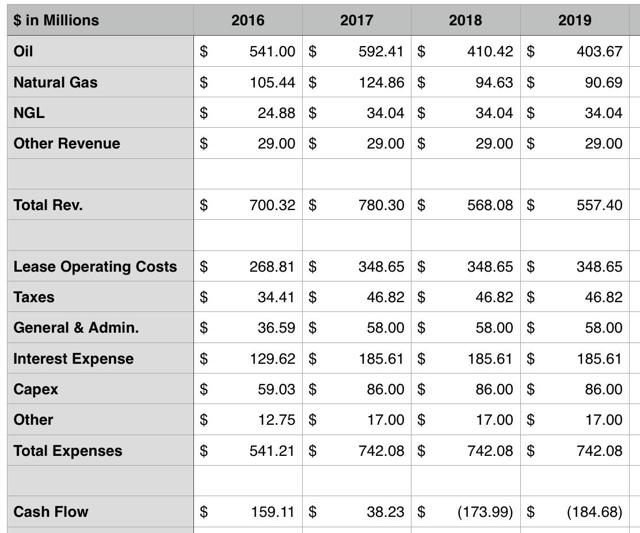 This excludes the option to cut capital expenditures, which would have added up to $59.03 million (assuming the decrease in production as a result relative to expectations would not have occurred immediately) to the pot. Breitburn also had a little excess cash on hand and could have sold tens of millions worth of hedges that come due in 2018 and 2019 so bankruptcy probably didn't need to happen unless the credit facility capacity was going to be cut in excess of $800 million. None of this includes the option to follow in the footsteps of Legacy Reserves (NASDAQ:LGCY) and to sell off certain assets in order to pay down debt on its books.
Do investors have any recourse?
Whether or not investors have any real recourse here is uncertain (though it is unlikely). Like in the case of Linn Energy (NASDAQ:LINE) / LinnCo (NASDAQ:LNCO), investors may be able to claim that management was not operating in their best interests. This is a tough sell but it may have more credibility than in the case of Linn. This is because management did not seem to be indicating that a real risk of bankruptcy was present. For instance, up until immediately prior to commencing talks with its lenders regarding restructuring, the firm had been paying preferred distributions, a move that wasted $16.50 million each year that should have been used to pay down debt. Also, it did not even consider (at least publicly) cutting capex for the rest of the year and did not provide the same kind of guidance that the management team at Linn did earlier this year.
Takeaway
Moving forward, it's going to be interesting to see what happens with Breitburn during the restructuring process and I will be sure to continue following it should it become publicly-traded again afterwards (which is almost certain to happen). In the meantime, I'm going to sit by and watch what transpires with the firm but it appears as though shareholders will be wiped out while bondholders may have a shot at something small (but they shouldn't get their hopes up because the bankruptcy process is never clear cut).
Disclosure: I/we have no positions in any stocks mentioned, but may initiate a long position in LGCY over the next 72 hours.
I wrote this article myself, and it expresses my own opinions. I am not receiving compensation for it (other than from Seeking Alpha). I have no business relationship with any company whose stock is mentioned in this article.
Additional disclosure: My stake may end up being in LGCYO or LGCYP should I buy in.
Editor's Note: This article covers one or more stocks trading at less than $1 per share and/or with less than a $100 million market cap. Please be aware of the risks associated with these stocks.