After a quick break, "Buy on Weakness? Tech Edition" is back. This is a series of articles that sifts through the underperformers of the previous several trading days to find potential investment opportunities in the large-cap tech world. The idea is to help investors, particularly those focused on value plays, unearth ideas for the coming week. Check out the fifth and fourth editions of "Buy on Weakness?" for a look into prior weeks' "tech losers".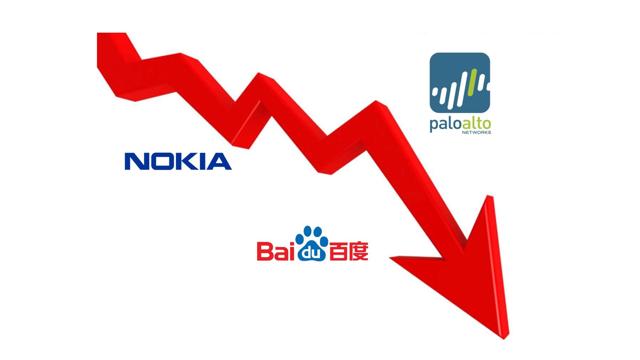 Credit: DM Martins Research montage using company logos
This time, we will look back at how tech performed in the first half of May.
The table below highlights the top 20 tech companies - worth $10 billion or more in total equity value - that have performed the poorest in the past ten trading days.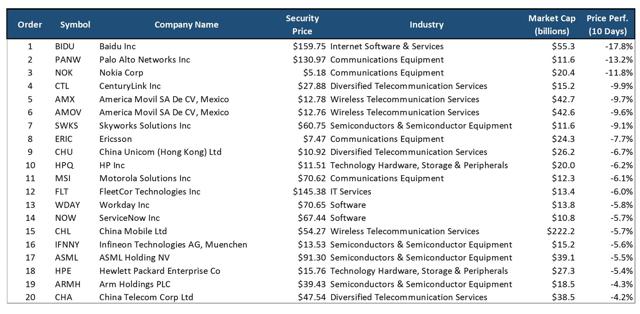 Source: DM Martins Research, using market data compiled from Fidelity
Large-cap tech continues to underperform
The first half of May followed the trend set in the second half of April, and saw the large-cap technology group retreat once again. Over $25 billion in market value was lost, adding up to a total of approximately one quarter of a trillion dollars of value erased over the last four weeks.
Communications equipment was the "biggest loser" among all subsectors, led by Palo Alto Networks' (NYSE:PANW) steady correction from its YTD peak of $176.40. The stock was down 13.2% in the first half of the month. Nokia (NYSE:NOK) and Ericsson (NASDAQ:ERIC), the giant European radio and core networking players, were down 11.8% and 7.7% respectively.
The Software subsector, up 1.6% in the first weeks of May, helped to partially offset the softness in technology. Electronic Arts (NASDAQ:EA) was up 21.6% on strong earnings, while Activision Blizzard (NASDAQ:ATVI) rose 11.1% on record Q1 results.
Let's take a closer look at some important metrics.
Diving deeper into the data
The top 20 tech losers of the period have a median forward P/E of 15.6x, high compared to the last week of April's top 20 median of 13.5x; the S&P 500's median trailing P/E of 14.6x; but low versus the overall tech sector's 25.3x. This week's top 20 group is expected to grow EPS in 2017 robustly, by 18.3%, and the companies generate high median dividend yield of 2.0% (14 of the 20 companies are dividend-payers).
The table below highlights, in green font, the three best-positioned tech companies in each of the following categories: projected EPS growth, dividend yield, forward P/E and forward PEG (P/E divided by percentage-point EPS growth). CenturyLink (NYSE:CTL), for example, is looking attractive from a forward P/E and dividend yield perspectives; whereas Nokia is coming up strong on PEG and dividend yield.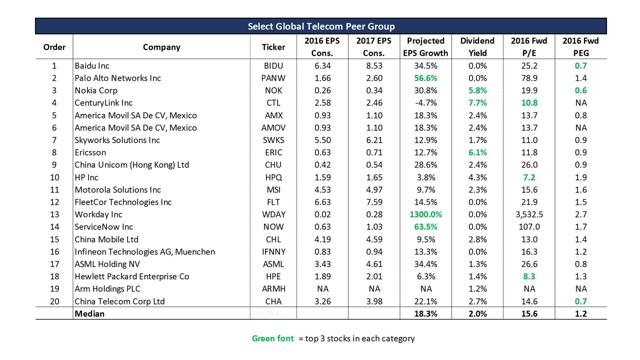 Source: DM Martins Research, using data from Yahoo Finance, Nasdaq and Market Watch
So which short-term losers should investors consider adding to their portfolio to take advantage, in the long run, of the price pullback? And which should they avoid, despite the price drops? Let's take a closer look at some select names on the top 20 "biggest loser" list.
Baidu (NASDAQ:BIDU): following regulator crackdown, stock looks cheap on a PEG basis
The title of "biggest loser" this time goes to BIDU.
The stock was down a gut-wrenching 17.8% in the first ten trading days of May. The culprit: an investigation by Chinese authorities that led to restrictions on paid search advertisements. CEO Robin Li did not help to put fears to rest by telling his employees that "if [the company] loses the support of users, [it] loses hold of [its] values, and will truly go bankrupt in just 30 days".
- The bull case: SA author Stone Fox Capital, shortly after BIDU's impressive 1Q16 earnings report, reminded readers that "the Internet search leader in China with a dominant market position [continues to produce] fast growth and huge margins". He also believes "the stock is cheap in comparison to the likes of Google and Facebook", trading now at a reduced forward 2016 P/E of 25.2x that compares to Facebook's (NASDAQ:FB) 33.7x. The Chinese company's PEG ratio is an attractive 0.7x, the third lowest among the "top 20 losers".
- The bear case: The Chinese economy continues to show signs of weakness. On Saturday, reports indicated that "China's economy resumed its grind toward slower growth in April […], after a rocky start to 2016 marked by a sliding yuan, capital outflows and tumbling shares". Perhaps not surprisingly, four of the top 20 losers of early May are Chinese companies. And since the news on the deterioration of the economy did not come until the weekend, further drop in BIDU's share value driven by macro headwinds may still be in the works.
SA contributor Doug Young points out that BIDU "has just done a major overhaul of its core search service to make it more transparent and useful", and that "Western search operators […] are unlikely to return to China any time soon due to Beijing's strict self-censorship policies for anyone who operates in the domestic market". For these reasons, and given the stock's relatively low valuations, some investors might look at BIDU and find the stock attractive at these levels.
Palo Alto : stock keeps on correcting, but still carries a high price tag
PANW is a "top 20 loser" favorite. Of the six editions of this "Buy on Weakness?" series, the cybersecurity company has been featured in three of them - always holding a spot among the top 3.
The company started its 19% descend from $161.59 in early April after being put "under scrutiny for the lower-than-expected op margin expansion guidance shared during the company's analyst meeting". Since then, PANW has been hit hard after cybersecurity peers FireEye (NASDAQ:FEYE) and Imperva (NYSE:IMPV) offered soft 2Q16 guidance.
- The bull case: SA contributor Bert Hochfeld noted that cybersecurity "is probably growing 3X faster than overall IT and that should continue for the foreseeable future", as it "has been a priority investment for CIOs for at least the better part of the last decade". Sector headwinds aside, PANW may have an advantage over competitors, as "the platform and the functional integration and the scalability that this company provides […] sets it apart from the other companies in this space".
- The bear case: Few large tech companies have traded consistently at forward P/E multiples as high as PANW's. Even at the YTD low of $115.69, when EPS expectations for 2016 were nearly 10% higher than they are today, the stock still traded at a nose-bleeding 65x forward P/E. The bear case for PANW tends to revolve around valuation. And to be a buyer for the long term, I need to believe that PANW will be able to at least quadruple its non-GAAP earnings over the next several years - a very high bar to overcome. Yet, the company is expected to grow EPS in fiscal 2016 by 94%, and follow up by expanding earnings by nearly 60% to $2.60 in 2017.
As I mentioned a few weeks ago, "I have few reasons to be confident that [PANW] will bounce back to trading near 100x forward earnings again. Volatility in such an expensive, high growth name does not surprise me." But as PANW continues to march downhill, the stock seems much more de-risk ahead of the company's F3Q16 earnings release, on May 26th. Growth investors that believe in the story and in another earnings beat may see a window of opportunity here - which value investors will likely want to stay away from.
Nokia : once overpriced, I now believe the stock is fairly valued
Lastly, number 3 on the "biggest loser" list is a stock that has underperformed the S&P 500 by 26% so far this year.
NOK was down 11.8% in the first half of May, after an in-line 1Q16 earnings report that brought along a more uncertain and less exciting full-year outlook. The dip followed the February developments surrounding the Samsung patent arbitration case, which many investors and analysts - myself included - saw as disappointing and sent the stock tumbling earlier in the year. In my view, both drops were more a consequence of a much-needed price correction than a deterioration in the business' fundamentals.
- The bull case: There are many reasons why one might be interested in buying NOK on the dip. The company has recently completed the acquisition of rival Alcatel-Lucent to become one of the most important radio and core networking companies in the world. The deal also created the opportunity for NOK to realize more than EUR 900 million in synergy gains by 2018, which I calculate will increase the company's earnings by up to $0.25 in EPS - effectively doubling NOK's expected 2016 non-GAAP earnings, under a best-case scenario. Many also see a pick-up in client spending from a 5G rollout as another potential positive catalyst in the foreseeable, albeit not immediate, future.
- The bear case: As I have recently argued, NOK's top-line is unlikely to gain much lift from tight carrier budgets and an unwinding LTE upgrade cycle. "Price erosion [continues to be] a fact of life in [NOK's] sector, and constantly reducing the cost of designing, building and servicing [the company's] products is simply a [necessity] to remain competitive", as CEO Rajeev Suri explained. In addition, timid margin guidance gives me reason to believe that the Street's 2016 EPS estimate of $0.26 might be a bit aggressive. In my opinion, the overall business landscape and the uncertainties surrounding the company's transition makes NOK a good buy only for the more optimistic investor.
Disclosure: I/we have no positions in any stocks mentioned, and no plans to initiate any positions within the next 72 hours.
I wrote this article myself, and it expresses my own opinions. I am not receiving compensation for it (other than from Seeking Alpha). I have no business relationship with any company whose stock is mentioned in this article.