Natural gas can be one of the most volatile markets of all commodities that trade on futures exchanges. Since the early 1990s, it has traded as low as $1 per MMBtu and as high as over $15 when a hurricane hit the Gulf Coast causing damage to market infrastructure at the NYMEX delivery point of Erath, Louisiana. In late February and early March of 2016, natural gas traded at the lowest price since the late 90s when it hit $1.6110 per MMBtu. A warm winter season, massive inventories and a bear market across all commodity and energy prices weighed heavily on the price of natural gas.
The state of supply and demand in the natural gas market caused many trend-following and fundamentally-driven short positions. The price of natural gas is seasonal; it tends to peak during the winter season. In late December, it fell to $1.6840 on the active month NYMEX futures contract. At those lows, many shorts looking for even lower prices found themselves scrambling to cover risk positions as the price exploded to almost $2.50 at the beginning of January. Once those short positions were out of the way, it fell to an even lower low in early March. The price action encouraged the shorts to return to the market.
The fundamentals for natural gas have not changed much since early March, but the price has moved higher disappointing many patient shorts who remained in the market waiting for another test of the lows.
Range trading
Last week, there was not much to say one way or the other about the action in natural gas.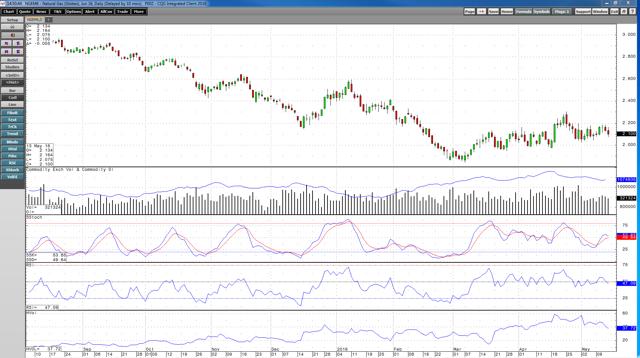 As the daily chart highlights, the range last week was from lows of $2.08 to highs of $2.183 per MMBtu on the active month June NYMEX futures contract. A ten-cent range in this combustible commodity is the exception, not the norm. Daily historical volatility has dropped to 37.68% and both momentum, and relative strength metrics are painfully neutral for those who sit with positions. The many shorts in the market over recent weeks attracted longs - the memory of the shorts scrambling for cover in December encouraged contrarian traders to take on those bears. However, with a weekly trading range of 10.3 cents, there was little room for anyone to make money.
Injections slow
Last week, the Energy Information Administration reported an injection of 56 billion cubic feet into inventories. Total available stockpiles of natural gas stood at 2.681 trillion cubic feet as of May 6, according to the EIA. This year, there is 43.8% more natural gas in inventory than last year and 43.5% more than the average of the last five years. While inventories are rising, the rate of the increase is slowing compared to recent years. At the same time last year, the EIA reported an increase of over 100 billion cubic feet. The bigger injection in May 2015 should come as no surprise, last year the price was around $1 higher.
At $2 per MMBtu, producers are not making any money, so smaller injections into inventory are logical. According to the Baker Hughes Rotary Rig Count released last Friday, there were only 87 gas rigs in operation as of May 13 while there were 223 operating last year. Fewer rigs equal less production which is the reason for the fall in injections into inventories. The bottom line is we should expect the trend of lower injections to continue because of the current price of the energy commodity.
Open interest is falling slowly
A 10.3 cent price range on the week, slowing injections into inventory and more action in other commodity futures markets mean that the shorts and longs in natural gas are likely to throw in the towel and search for more interesting markets in which to employ their capital. We are seeing some evidence that this is happening. Open interest declined last week from 1,086,604 contracts on May 6 to 1,074,935 last Friday - a decrease of 11,669 contracts. This metric remains above the 1,043,474 level that led to short covering in late December and early January; there are still lots of positions in the natural gas futures market. However, if the current trend continues expect open interest to move lower over the coming weeks. After the short covering rally in January 2016, open interest fell to just under 900,000 contracts and that is where it could be going, given the sleepy nature of the sometimes beastly commodity.
The longer it stays here…
I have learned, over many years of commodity trading, that natural gas is one market you should never count out when it comes to the potential for sudden and violent moves. The summer season is coming quickly with Memorial Day weekend only a couple of weeks away. That means that we will soon be in the heart of peak cooling season, a time of the year when natural gas demand rises. Additionally, with the price around $2.10 per MMBtu as of last Friday, hurricane season in the Gulf of Mexico could provide some surprises over coming months. There is little or no chance we will ever see the kinds of rallies we saw in natural gas in 2005 and 2008. Massive reserves in the Marcellus and Utica shale regions of the U.S. were not around in those days. However, a hurricane that does damage along the Louisiana Coast could ignite a rally that would be significant on a percentage basis for the natural gas futures market.
While the weather is always an important factor for the price of this volatile energy commodity, the current price means that economics 101 will kick in at some point.
Production trend is not bearish
When the price of any commodity falls to a level where inventories are massive and production becomes uneconomic as the cost of output is above or at the market price, something has to give. Classic economic theory teaches that inventories will begin to decline as lower price naturally causes demand to increase and output to decrease. As those inventories fall and output declines, prices begin to rise. We will eventually see higher prices for natural gas - output will only come back if producers can make a living. Therefore, the current trend in production and inventory injections is temporary, and the price of natural gas will rise once again.
However, for those with positions in the natural gas futures market now, cyclical economics take too much time and each month they must roll positions to the next active month.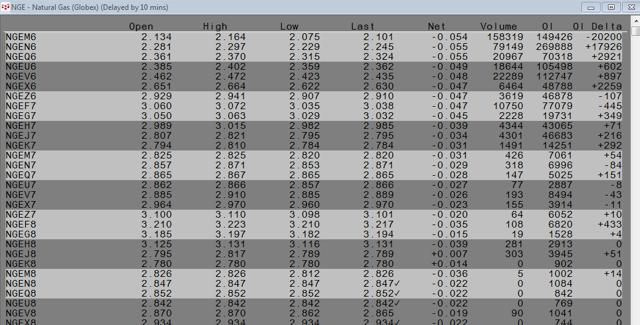 The forward curve for natural gas futures contracts illustrates the contango in the market. While economics now favors those with long positions, the contango or forward premium will eat their lunch causing them to pay a premium for each contract roll. The shorts receive the benefit of the roll in the contango market. Each time they roll from month to month they pick up a few pennies. However, they could be on the losing side of the trade as the trend in production is not bearish, and a problematic summer could cause their positions to become too hot to handle.
Natural gas is a sleepy beast. The current state of the futures market for this energy commodity tells me that we will see both longs and shorts continue to close positions, and wait for a better time to come back and play again. Keep your eyes on open interest; it is likely to drop below one million contracts over the coming weeks.
Disclosure: I/we have no positions in any stocks mentioned, and no plans to initiate any positions within the next 72 hours.
I wrote this article myself, and it expresses my own opinions. I am not receiving compensation for it (other than from Seeking Alpha). I have no business relationship with any company whose stock is mentioned in this article.