It all started with the US shale boom that diminished OPEC's dominance on the global oil markets. The world witnessed how Saudi Arabia dominated- OPEC ramped up its production levels since 2014, with an aim to reduce global crude oil prices and drive away the US Shale players out of business. Oil prices came crashing down and many Shale players went out of business. But, did Saudi Arabia really achieve what it was looking for? In spite of some of the imminent bankruptcies, the US shale producers were not as responsive to low oil prices as earlier thought and the US production did not decline. As we sit in the middle of 2016 with oil prices in the range of $45 a barrel, what is exactly happening to the Saudis and US Shale industry? Most importantly, who is winning the ongoing oil price war?
US Shale - Trying to Break Bad
Yes, the US Shale industry has proved that it can remain in the game in spite of sustained low oil prices and dwindling oil wells. As per data obtained from the law firm Haynes and Boone, no less than 130 North American oil and gas companies filed for bankruptcies since the start of 2015. A report that was earlier published by Bloomberg Intelligence claimed that a lot of shale patches in Texas were profitable even at crude below $30 per barrel. In fact, the report stated that Eagle Ford formation in DeWitt Country had an average profitability at around $22.52 a barrel (refer the below table for further information on this).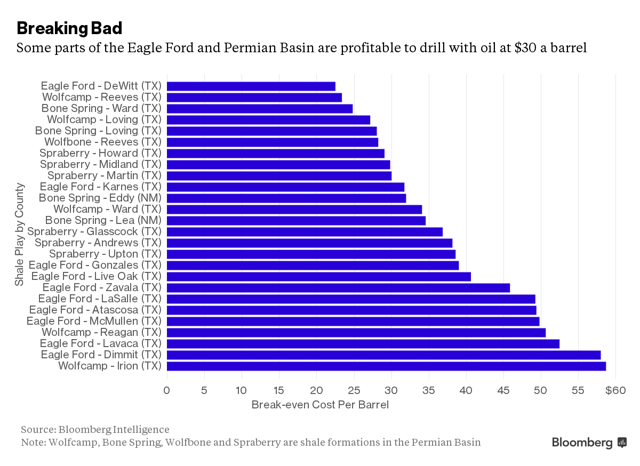 The report concluded that it was easier to deal with cheap oil in some places as compared to others.
Now, when we have oil prices at around $45 barrel, there are more upcoming bankruptcies that might include SandRidge Energy (which owes $4.13 billion) and Brieburn Energy Partners LP (which owes $3 billion). This shows that even $45 per barrel oil price is not enough to stop some of the companies from going bankrupt.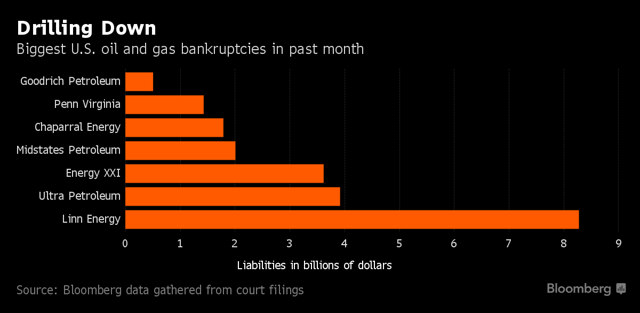 In fact, Bloomberg Intelligence is now saying that even the most prolific acreage that boasts of a $35- break even cost has to bear an additional $10 - $15 for other expenses that are related to salaries, taxes, interest expenses and other overheads. This means that US shale players require oil prices to be (at least) in the range of $55- $65.
Saudi Arabia - Between a rock and a hard place
Saudi Arabia suffered another setback when the credit rating agency - Moody's downgraded the desert kingdom's credit rating along with Oman and Bahrain. "Lower oil prices have led to a material deterioration in Saudi Arabia's credit profile. A combination of lower growth, higher debt levels, and smaller domestic and external buffers leave the Kingdom less well positioned to weather future shocks," said the credit rating agency in a statement. The biggest worry for Saudi Arabia is the fact that it is spending its foreign reserves at an alarming rate. With its costly war against Yemen and more than generous public spending, Saudi Arabia's foreign exchange reserves have reduce by around $155 billion to almost $576 billion this March. Although Saudi Arabia's cost for producing crude oil is just under $10, its fiscal break-even price is around $66.7 per barrel.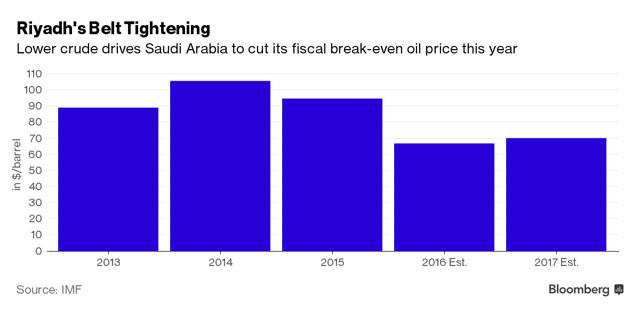 Not surprisingly, the country is now looking to move its economy away from oil. Spearheaded by Prince Mohammad Bin Salman, Saudi Arabia has already announced its plans for partly privatizing its state owned Aramco and invest those funds in sectors other than oil.
Conclusion
Since 2014, Saudi Arabia- dominated OPEC has (till date) maintained its high production levels hoping that it would eventually kill the US shale industry. The US Shale industry survived in spite of low oil prices and several bankruptcies. On the other hand, with its falling forex reserve, even Saudi Arabia became the victim of its own oil price war. In simple words, there are no winners in this oil price war as both Saudi Arabia and US Shale industry suffer from low oil prices. Going by their current situation, both Saudi Arabia and US Shale require oil prices to be at least in the range of $55- $65 per barrel.
Disclosure: I/we have no positions in any stocks mentioned, and no plans to initiate any positions within the next 72 hours.
I wrote this article myself, and it expresses my own opinions. I am not receiving compensation for it (other than from Seeking Alpha). I have no business relationship with any company whose stock is mentioned in this article.