The V20 portfolio is an actively managed portfolio that seeks to achieve an annualized return of 20% over the long term. If you are a long-term investor, then this portfolio may be for you. You can read more about how the portfolio works and the associated risks here. Always do your own research before making an investment. Read the last update here.
Note: Current allocation and planned transactions are only available to premium subscribers.
Over the past week, the V20 Portfolio declined by 5.5% while the SPDR S&P 500 ETF (NYSEARCA: SPY) dipped by 0.5%.
Portfolio Update
MagicJack (NASDAQ: CALL) reported Q1 earnings. MagicJack continued to deliver stable results, generating $6.9 million of cash flow in Q1. Earnings were slightly boosted by the Broadsmart acquisition, whose results have been included since March 17 th. Financially speaking, there was nothing exciting going on with MagicJack. It continued to generate good cash flow and it remains exceptionally cheap today, currently trading at 8x P/E or 4x excluding cash on hand. While the management has not been good a steward of capital (the reason why we significantly trimmed the position in the first place), the discount is simply too large to ignore.
There is also a lot going on at the strategic front. In addition to the partnership with Movistar, which hasn't produced anything meaningful thus far, the company is also redomesticating to the U.S. Management believes that this move may unlock additional demand for the stock.
Our helicopter company's results were not great. Of course, that was expected given the fact that oil has plateaued a bit and industry capex has remained low. Operating loss for the oil and gas segment amounted to $5 million, a large drop from Q1 2015's profit of $19 million. On the other hand, the air medical segment continued to be profitable as expected, generating $10.4 million of operating profit, up 7% quarter on quarter.
Intelsat (NYSE: I) bought back a significant amount of debt. Since April 28 th, Intelsat has repurchased $460 million of 2022 notes through both the open market as well as private transactions "at varying discounts to the par amount". While the effective price was not announced, it was clear that the discount was significant, as the bonds were trading below $70. The company also plans to buy back another $625 million of debt across various maturities ranging from 2021 to 2023 through a tender offer, also at significant discounts to par (~$75). While the funds used were the 8% 2024 notes (i.e. the company refinanced existing debt at a higher interest rate), the net impact was still positive given the massive discount.
Looking Forward
Conn's (NASDAQ: CONN) will report Q1 earnings in a couple of weeks. As the company continues to tweak the credit policy, sales growth may tumble, as we've seen in April (policy changes took away 650 bps of same store sales growth). The macro condition remains unfavorable considering the company's concentration in Texas. Of course, these short-term swings do not impact the company's long-term outlook.
Performance Since Inception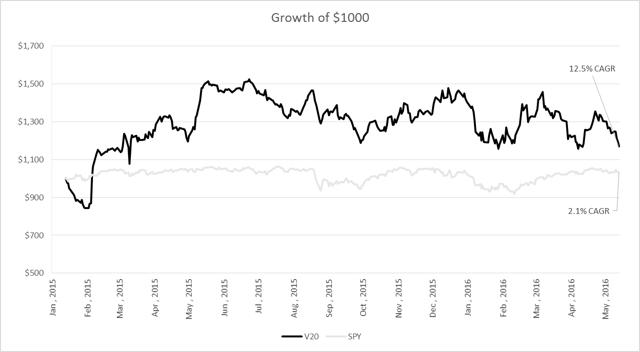 Disclosure: I am/we are long CONN, SPY, I, CALL.
I wrote this article myself, and it expresses my own opinions. I am not receiving compensation for it. I have no business relationship with any company whose stock is mentioned in this article.
Editor's Note: This article covers one or more stocks trading at less than $1 per share and/or with less than a $100 million market cap. Please be aware of the risks associated with these stocks.