At the beginning of March, I wrote an article about two Chinese web companies: Sina (NASDAQ: SINA) and Weibo (NASDAQ: WB). At that time, I presented two possible momentum strategies that can make you profit in the short term. Both strategies worked and I hope that you made a decent return on my call.
Last Wednesday, both companies announced their earnings results for the first quarter of 2016. As expected, Weibo improved its operating metrics and reported a considerable growth of its monthly and active users, which were 261 million and 120 million respectively. This helped the company to improve its advertising and marketing revenue, which was $99.2 million during the period, a 25% increase year over year.
Sina, on the other hand, as the major shareholder of Weibo, also benefited from its subsidiary's positive results. During the quarter, Sina had $198.7 million in net revenues and managed to improve its advertising revenue by 8% to $163 million. It beat its analyst expectations and the management was happy about the report. As Chairman and CEO Charles Chai on the earnings call said:
On the portal side, our performance was largely in line with our expectation, taking seasonality factor into account. We are glad to see the positive trajectory in mobile monetization of portal, with nearly 44% of portal ad spending generated from mobile devices in this quarter.
What's next?
After my initial strategy worked, I closed the position and currently don't have Sina or Weibo in my portfolio. The momentum that was present during the first quarter was due to the low volatility and improvement of the overall market after the last years' downturn trend. This helped both companies to perform pretty well during the period. However, now, when things settled down and the market once again starts to fluctuate, I don't see any reason for both businesses to perform in the way they did in Q1.
If it wasn't for Weibo, Sina won't be able to increase its advertising revenues the way it did in the first quarter. While its portals' performance was in line and the mobile monetization strategy took off, it won't be able to exponentially grow in the long term. With the operating margin of only 1.39% and P/E of 117, the current stock price is way too high for value investors. And it was probably the reason why Sina's shares tumbled after the earnings report.
At the same time, I consider Weibo to be a less risky investment. The company not just exceeded its expectations during Q1, its stock also reached an all-time high: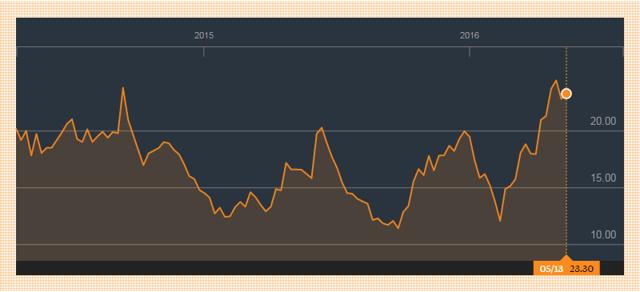 Source: Bloomberg
And while it's not the best idea to buy the stock on top, Weibo might be an exception to this rule. Since its main source of revenue is advertising, the company needs to constantly grow its audience to invite more advertisers to its platform. Currently, Weibo is one of the most popular websites in China, it connects over 30% of internet users, and is ranked 18 by Alexa, which measures popularity of all sites on the web. It also has Alibaba (NYSE: BABA) as its second largest investor and has better operating metrics than Sina.
It has no debt and its net margin is 7.39%. It's highly unlikely that the Chinese government will allow services like Facebook (NASDAQ: FB) and Twitter (NYSE: TWTR) to enter their market in the foreseeable future and it leaves Weibo with no real competition on its soil. And as the demographic growth in the country will continue and more people will gain access to the Internet, Weibo will have enough resources to successfully monetize its audience and sustain growth in the long term.
At the moment, I have no position in Weibo, but consider opening one if the stock will fall a little bit lower. But unlike the previous strategy where momentum was on my side and I made a decent profit in a relatively short period of time, this time the position will be for the long term.
Disclosure: I/we have no positions in any stocks mentioned, and no plans to initiate any positions within the next 72 hours.
I wrote this article myself, and it expresses my own opinions. I am not receiving compensation for it (other than from Seeking Alpha). I have no business relationship with any company whose stock is mentioned in this article.