I recently wrote a favorable article about a company that may be somewhat hampered by low oil prices (The Greenbrier Companies (NYSE:GBX)). I have purchased shares in the company since publishing the article, but I am now trying to consider how I might hedge that position somewhat. I now want to think about a company that can benefit from lower oil prices. Airlines are potentially obvious beneficiaries of low oil prices, and my own travel experiences led me to consider Delta Air Lines (NYSE:DAL) as a potential hedge against my Greenbrier investment.
The thing that started me thinking about Delta Air Lines is summed up in this page from the company's most recent shareholder presentation.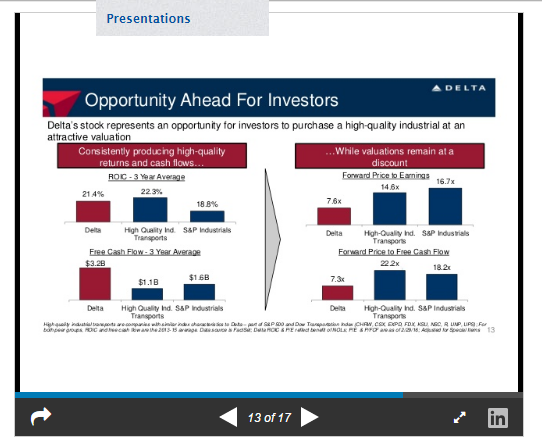 Delta Investor Presentation, April 2016
In short, the company generates an above average return on invested capital and above average free cash flow, yet trades at a significant discount to peers in the transportation index and the overall S&P 500. This opens the possibility to me that this is a very good investment, though, of course, I'm cautious because stocks can be cheap for a reason for years.
Beyond The Numbers
Earlier this month, Glen Hauenstein assumed the role of President of Delta Air Lines. Prior to that, he was Executive Vice President and Chief Revenue Officer. The fact that Hauenstein is President gives me some comfort because he was the person who masterminded Delta's transformation from being a domestic carrier to a nearly even mix of domestic and international. Under Hauenstein's leadership, the company added nearly 70 international destinations.
Broadly speaking, Delta has two principles at the core of its international expansion:
Immunized Joint Ventures, which allows for the closest cooperation between airlines and provides improved services for customers (I can attest to this personally). Existing joint ventures add approximately 270 flights and $14.5 billion in annual revenues.
Equity Investments, which allow the company to leapfrog into higher revenue, higher growth markets than they would if they relied on organic growth. Such equity investments include China Eastern, AeroMexico, and GOL. More on GOL later.
This strategy says to me that Delta is largely insulated from air traffic patterns in the United States and is a much more global company. I generally like that level of diversification in companies that I own, because it obviously spreads risk. One region's misfortunes can be offset by another region's boom.
A Note of Caution
While I like the idea of cheap stocks and global diversification, I'm generally a believer in the idea that there is no free lunch. When some telemarketer calls and tells me that he can spin straw into gold, I'm naturally skeptical. I try to remain skeptical when I think about stock investing. Why would much smarter investors than me not see this bargain staring them in the face and bid the price up? A quotation from Warren Buffett about the dangers of airline investing is relevant here:
The airline business has been extraordinary. It has eaten up capital over the past century like almost no other business because people seem to keep coming back to it and putting fresh money in. You've got huge fixed costs, you've got strong labor unions, and you've got commodity pricing. That is not a great recipe for success.
Potential Risk Number One: Too Much Leverage
One of the primary risks I concern myself with is leverage and that's obviously relevant to airlines. Airlines like Delta must obviously take on considerable debt to fund operations, but in the case of this airline, the level of indebtedness has actually been falling. The company is reducing the amount of leverage on the balance sheet. Consider the following:
Over the past five quarters, the current and long-term debt and capital lease obligations have fallen approximately 13.5% from $9.77 billion to $8.45 billion.
During the same period, the pension and retirement benefits have fallen approximately 16% from $15.1 billion to $12.69 billion.
Relatively Consistent Performance
In addition to lower levels of debt, over the past decade, cash from operations has been on a steady, if somewhat volatile, upward trajectory.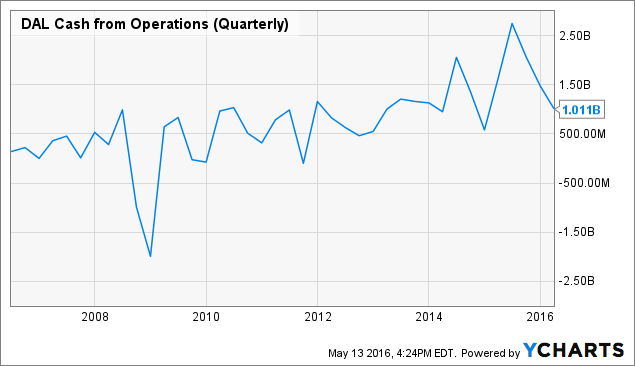 Source: YCharts
Institutional and Insider Support
As a relative novice to the field of investing, I try to rely as much as possible on the guidance of more sophisticated or more knowledgeable investors. For that reason, I pay particular attention to the behavior of institutional investors and insiders. Delta Air Lines seems to have a very high degree of institutional investor support.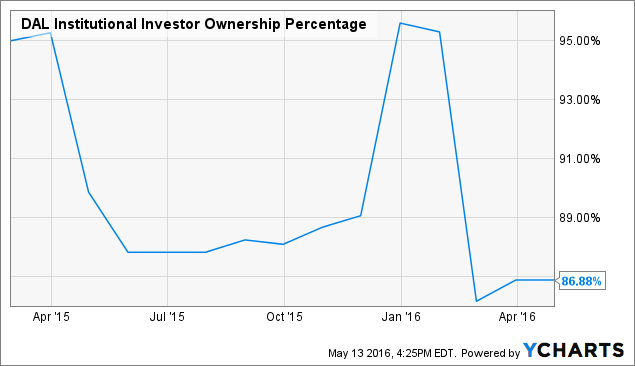 Source: YCharts
In general, I feel comforted knowing that my relatively bullish sentiment aligns with the views of much more knowledgeable institutional investors.
Risks
Virtues can become vices. A great thing about Delta is the fact that it is internationally diversified. A terrible thing about Delta is that it is internationally diversified. At the moment, for instance, Delta owns a 9.5% stake in GOL, the largest carrier in Brazil in terms of passengers. While I'm bullish on the long-term prospects for the Brazilian economy, it is facing some well-publicized problems at the moment. This is, unsurprisingly, having an impact on GOL. More distressing still is the fact that GOL seems to have a long history of losing money.
The problems with Delta's investment in GOL get to the heart of diversification in general. While the United States is the best performing economy, companies that have diversified globally will look relatively less attractive. Perhaps that's why the shares are so inexpensive at the moment. If so, we shouldn't expect multiples to expand anytime soon.
Conclusion
Perhaps the fixed costs that Buffett alluded to in the 2013 article aren't as onerous as they once might have been. Whether this is a more permanent condition or not, I can't say, but while fuel costs remain lower, this problem seems less of an issue. At the same time, pension obligations are down, leverage is dropping and cash from operations has grown nicely over time.
The challenge with investing in Delta Air Lines is also one of its greatest benefits. If an investor accepts the benefits that global diversification bring, they must also contend with the problems that happen when emerging economies fare less well than the United States. Countries like Brazil have excellent potential, but they also have difficulties. The "faster than U.S. growth" comes at a price of much greater uncertainty. Perhaps that's why the shares don't have a very high P/E multiple at the moment. For that reason, any investor should be patient here, as there's no sign that the world is becoming less problematic. Fortunately, in the case of Delta, they haven't tethered themselves to only one region and for that reason, among many, I'm considering buying this company. As usual, I look forward to hearing the perspective of the Seeking Alpha community.
Disclosure: I/we have no positions in any stocks mentioned, but may initiate a long position in DAL over the next 72 hours.
I wrote this article myself, and it expresses my own opinions. I am not receiving compensation for it (other than from Seeking Alpha). I have no business relationship with any company whose stock is mentioned in this article.