We constructed a heat map that contains most of Latin America's ADRs — or at least the most traded ones. We also included country ETFs. We will provide you with a weekly update and some basic analysis on what is happening in our all-LatAm sample. Comments are based on closing prices for the previous week (i.e., Friday, May 13). This week, upon your recommendations, we are switching Colombia's bullish ETF from (NYSEARCA:ICOL) to (NYSEARCA:GXG) and adding Tecnoglass's ADR (NASDAQ:TGLS) to our sample.
We begin with country ETFs. During the past week, most indices closed in the red. The Chilean ETF (BATS:ECH) led the weekly declines, falling 4.4% the week of May 9 to May 13. We will be publishing a note on the Chilean economy shortly.
Chile's central bank expects the economy to expand between 1.25% and 2.25% this year, as China's demand for copper, Chile's main export, holds the key to Chile's rebound from the mild 2% growth of the last two years. The IMF expects Chile to grow 1.5% this year, the slowest pace since 2009.
The Brazilian bullish ETF (NYSEARCA:EWZ) declined only 0.6% in the week, but it fell a sharp 4.3% on Friday, probably attributable to profit-taking following impeachment bets. Michel Temer has been actively announcing cabinet members and bold moves to try to improve the country's economic outlook, but the task is far from easy. The balance of risks seems tilted toward the downside in the short term.

Delving down to country specifics and starting with Argentina, Cresud's ADR (NASDAQ:CRESY) has the best performance in the week, rising 4.2%. The company published earnings last week. Profit from operations was ARS 3,437 million for the 9M period of FY 2016 that ended March 31; and a net loss of ARS 1,498 million was recorded. Profit from operations of the agricultural segment increased by ARS 411 million in the 9M period compared to the same period of the previous fiscal year, due to the positive effect of the reduction in tax withholdings on exports and the FX depreciation. The ADR is down 6.5% in the last month but it could be starting to gain momentum.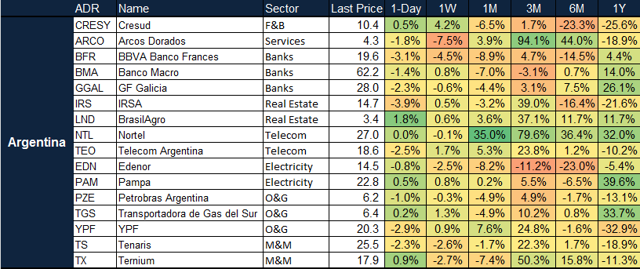 Moving on to Brazil, at the macro level, Michel Temer assumed office (temporarily) as the country's president.
(We published a note a note on this.) The highlights: Rousseff's impeachment is not a surprise, but it is hardly negative news. If Temer acts quickly and boldly, we could see a sustained rally ahead. The country's ETF could benefit, but profit taking following the rally has begun. Over the next 6 months, if 2/3 of the Senate (54 members, at least) subsequently approves the impeachment (54 of the 81 senators), Dilma is permanently removed. Still, the Brazilian economy is expected to fall 3-4% this year, and many challenges remain ahead. At the micro level, Vale (NYSE:VALE) and Braskem (NYSE:BAK) kept falling sharply and led the weekly declines: 13.6% and 12.2%, respectively. Vale is down 21.3% in the last month, but a 57.0% rally in the 3M period is still observed.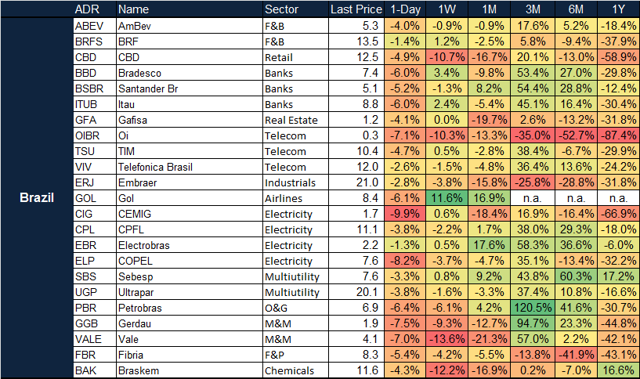 In Chile, we saw sharp falls in our entire sample in response to China's weak economic data.
China reported on Monday that imports unexpectedly fell a steep 11% in April year-on-year, undermining the outlook for the price of copper. This caused the CLP to have its worst week in almost a year, weakening by 4% as investors increased their short positions on the peso in the currency forwards market. In 2014, Chile sent in exports around 8.1% of its GDP to China, making the Andean country one of the most exposed countries to China's demand, only after Costa Rica. The peso, currently at 690.5 per USD is likely to depreciate on disappointing Chinese data. Censosud (NYSE:CNCO), the retailer, was particularly disappointing during last week, falling a rough 7.8%. Concha y Toro (NYSE:VCO), the wine producer, only declined 0.7% in the week. Its exporting vocation makes it an attractive play when the peso depreciates.

In Colombia, we saw mixed activity during the week.
We added to our sample Tecnoglass ADR . The stock increased 7.5% during the week and now carries a 13.9% rally in the last month, outperforming the rest of Colombian ADRs. Ecopetrol's ADR (NYSE:EC) lost 0.5% in the week, but still accumulates a 50.0% gain in the last 3 months. This is explained by the rebound in oil prices.

In Mexico, ICA (NYSE:ICA) kept falling (surprise, surprise) and now accumulates an 81.8% year-on-year plunge.
Last week, the ADR declined 10.5%. We do not expect an accelerated recovery in the name, especially considering that construction activity in Mexico remains growing at sluggish rates. After industrial production started 2016 on the right foot, improving 1.4% year-on-year (y/y) and 1.1% month-on-month in January-its fastest pace in 38 months-, the uneven performance among the industrial sectors led industrial output to barely grow 0.7 and 0.3% (y/y) in February and March, respectively. In 1Q16, industrial production reported a 0.8% annual gain, in line with the already weak advance averaged in 2H15 (0.7% y/y). We will keep an eye on this, as we remain bullish on Cemex (NYSE:CX), which fell 3.5% last week.

Finally, in Peru, Southern Copper (NYSE:SCCO) fell 5.2% in response to the decline in copper prices, in turn explained by weak economic data coming from China.
Southern is a diversified mining company, but it is still exposed to a generalized fall in metals and mining. The company is the only ADR in our sample that has retreated in the last month, falling 2.2%. In the same period, Buenaventura (NYSE:BVN), Pacasmayo (NYSE:CPAC), and Grana y Montero (NYSE:GRAM-OLD) have increased 27.6%, 10.5%, and 7.1%, respectively. Keep in mind that the presidential runoff is just three weeks away. Anything can happen.

Disclosure: I am/we are long CX.
I wrote this article myself, and it expresses my own opinions. I am not receiving compensation for it (other than from Seeking Alpha). I have no business relationship with any company whose stock is mentioned in this article.
Editor's Note: This article covers one or more stocks trading at less than $1 per share and/or with less than a $100 million market cap. Please be aware of the risks associated with these stocks.