Friday was undoubtedly a victory for USD bulls following better than expected U-Mich consumer confidence numbers, which saw the greenback gain against the EUR, GBP, AUD and CAD. WTI crude also gained following better than expected inventory numbers last week.
From this week, we have decided to change the format of our analysis, and feature only pairs with good trading setups for the coming week vs. the usual lot which at times can be difficult to trade given the current market conditions. For this week, the commodity currency pairs are in focus, especially following rate cuts by Australia and poor Chinese economic numbers over the weekend.
In terms of economic data, US inflation numbers will be watched closely this week together with housing numbers. Eurozone inflation numbers and Canadian inflation numbers are also due this week. The RBA minutes on Tuesday will be especially important for the AUD as markets look to be clued in on the next likely rate cut by the RBA.
Trading and Technical Strategy for the week ahead:
| | | | | |
| --- | --- | --- | --- | --- |
| Instrument | Fundamentals | Short term bias (1-3 days) 4 hourly timeframe | Medium term trend (1wk-3mths) Daily timeframe | Long term trend (>3mths) Weekly timeframe |
| AUD/USD | Bearish | Bullish | Bearish bias being challenged | Bearish |
| NZD/USD | Bearish | Bullish | Bullish | Bearish |
| USD/CAD | Bullish | Bearish | Bearish | Bullish |
| WTI OIL | Bearish but improving | Bullish | Bullish | Bearish |
NZD/USD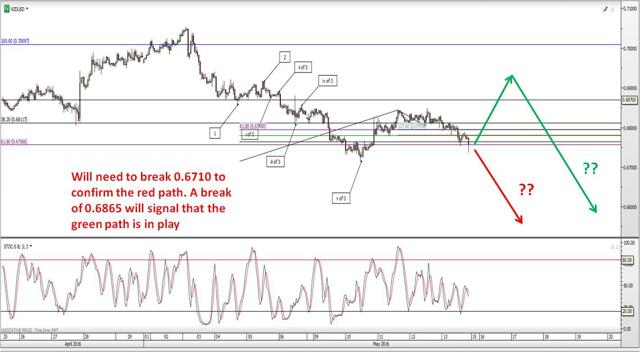 | | |
| --- | --- |
| Key Levels | |
| Support: | 0.6745/ 0.6710/ 0.6650/ 0.6600 |
| Resistance: | 0.6780/ 0.6810/ 0.6975/ 0.7010 |
| | *Level to consider buying at for support & selling at for resistance for intra-day trades |
The NZD/USD is no doubt in focus at this time after it's antipodean cousin the AUD, slashed it's overnight cash rate to a record low 1.75%. Given the current economic environment, low inflation and strong Kiwi, it is likely that the RBNZ will soon follow suit to slash interest rates once it has placed it's macro prudential numbers in to curb the housing market.
Trading strategy:
We would be looking to sell the NZD at current levels or the 0.6875 level with a minimum target downside of the 0.6650 level followed by the 0.6500 level and lower. Any short trade taken would be technically invalidated above the 0.7055 level which is where we would place our stop loss.
AUD/USD (FXA)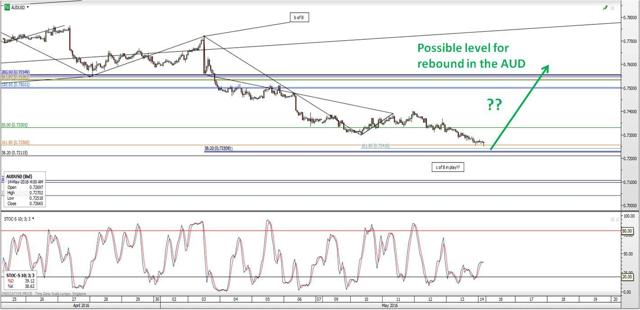 | | |
| --- | --- |
| Key Levels | |
| Support: | *0.7240/ 0.7200/ 0.7160 |
| Resistance: | 0.7320/ 0.7350/ 0.7435 /0.7560/ 0.7600/ 0.7650/ 0.7670/0.7760 |
| | *Level to consider buying at for support & selling at for resistance for intra-day trades |
The AUD continued to exhibit weakness over the past week after a lowered inflation forecast by the RBA. This week's RBA minutes should clue us in when the next rate cut could happen. Technically though the AUD is now oversold on the weekly and daily time frames and a bounce should be expected soon which should provide further selling opportunities.
Trading strategy:
Short term traders can look to play the bounce by buying AUD/USD at 0.7240 level with a target at the 0.7495 level and a stop loss at the 0.7195 level. Longer term traders should look at the 0.7500 level and higher to start re-establishing short positions.
USD/CAD (FXC)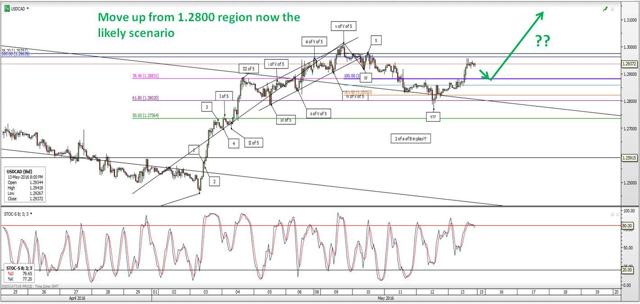 | | |
| --- | --- |
| Key Levels | |
| Support: | 1.2920/ 1.2880/ 1.2800/ 1.2620/ 1.2590/ 1.2560/ 1.2500 |
| Resistance: | 1.2950/ 1.2980/ 1.3015/ 1.3100 |
| | *Level to consider buying at for support & selling at for resistance for intra-day trades |
The USD/CAD price action over the last week points to the pair having found an interim bottom already with an upside break out move likely from this point. Given the current overbought conditions in WTI crude, it is likely the pair will head higher once crude prices begin correcting. CPI data on Friday will be key with a miss likely to trigger rhetoric from the BOC to weaken the CAD given it's rapid rise over the last few months.
Trading strategy:
We took profit on our USDCAD short positions a little early at the 1.2890 level, and have now decided to look for long positions instead. We think the pair will consolidate around the 1.2880 level where long positions can be established to play for an upside break of 1.3000. The stop loss should be placed at the 1.2765 level for any long position.
WTI OIL (USO)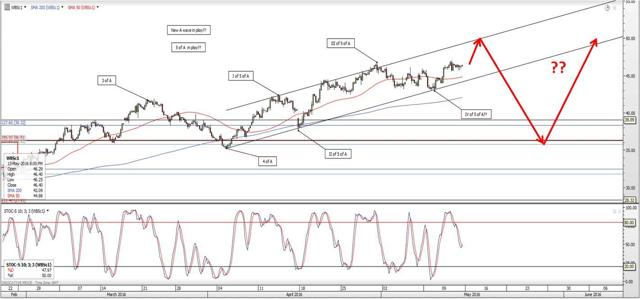 | | |
| --- | --- |
| Key Levels | |
| Support: | 46 /45.60/44.60/43.10/ *42.80/ 41.90/ 40.00 |
| Resistance: | 47.15/ 48.30 |
| | *Level to consider buying at for support & selling at for resistance for intra-day trades |
*Note on our price chart: Before we dive into the WTI technical analysis, we have decided to use the WTI continuous futures price as a chart instead of the original spot price posted in our article. This price will match the nearest dated WTI Crude futures contract which will switch automatically once the contract settles, moving on to track the next nearest dated futures contract. We will also be only analyzing the technical aspect of the WTI price, given the fundamental aspect of WTI oil is well covered by many subject matter experts in the energy commodities section. At this time, the nearest dated futures contract being tracked by the above price chart is the June 2016 contract.
WTI oil prices rose over the past week on supply disruptions from Canada and Nigeria with better than expected inventory numbers out of the U.S.. We expect that WTI will top at either $47.15 or $48.30 ideally before correcting to the downside with a potential break of the $40 level.
Trading strategy:
Traders should now begin to look for short positions at the $48.30 level with more aggressive shorts at $47.15. The stop loss on the trade would be the $49 level, and the target to the downside would be the $41.90 level and lower.
Do follow us on our site and sign up for our free mailing list to receive updates during the week and changes to the technical pictures of these instruments and more.
Risk Disclosure
High Risk Warning: Foreign exchange, futures and ETF trading carries a high level of risk that may not be suitable for all investors. Leverage creates additional risk and loss exposure. Before you decide to trade any instrument, carefully consider your investment objectives, experience level, and risk tolerance. You could lose some or all of your initial investment; do not invest money that you cannot afford to lose. Educate yourself on the risks associated with trading, and seek advice from an independent financial or tax advisor if you have any questions.
Advisory Warning: THEMARKETJOURNAL provides references and links to selected blogs and other sources of economic and market information as an educational or informational service to its clients and prospects and does not endorse the opinions or recommendations of the blogs or other sources of information. Clients and prospects are advised to carefully consider the opinions and analysis offered in the blogs or other information sources in the context of the client or prospect's individual analysis and decision making. None of the blogs or other sources of information is to be considered as constituting a track record. Past performance is no guarantee of future results and THEMARKETJOURNAL specifically advises clients and prospects to carefully review all claims and representations made by advisors, bloggers, money managers and system vendors before investing any funds or opening an account with any brokerages or dealers. Any news, opinions, research, data, or other information contained within this article and our website is provided as general market commentary and does not constitute investment or trading advice.
THEMARKETJOURNAL expressly disclaims any liability for any lost principal or profits without limitation which may arise directly or indirectly from the use of or reliance on such information. As with all such advisory services, past results are never a guarantee of future results.
Disclosure: I/we have no positions in any stocks mentioned, and no plans to initiate any positions within the next 72 hours.
I wrote this article myself, and it expresses my own opinions. I am not receiving compensation for it (other than from Seeking Alpha). I have no business relationship with any company whose stock is mentioned in this article.