Introduction
In my last two articles about Parex Resources (OTC:PARXF), I explained why I thought this company was ready to surprise (positively) as I do consider it to be one of the safest oil producers (operationwise). The company has now signed two joint venture deals with Ecopetrol (NYSE:EC) and I was wondering how this might impact my expectations.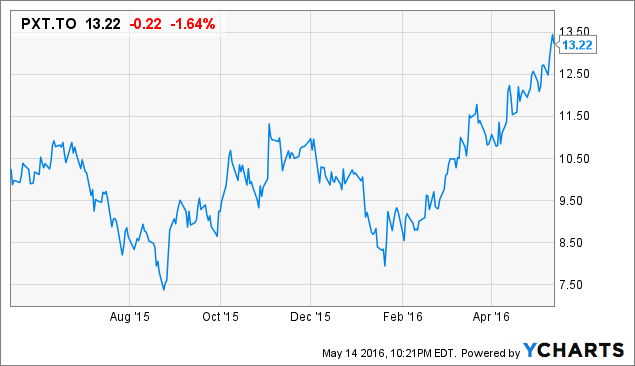 Parex is a Canadian company and should be traded on the Toronto Stock Exchange, where it's listed with PXT as its ticker symbol. The average daily volume is approximately 400,000 shares for $4M. The market capitalization is roughly $1.5B.
Q1 was pretty good, as expected
Parex produced a total of 28,900 barrels of oil-equivalent (an 8% increase compared to Q1 2015), of which approximately 99% consisted of oil. The average price received per barrel of oil-equivalent was approximately $27.10 which is almost 50% lower compared to the same quarter last year, but despite this, the company was still able to post a positive operating netback of just in excess of $8/boe. Although this is much lower than the $21.66/boe generated in Q1 2015, I think Parex should be very happy with this.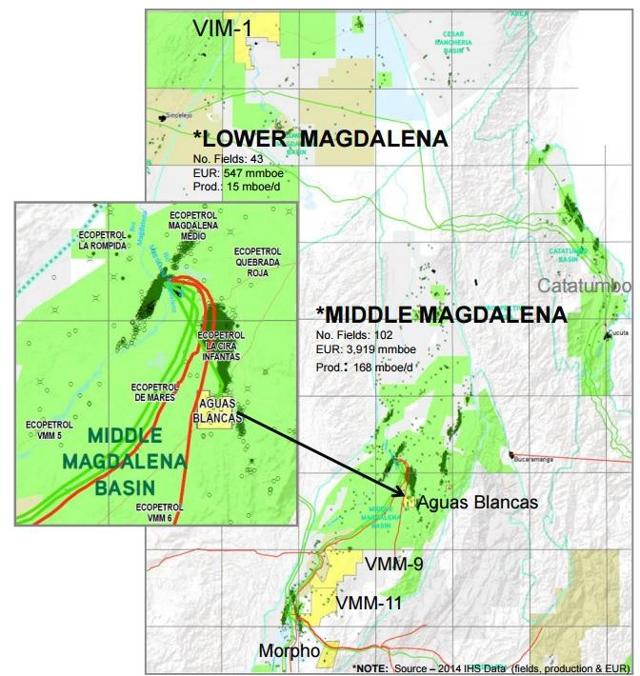 Source: company presentation
The total revenue in the first quarter was $70.3M, after taking a $5M hedge loss into consideration. As the total operating expenses were much higher, at $95M, Parex had to report a pre-tax loss of $27.6M, but thanks to the recovery of some current and deferred taxes, the net loss remained limited to $7.6M, and that's not really a bad result.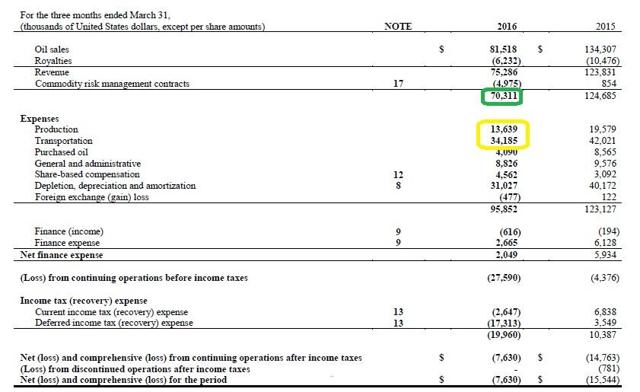 Source: financial statements
Unfortunately Parex' transportation costs remain quite high. The total production costs of the 2.6 million barrels of oil were just $13.6M (indicating a cost of just over $5/barrel), but the transportation costs were killing the bottom line, as Parex had to pay $13/barrel to transport the oil to the customer. Throw in the $31M depreciation and depletion charge and it's pretty clear the company was unable to indeed generate a positive net profit.
This doesn't mean the company is in a 'lost' situation. Not at all. $31M in depreciation and $4.6M in share-based compensation means in excess of $35M of the operating expenses consisted of non-cash charges, and that's why the cash flow statements will provide you with another crucial piece of information; how much cash did Parex really generate?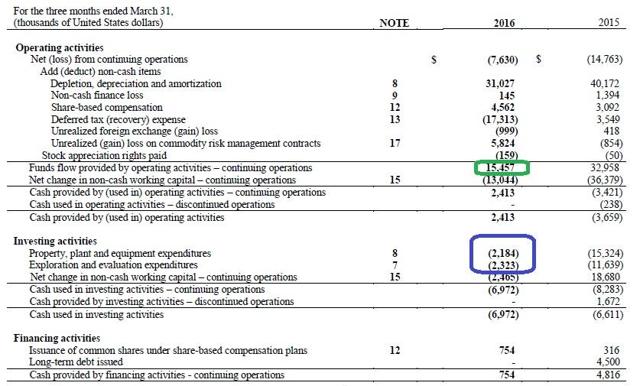 Source: financial statements
Parex generated an operating cash flow of $15.5M in Q1, and as the total capex was just $4.5M, the company was definitely free cash flow positive. But you should keep in mind Q1 was extremely capex-light, and as the oil price has been increasing again, Parex has updated its full-year capex guidance to $80-100M and will fund the capex with its operating cash flow. Keep in mind the oil price in Colombia is based on the Brent oil price, which closed at almost $48/barrel on Friday, slightly higher than the WTI price.
What should you think about the JV agreement with Ecopetrol?
Parex seems to be determined to take advantage of the current turmoil on the oil markets, as the company has now signed two farm-in agreements with Ecopetrol to earn a 50% working interest in two large blocks (totalling almost 220,000 acres).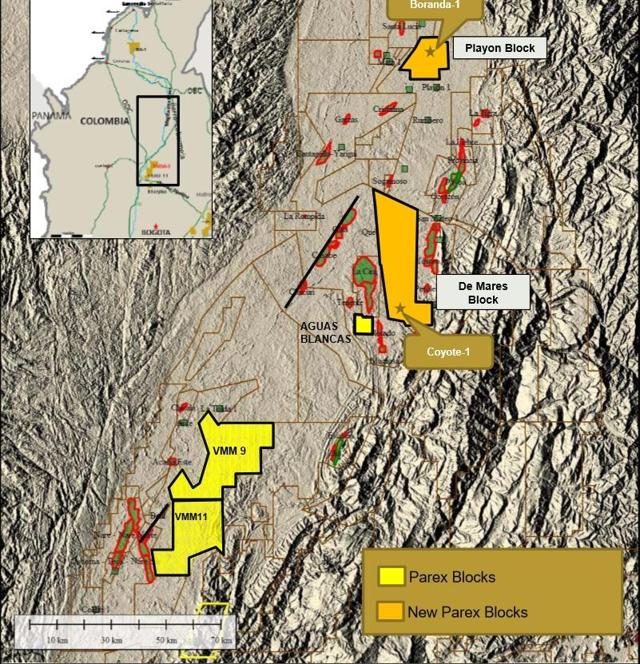 Source: company website
At first sight, this seems to be a good deal for Parex Resources as the company can earn the 50% interest by committing to spend just $10M on the two blocks. An initial $3M is required for the workover of the Coyote 1 well at the De Mares block to the east of the large La Cira-Infantas oil field (where in excess of 850 million barrels of oil have been recovered). This Coyote 1 well was previously drilled in 2012 and has discovered oil, so it could be really interesting to see what Parex can come up with here!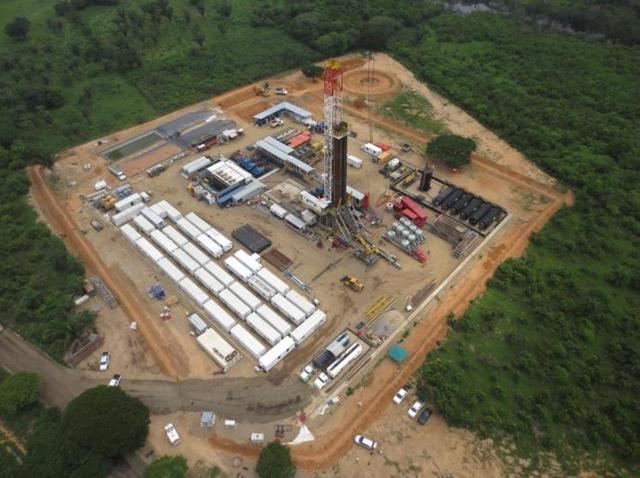 Source: company presentation
The Playon Block is much smaller but is also located close to the La Cira-Infantas oil field. Parex will contribute $7M to drill an exploration well (called Boranda 1). The second option is a bit more expensive, but you should consider the joint venture with Ecopetrol to be a call on 'optionality'. For just $10M in cash (that will be spent on the ground, rather than seeing it disappear in Ecopetrol's treasury), Parex will earn a 50% stake in 220,000 acres of land, and that actually is quite a cheap deal for Parex.
Investment thesis
Parex is one of the best-managed oil companies out there and the balance sheet still looks squeaky-clean as Parex has a net cash position rather than a net debt position like many of its peers. This allows Parex to be quite flexible with its capital expenditures, and the company can try to match its expenses with the fluctuations of the oil price to always reach a break-even situation.
The farm-in deal with Ecopetrol provides the company with extra optionality to earn a 50% stake for a commitment of just $10M, which I think is a very acceptable risk/reward ratio here. The current share price is trading approximately 35% above the NPV10% of the proved and probable reserves, so it does look like the market is rewarding the company with a premium (and I can't blame Mr Market for doing so!).
Disclosure: I am/we are long PARXF.
I wrote this article myself, and it expresses my own opinions. I am not receiving compensation for it (other than from Seeking Alpha). I have no business relationship with any company whose stock is mentioned in this article.
Editor's Note: This article discusses one or more securities that do not trade on a major U.S. exchange. Please be aware of the risks associated with these stocks.