The market had another challenging week last week, with all the major indices down more than one percent. After a strong rally off the February lows, there seem to be few near-term catalysts to continue the rally, and the market has now had three weeks of declines. The first-quarter earnings season is rapidly coming to a close.
I think we can officially say we are in a "profit recession," as the quarter marked the fourth in a row that earnings declined within the S&P 500, the fifth in the row that revenues had fallen. Earnings overall were down some 7% from the same period a year ago.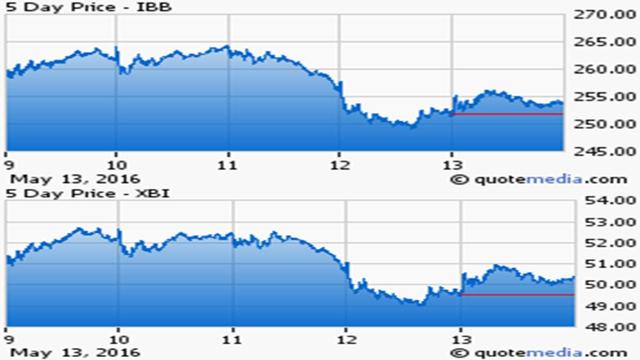 Biotech continues to outpace the decline in the broader market, which is a bit perplexing given that the biotech companies within the S&P 500 produced over 10% growth in earnings and revenues this quarter and sell collectively for their lowest valuations since the Greek Debt Crisis of 2011. However, no one ever said the market was rational; at least in the short term.
It is starting to feel a lot like LBJ's analogy comparing being stuck in Vietnam to a west Texas hitchhiker in the middle of a deluge. "You can't run, you can't hide and you can't make it stop." But as my late father was fond of saying, "This too shall pass."

One thing that could really help the sentiment on the sector is a significant pick up in M&A activity. Sanofi (NYSE:SNY) certainly seems to be a worthy suitor to try to kick that off. After its $9.3B offer for Medivation (NASDAQ:MDVN) was deemed inadequate by that company's board, Sanofi has decided to go "hostile" and has proposed a slate of new directors. This would replace the entire board of Medivation if approved by shareholders. Merck (NYSE:MRK), Pfizer (NYSE:PFE) and other major drug giants are rumored to be contemplating bids of their own for Medivation.
Generic drug maker Mylan (NASDAQ:MYL) did make a tuck-in acquisition last week. It announced that it will pay $950 million in cash and up to $50 million in additional payments for the non-sterile, topicals-focused specialty and generics business of Renaissance, a fund that invests in pharma assets and is privately owned. The acquisition will be immediately accretive according to Mylan and could add 35 to 40 cents a share to its bottom by FY2017. A very solid purchase if those projections turn out to be accurate.
The soap opera of privately-held Theranos continues as its long-time COO announces his departure. The wheels seem to be falling off this one-time darling "unicorn" that once was valued at $9 billion. This is looking more and more like an implosion and a story that was way too good to be true. Luckily the company was exposed before it was able to come public. That would have been just one more bad development this beaten-down sector of the market hardly needs at the moment.
An early-stage academic research project at Duke University that uses a genetically engineered form of the poliovirus to help shrink certain brain tumors for a year has been given Breakthrough Status according to the news show 60 Minutes. An early study showed 11 of 22 persons saw their tumors shrink, with three cancer free at the time of the 60 Minutes.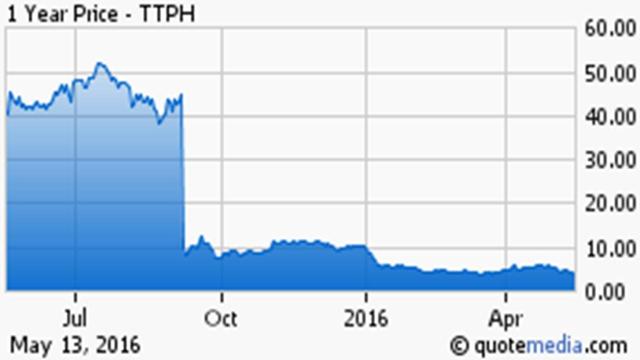 The picture at Tetraphase Pharmaceuticals (NASDAQ:TTPH) is not getting any brighter. Its stock dived Friday after news broke that the FDA requires another Phase 3 clinical trial to support a New Drug Application (NDA) for lead product candidate IV eravacycline hit before the market. This is just the latest of several setbacks that have cratered the stock since it sold north of $50 in summer.

Speaking of circling the drain, the picture at once promising EPIRUS Biopharma (NASDAQ:EPRS) is fading to black. The company delivered more bad news to its investors last week when it announced its CEO is leaving, it is "repriortizing" its pipeline and also laying off 40% of its workforce.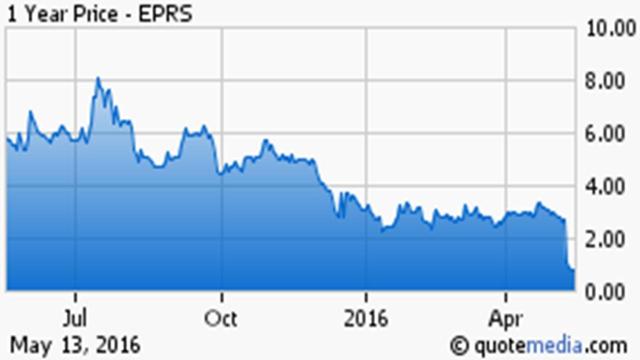 In some "late to the party" reaction, BTIG immediately downgraded the shares to "Neutral" after this news broke - analyst speak for get out of this name. Leerink Swann's analyst must have been on vacation last week as he was waiting until this morning to downgrade the shares to "Hold" - also analyst speak for abandon ship.
In contrast, Amgen (NASDAQ:AMGN) seems to be gathering some positive catalysts of late even if they are obscured by the bear market right now in biotech. The company recently beat analysts' expectations for its quarterly results for the ninth time in a row. It also worked out a performance-based deal with Cigna (NYSE:CI) around its new PCSK9 inhibitor Repatha that is a new class of cholesterol-lowering drugs that should expand coverage. Piper Jaffray reiterated its Buy rating and $193 price target on this biotech stalwart last week, and I expect others to continue to be supportive of the shares.
Micro cap Recro Pharma (NASDAQ:REPH) saw its first analyst activity in at least a year last week. The shares could sure use some help as they have lost two-thirds of their value in the current deep bear market in the sector. The company is focused on developing non-opioid products for the treatment of acute pain. The firm has two product candidates in mid-to-late stage clinical trials for the management of acute post-operative pain. Recro Pharma owns and operates an 87,000 square foot, DEA-licensed facility that manufactures five commercial products which are commercialized by partners, and receives royalties associated with the sales of these products. The stock currently goes for under $6 a share and has a market capitalization of approximately $65 million.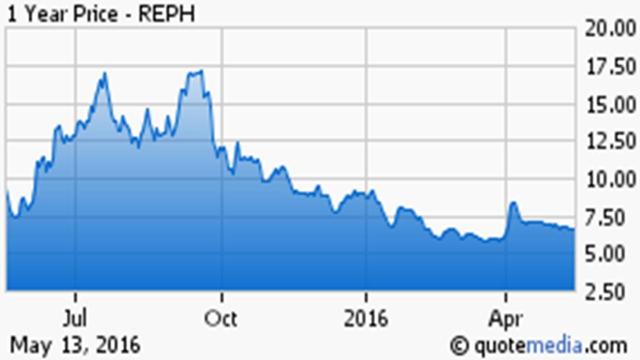 H.C. Wainwright reiterated its Buy rating on Friday on Recro Pharma. The same day, Brean Capital reissued its Buy rating and a whopping $28 price target on REPH. This is not a name I follow. Based on a cursory glance at this balance sheet and income statement, it appears the company will continue to post losses and has more debt than cash on the balance sheet at the moment. Therefore, I would be inclined to take these recent analyst ratings with a grain of salt. They could be in front of an upcoming secondary offering - not that investment banks would ever do such a thing.
Note: New analyst ratings are a great place to start due diligence, but nothing substitutes for deeper individual research in this very volatile sector of the market. Many of the small-cap names highlighted in the "Analyst Insight" will eventually appear in the "Spotlight" section, where we do deeper dives on this type of promising but speculative small-cap concern.

Our spotlight today profiles a small biopharma concern, appropriately named Array BioPharma (NASDAQ:ARRY).
Company Overview
Array BioPharma Inc. is a biopharmaceutical company focused on the discovery, development and commercialization of targeted small molecule drugs to treat patients afflicted with cancer. The company is based in Boulder, Colorado, and has a market capitalization of just over $400 million. The stock currently goes for just under $3.00 a share. The shares' 52-week high is just north of $8.00 a piece.
Pipeline
For a small-cap concern, Array has myriad compounds in ongoing trials including a number in Phase III and even a greater amount in Phase II development. It also has an impressive lineup of development partners including AstraZeneca (NYSE:AZN) and Genentech.
One of the compounds furthest along its development path is selumetinib. This is an oral, small-molecule MEK inhibitor invented by Array and licensed to AstraZeneca. AstraZeneca is responsible for the development and commercialization of selumetinib and Array could receive an additional $30 million in additional milestones for successful development of this compound as well as royalties on any commercialized product sales. MEK is a key protein kinase in the RAS/RAF/MEK/ERK pathway, which regulates several key cellular activities including proliferation, differentiation, migration, survival and angiogenesis. Inappropriate activation of this pathway has been shown to occur in many cancers, in particular through mutations in BRAF, KRAS and NRAS.
Also far along is binimetinib which is an oral small-molecule MEK inhibitor invented by Array. Two Phase 3 trials with binimetinib in advanced cancer patients are currently advancing: BRAF-mutant melanoma (COLUMBUS) and NRAS-mutant melanoma (NEMO). Array plans to submit binimetinib to regulatory authorities for marketing approval in NRAS-mutant melanoma during the first half of 2016. This will be the company's first NDA submission. Array expects top-line results from Part 1 of the COLUMBUS trial in the first half of 2016 and projects a regulatory filing of binimetinib and encorafenib in 2016. Encorafenib is a novel oral small molecule kinase inhibitor with potent and selective inhibitory activity against mutant BRAF kinase, a member of the RAF/MEK/ERK pathway, which plays a prominent role in controlling several key cellular functions including growth, proliferation and survival. The company announced a little over a month ago it was terminating a Phase III trial (MILO) assessing binimetinib in low-grade ovarian cancer due to lack of efficacy.
The company has a variety of other compounds in earlier-stage development. So, in summary, Array definitely has the multiple "shots on goal" I like to see before making any investment in a speculative developmental concern.
Balance Sheet & Analyst Support
Array's balance is a bit complicated as it has some net receivables from Novartis (NYSE:NVS) from regaining the rights to binimetinib and encorafenib recently. In its conference call earlier this month, management did say it had a "strong cash position with approximately two years of cash on hand when comparing to our year-to-date cash burn rate", so the need for any additional financing seems off the table for now.
After being dormant for a long time, analyst commentary has really picked up as of late. This week after the company's recent quarterly results and conference call; Leerink Swann, Cantor Fitzgerald and Jefferies all reiterated Buy ratings with price targets of $6, $13 and $8 respectfully. Piper Jaffray was even more optimistic on April 1st with a Buy rating and $14 price target.
Outlook
In summary, Array has many of the traits I look for in small-cap concerns. It has multiple "shots on goal," strong partnerships, a decent balance sheet, positive analyst support and upcoming catalysts. A beneficial owner named Redmile Group has been very active in increasing its stake in Array since this summer. My only caveat on Array is that it has been a public company for over 15 years and is just getting to the NDA stage. That aside, I like the overall risk/reward profile on Array and have taken a small initial position in the company and have it on my "watch list" as well.
Note: To get these Biotech Forum Daily Digests as soon as they are published, just click on my profile and hit the big orange "follow" button and choose the real-time alerts option

Thank You & Happy Hunting
Bret Jensen
Founder, Biotech Forum
Disclosure: I am/we are long AMGN, ARRY, MYL.
I wrote this article myself, and it expresses my own opinions. I am not receiving compensation for it (other than from Seeking Alpha). I have no business relationship with any company whose stock is mentioned in this article.
Editor's Note: This article covers one or more stocks trading at less than $1 per share and/or with less than a $100 million market cap. Please be aware of the risks associated with these stocks.