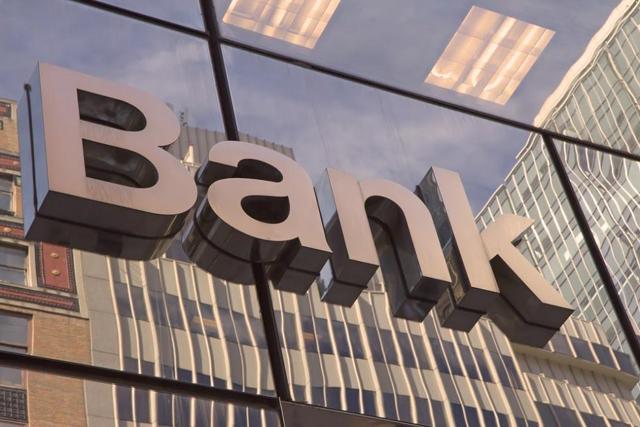 We think the issue of living wills is not getting enough attention by investors.
In a piece from The Richmond Fed titled, 'Living Wills: A Tool for Curbing 'Too Big to Fail' ' they explained that,
"If the Fed and the FDIC find that a plan does not set out a credible path to resolving the firm without public support, they can, if need be, require the firm to increase its capital or liquidity, limit its growth, activities, or operations, and even divest assets to make such resolution a credible option in the future."
Banks Coming Up Short On Asset Disclosure And Contingency Plans To Avoid A Bail-Out
On April 13th, The Fed and the FDIC rejected plans from JPMorgan Chase (NYSE:JPM), Wells Fargo (NYSE:WFC), Bank Of America (NYSE:BAC), State Street (NYSE:STT), and Bank Of New York Mellon (NYSE:BK). They gave these banks until October 1st to resubmit their proposals. Goldman Sachs (NYSE:GS) and Morgan Stanley (NYSE:MS) also had shortcomings but were not seen as unanimous from both the Fed and FDIC. On page 19 through 23, the report reviews each individual company's shortcomings and what they need to fix, which should be read by any investor in these companies. (Each individual company's submission can be found here.)
JPMorgan's proposal, for example, that was rejected, mostly talked about how they are likely not going to fail yet they have the ability to manage if they default. That said, we did not find much conversation of unwinding inter-party transactions, which are likely the keys to the issue. On JPMorgan's recent earnings conference call, Jamie Dimon commented that he felt the complexity of his organization was beneficial. We'd guess the Fed is going to take exception to such an idea until they can clearly explain their balance sheet and off-balance sheet notional business sizes and their contingency plans to resolve them if they had a default.
The main reason for the immense bail-outs in 2008 were due to the web of inter-party risk throughout the banking system. If one, or several similar instruments default, if they are big enough, they can force banks to unwind other assets to meet coverage requirements. These assets are hedges, which then cause liquidity issues on the other sides of the trade. This is where the Fed stepped in last time because such an unwinding was so far reaching that it was a risk to the entire financial system.
This time the Fed and the government are working to figure out how to avoid such tax-payer bail-outs. Given the present system, we believe that may be next to impossible.
The government's push for protection leaves the industry in a tough position.
Either
A) Banks and brokers reduce perceived public risk by reducing exposures, which will slow lending and the economy.
Or
B) The governments will force them to do it over the next few years, if not sooner.
In either case, the purpose of this living will process is that the Fed wants to make a 'commitment not to bail out'. We see no way out of a bail out unless serious liquidity standards were raised ahead of time, which, in and of itself, can meaningfully slow lending.
Bigger Issue Today?
The issue with fixing the problem is that the 'problem' has not only not gone away, but has likely increased since the past crisis.
Forbes pointed out a Ned Davis chart that showed that total notional derivatives is up 75% from 2007 to 2014. Two years later, the growth has likely continued. The web of these loans has also likely continued.
The Fed calls it 'moral hazard'. They believe banks know the problem but take the risk anyway thinking that, most likely, nothing happens and if something does, everybody is to blame and the government will fix the issue. This is exactly the reason the Fed and the government are deciding now to tighten the system that CEOs should not lean on tax-payers.
October 1st Can Become Front Burner Election Debate
We are less than 4 months away from this deadline. There is a risk that this can turn into a front burner issue for both candidates. We think it's fair to think that this will have market repercussions as banks and brokers will be forced to answer difficult questions. We think there is no way to comfortably answer questions about the size of notional trades that will calm politicians and the votes they are after.
There is almost no way a public lay-person and a corporate insider can bridge the understanding gap given the size of these loans and transactions. Leaving aside the debate if there is a problem or not, the politicians have painted themselves into an unanswerable corner that will require painful industry action hurting the economy.
What the Fed Is Looking For Is Almost Undeliverable
The Richmond Fed report said the companies' living wills came up short with "unrealistic or inadequately supported assumptions about the likely behavior of customers, counterparties, and investors when the institution is in distress and the failure to identify the kinds of changes in the firms' structures and practices needed."
The recent report from the Fed and FDIC reported that the banks were either not estimating their portfolio size, did not have a method for estimation, did not have a method for monitoring the need for liquidity, and/or not having liquidation measures in place that would not require a bail-out. (Page 19-23). We think these issues are huge and deep rooted.
We believe that the ability to A) explain their entire portfolio and B) to create contingency plans to avoid a bail-out are next to impossible.
If a bank cannot pay a series of payments, the related parties' in the same or similar transactions payments will have no way to collect. If related payments have no way to collect at other customers or counter-parties, they will need to be written down. Because these values are so high, a write down could cause banks to need to raise or issue capital to meet rising leverage requirements which nobody will want to purchase in the face of such a risk environment. Lehman wasn't the only player. There were multiple players interconnected and hit and needing a bail out.
The contingency plans that the government is asking for to avoid a bail-out are unrealistic. Such a future collapse or lack of making good on such huge trades will need government intervention once again. The request by the government itself is potentially a risk to cause such an occurrence.
Fast moves in the past have caused reputable institutions to fall. Volatility in financial markets are exacerbated recently with the increase in speculative trading in Asia and around the world.
In the face of elections, it's fair to think that, when matched with the October 1st deadline, such an issue will become a front burner issue. The regulator request is unanswerable, which, itself can bring a lack of confidence in financial markets which can lead to less demand for such instruments. Because of the huge leverage a slight pullback in demand will make such instruments more expensive. Such measures of spreads are traded and carefully watched thus showing how the government requests could cause the problem it is exactly trying to avoid.
Currently, there is no way around the problem for banks except for banks to continue adding to their portfolios making the web further interdependent, or, to bite the bullet, which will slow the entire space.
Let's Review The Hypothetical Steps To Meltdown
1. The recent deadline of October 1st for 5 banks to resubmit plans for their living will.
2. Living will news gets headlines and political attention going into the elections.
3. Politicians and the public get their hands on the staggering numbers and the impossibility of fixing this concern.
4. Demand for swaps and other derivatives pulls back as fear builds.
5. Spread and swap pricing rises as demand pulls back.
6. Speculators pick up on the jump in spreads and exacerbate it by trading it further.
7. Fears of a 2008 redux slow spending further leading to higher spreads.
8. Some banks actually get affected by the lack of demand and slowdown in turnover of their book requiring more capital to meet coverage ratios needing to turn to the government or the markets.
9. Because of political pressure, the Fed and government are forced to show their concerns are correct, further pressuring banks to shrink and disclose, and this time, avoid bailout.
10. Bail out is needed somewhere along the line anyway to again save the financial system making everybody look worse. The next bail out will force the Fed, government, FDIC, and the financial institutions to become even more risk averse causing the need for further increased liquidity measures. We dare say this can bring the public to ask for nationalizing these banks altogether. If the banks can't lower their perceived risk exposure, governments may have to get more deeply involved to manage the businesses themselves and reduce the web of transactions. This would bring the economy to a potential slowdown or halt.
While this sequence of events is a possibility, by no means is it the only outcome. Of course, nothing may happen and this could all blow over. We think, though, that the risk needs to be considered.
Risks To The Thesis
We remember much worry 17 years ago as computers around the world were about to flip to Y2K meaning computers that were synced for '99 (as in 1999) wouldn't understand January 1, 00 and would revert to 1900. All companies needed to make sure the year equation had four digits instead of two to avoid imminent disaster.
The government forced many companies to spend large sums of money to be compliant and to add an extra two digits to everything. As we know, nothing really happened but the world was ready for the potential of ATMs and banks to come to a grinding halt as account balances disappeared into 1900. It did not occur.
We also question our call somewhat that the fear itself is based on something that already happened which we usually put in the camp of consensus thinking. That's generally what people worry about, what they know. This new push by government, however, seems like a potential new, and strong catalyst. It's easy to visualize such a string of events, but, then again, could lose steam in congress if banks fund campaigns in hopes to win legislation to ease the living will tests.
As a long-shot, banks could actually come up with what the Fed and FDIC request. Banks could reveal all of their assets, inter-party relationships and come up with a cogent strategy of disentangling the other side of like and broken transactions in a way that doesn't, once again, bring down the system. We call that a long-shot.
Sell Rating On Financial Select Sector SPDR ETF (NYSEARCA:XLF)
While there are probably multiple ways to play this if it proves correct, we think it is fair to at least have on some exposure. The 5 banks make up about 20% of the XLF portfolio but if something negative happens, as we've seen, all institutions can suffer.
The adage that big government slows the economy is ever-present. The recent moves by politicians is forcing the system (maybe rightfully so) to take bigger measures to control risk. When these measures are reflected in bank and broker practices, we think this could slow the system affecting the industry and the economy.
Elazar Advisors, LLC specializes in earnings and predicts, analyzes and reacts to earnings and earnings events as well as developing current company and macro stories with a hedge fund perspective.
If you want Elazar's analysis on Seeking Alpha, scroll to the top of the article and hit "Follow." Elazar also writes real-time pieces as earnings and news are reported on Seeking Alpha. If you want to be among the first updated, be sure to check the box for "Real-time alerts on this author" under "Follow."
Disclaimer: All investments have many risks and can lose principal in the short and long term. This article is for information purposes only. By reading this you agree, understand and accept that you take upon yourself all responsibility for all of your investment decisions and hold Chaim Siegel, Elazar Advisors, LLC, bestideas, their related parties, and its authors harmless.
Disclosure: I/we have no positions in any stocks mentioned, and no plans to initiate any positions within the next 72 hours.
I wrote this article myself, and it expresses my own opinions. I am not receiving compensation for it (other than from Seeking Alpha). I have no business relationship with any company whose stock is mentioned in this article.