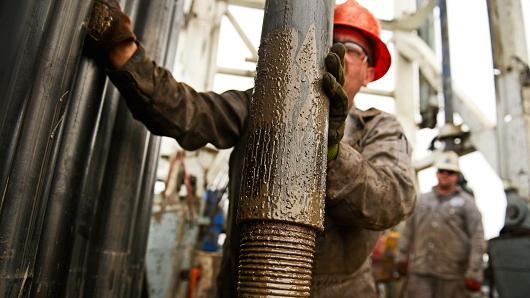 C&J Energy Services (NYSE:CJES) reported Q1 earnings Tuesday and it did not go well. The company reported revenue of $269.5 million and a net loss of $428.4 million. Revenue was off 33% Y/Y as the company was negatively affected by the decline in North American E&P. CJES has fallen over 50% to $0.46 after the report. I had the following takeaways on the company's earnings and its future.
Punishment In The Oil Patch Continues
The decline in North America E&P continues to punish oilfield services firms with exposure to North America land drilling activity. C&J Energy's revenue from Completion Services was $162 million, off 56% Y/Y. The segment provides hydraulic fracturing, coiled tubing and other stimulation services; it also represents 60% of total revenue. North American shale plays have struggled to earn money with oil prices sub-$50. The U.S. rig count fell to record levels in Q1 2016, which portends less equipment spending. There might not be enough work to go around for oilfield services vendors. The work that remains is being impacted by falling prices.
Revenue from Well Support Services increased from $16 million in Q1 2015 to $95 million this quarter. However, it was not enough to offset the diminution in Completion Services. Until industry capex rebounds and decline in revenues abate, the company will have a difficult time surviving the oil patch.
Lack Of Liquidity
At Q4 2015 the company had cash of $26 million. Its cash balance increased to $144 million this quarter. However, C&J Energy increased its revolving credit line by $174 million to help fund $30 million of losses from operations, and potential future losses. The company also reported EBITDA of -$32 million during the quarter. Well Support Services generated $5 million in EBITDA while Completion Services and other services suffered EBITDA of -37 million. The loss was problematic in that it caused the company to be unable to comply with it Minimum Cumulative EBITDA Covenant.
The company has obtained a temporary limited waiver agreement from certain of its lenders pursuant to the covenant violation effective from March 31, 2016 through May 31, 2016; the lenders have agreed not to consider the covenant violation an event of default through May. The company is negotiating with lenders to devise alternatives to its current capital structure. If the temporary waiver is not extended lenders could [i] terminate the company's revolving credit agreement and term loans and [ii] declare the unpaid principal amounts immediately due and payable.
As of March 31, 2016 C&J Energy had used up its remaining availability under its revolving credit facility. It had a cash balance of $144 million and total debt and capital lease obligations of $1.3 billion. If its debt were to be accelerated the company would have to file for bankruptcy.
Going Concern Risk
C&J Energy has engaged Evercore Partners as financial advisor and Kirkland & Ellis LLP and Fried, Frank LLP as legal counsel to advise management and the board of directors regarding potential strategic alternatives. The company does not have the liquidity nor the necessary cash flow to repay its debt if it comes due immediately. Its cash flow will likely be negative going forward. C&J Energy has $212 million in book equity and an equity market capitalization of $54 million. In my opinion, its equity is worthless and it would behoove debt holders to takeover the company in order to recoup what little value remains.
Disclosure: I/we have no positions in any stocks mentioned, and no plans to initiate any positions within the next 72 hours.
I wrote this article myself, and it expresses my own opinions. I am not receiving compensation for it. I have no business relationship with any company whose stock is mentioned in this article.
Editor's Note: This article covers one or more stocks trading at less than $1 per share and/or with less than a $100 million market cap. Please be aware of the risks associated with these stocks.