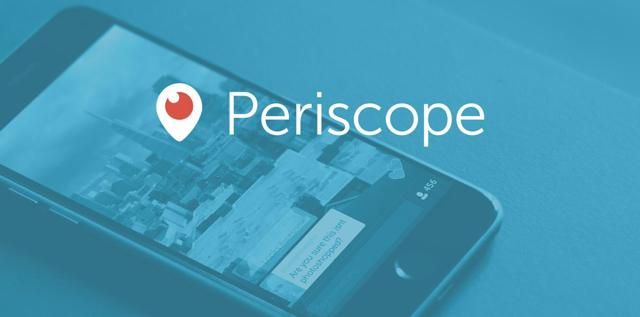 Twitter's (NYSE:TWTR) main issue ironically is perception. The perception is Twitter can't monetize its user base profitably and doesn't have the ability to accelerate user growth. This prognosis has become more accurate as time progresses sending the stock lower, but it can be changed. Twitter should take a page out of Periscope's playbook and tell us the total time spent on its website/app to give us a better picture of the health of the business. I think Twitter is afraid the truth could hurt its popularity if it shows a decline, but investors will appreciate the straightforwardness. It definitely took confidence for Periscope to do this because if there were any hiccups, it could have derailed the entire growth path.
Social Landscape
I have already gone over the fact that I was overly bullish on Twitter's prospects because I was bullish on Periscope. I still remain bullish on Periscope as I think it can be the next popular app after Snapchat (CHAT). With the way apps burst onto the scene, it is only a matter of time when we see another one take the pedestal. Instagram has seen its perch lost to Snapchat and Snapchat will see the same happen to it.
We have seen this popularity rise and diminish with what I would call the off-brand social media apps which have one main function, but do go viral. The original app in this category is probably Vine. Vine would no longer exist in its current form if it wasn't for Twitter. The current leader of this pack is Musical.ly.
It is important to discuss all of these apps and learn from the way they trend to discover which apps have staying power and which don't. We also don't know the limit to the number of social apps teenagers are willing to use regularly, but we will get a better understanding in the future when we see whether Snapchat starts to limit the time spent on Instagram (NASDAQ:FB) (right now both are growing unencumbered by the other). It is a gross mischaracterization of social apps to put them in two buckets: Facebook or MySpace. These apps will all have different trajectories falling between these two drastically different destinations.
Periscope Is Given No Credit
We have seen Periscope burst onto the scene and grow like a weed ever since. In the midst of this Twitter's stock has cratered. I don't know how investors are valuing Periscope, but its arguable they aren't valuing it highly considering the stock decline. Periscope has not been able change the narrative about Twitter. One reason being that Vine ended up being more of a feature on Twitter instead of a game changer that would develop into its own platform. Any investor who focuses on this is suffering from recency bias because Vine is a 6 second viral video app like a GIF, while live video is a proven concept (think live TV).
Another reason Periscope gets no credit is because technology companies often don't get a second chance. This is the reason why Apple's (NASDAQ:AAPL) stock is falling. Investors are worried there is no second act to the iPhone. In my opinion, Periscope was a lucky acquisition by Twitter that gives the firm a second wind.
In the past I have valued Periscope based on YouTube's (NASDAQ:GOOG) (NASDAQ:GOOGL) valuation. An update based on Periscope's usage would be $165 million. However, I think this may be a simplistic (nice way of saying wrong) way of looking at Periscope. The reality is much more binary. Periscope is in "a grow or die" phase. If it grows, it can be the next YouTube and if it dies it will be the next Musicl.ly and Vine. Clearly the potential for live video is much greater than a lip singing app or a six-second clip app. The determination for whether Periscope succeeds will be execution.
I spoke with Ronald C. Pruett Jr., who is the co-founder of Roker Labs, in an interview I did on my YouTube channel. He has a unique perspective because he works with livestreamers at his new company. He admires Facebook for building a platform organically, but said usually when a new category comes about, the leader is a new firm. Since Meerkat has now redirected its business and YouNow is specifically geared towards young people, I believe Periscope fits the bill as a new company taking the lead in live.
Major Update
My motivation for writing this article is the major update Periscope has made to its app. It now looks like YouTube. It has matured to the point where it finally looks like a platform instead of an off-brand app. Frankly, it has better features than Snapchat.
The newer features are the ability to draw on the screen during a scope, see a chart of the number of viewers you had in your stream, bigger thumbnails, see the length of the video on the thumbnail, and livestream from a drone. These are all incremental functions, but they aren't the reason this update is the biggest one in Periscope's short history.
The two reasons why the app is so important are the new search feature and the ability to save a stream for longer than 24 hours (by default). Having scopes last more than 24 hours is a game-changer. Part of Snapchat's allure is that it is private. This is why the stories delete after 24 hours. Periscope is a public forum, making it the exact opposite of Snapchat, so it makes sense that scopes should be able to last forever. I had a strong inclination Periscope would do this because Keyvon has the type of personality where he listens to users and implements what they want. If only Jack Dorsey would do the same with Twitter and allow for the ability to edit tweets.
The reason why saving broadcasts is critical is because it empowers the user to create better content, knowing it can gain views over time even if it doesn't do well live. Twitter already excels at getting views as quick as possible, but it lags in terms of legacy views (views a few days after the content was posted). Having scopes save increases legacy views which opens up the type of content creators can make. It also allows streams to go viral. Great content gets created on Periscope every day. The problem is it gets deleted before it can go viral. Viral clips are what helped Vine grow at the start. It will do the same for Periscope.
Search on Periscope now exists. Twitter used its expertise with hashtags and organizing tweets and brought that to Periscope. Now that these hashtags in music, art, news, etc. exist, all types of content can flourish. In my perspective, I have a finance show I do on Tuesday nights with a professional trader. We get a lot of viewers who don't know anything about finance which isn't helpful. It will be great to get the correct viewers we are targeting. Politics already has garnered great discussion on Periscope. It will be great to have the ability to find it like you find Fox News on TV. The problem Periscope wants to avoid is having stale content where users just stare at the screen waiting for questions. These new features will empower creators to innovate.
Conclusion
My thesis for how broadcasting apps thrive is based on the success of YouTube. YouTube empowered creators to make original, unique, and personal content. This is why it is the leader in video on the web. I think if Periscope follows in YouTube's footsteps, it can have monster growth and overtake Snapchat as the top app of the moment. I still maintain that monetization needs to come soon, but as of now Periscope is on the right track.
I still am avoiding Twitter stock because of the macro reasons laid out in my article titled "2016 Recession Is Imminent." So far the market has remained flat for the year, meaning it hasn't priced in the risks I see the economy has. On principle I am avoiding Twitter stock because it falls into the high-beta and cyclical categories.
Disclosure: I am/we are short FB.
I wrote this article myself, and it expresses my own opinions. I am not receiving compensation for it (other than from Seeking Alpha). I have no business relationship with any company whose stock is mentioned in this article.
Additional disclosure: Please consider hitting the follow button at the top of this article next to my name if you thought this article was well done. I also have a YouTube channel linked on my profile page.