Here is how a community of the arguably best-informed players in the stock market game see the reward~risk balances of the 30 DOW (NYSEARCA:DIA) stocks:
Figure 1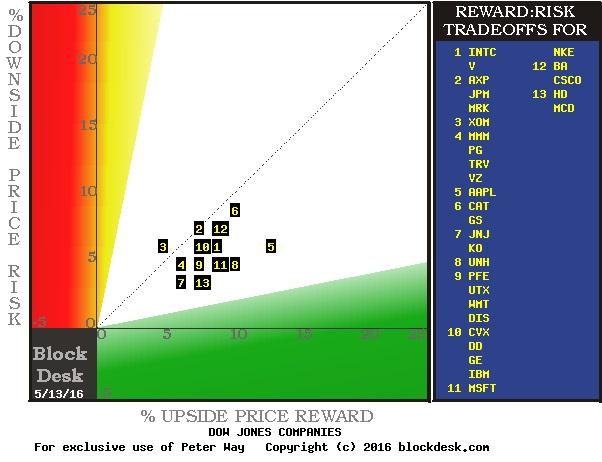 (used with permission)
Upside price-change forecasts, held likely enough to occur that market-making [MM] professionals are paying up part of their trade spreads to be protected from them, are measured on the green horizontal scale. Actual worst-case price drawdowns following similar prior forecasts of the last five years are measured on the vertical scale. The dotted diagonal shows where the balance shifts from good to bad.
Where's the best upside for the least downside risk? It could be McDonald (NYSE:MCD) or Home Depot (NYSE:HD), both at point [13] on this map, seen to have about +7% price reward prospects with only -3% drawdown exposure. Or it could be Apple (NASDAQ:AAPL) with +15% potential price gains and less than -6% risk. Each of the three stocks has apparently at least twice as much gain opportunity as loss potential.
Perhaps a closer look will help
Here is how AAPL's prospective prices might range in coming months, as implied from the MM's hedging behavior, day by day, pictured over the past six months. The current price range prospect, and the experiences of all 163 prior forecasts like it in the past five years are shown in the row of data between the two blue pictures.
Figure 2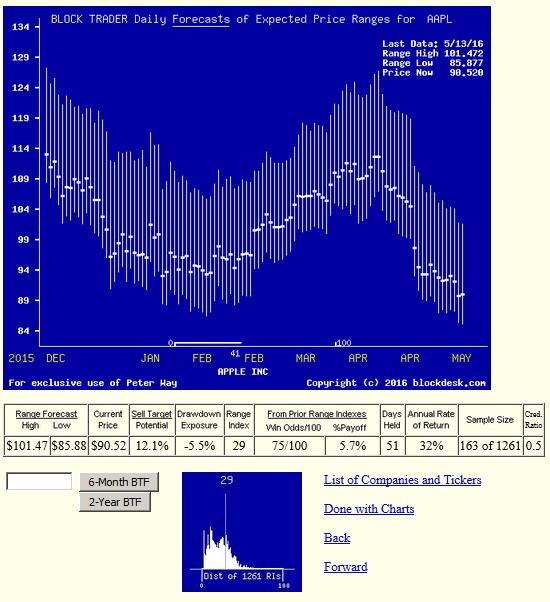 (used with permission)
The vertical lines here encompass ranges of likely price extremes, separated into upside and downside price change prospects by the market quote (heavy dot) at the time of the forecast.
Those prior 163 forecasts scored an average CAGR of +32%, net after losses, winning profits in six out of every eight (75 /100) experiences, when following a standard portfolio management risk-controlling discipline. Not bad for a stock with a price trend growth of only half as much during the past 5 years.
How did the others do?
Here is a similar look at Mickey-D:
Figure 3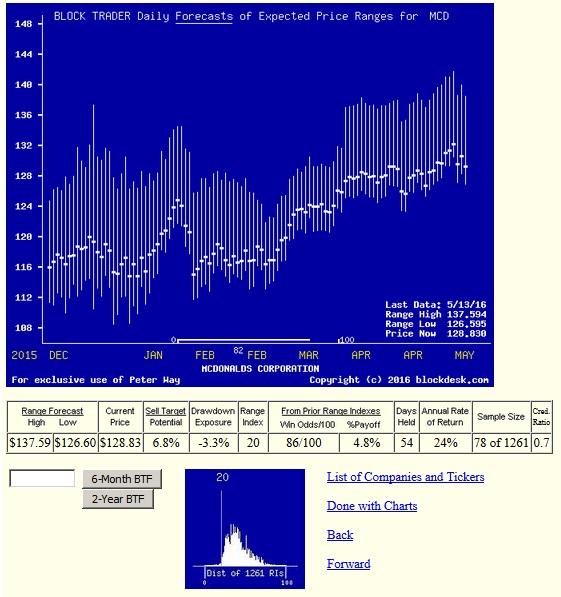 (used with permission)
The CAGR of 24% accomplished by the 78 like prior forecasts reflects on an underlying price trend growth of only +10%, so MCD's appraisals by the MMs appear to be every bit as timely and advantageous as their outlooks for AAPL. Here they are just at a smaller scale and higher odds for success - about seven out of every eight were winners.
Then, a parallel analysis for HD:
Figure 4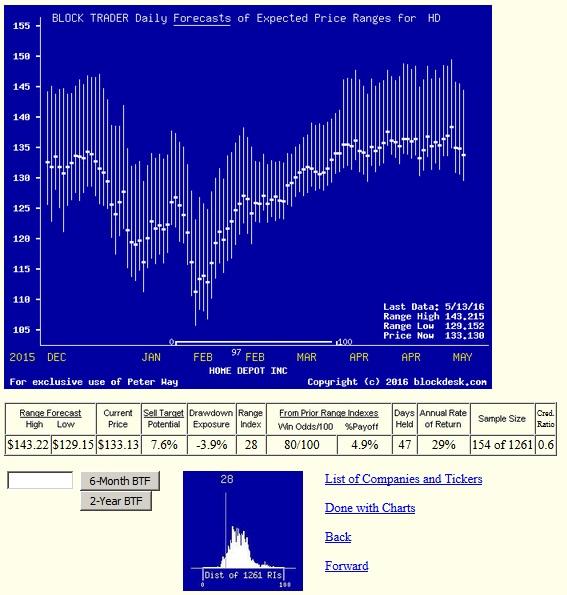 (used with permission)
These results are based on the prior outcomes of 154 forecasts by MMs, which also had an upside to downside balance of 28% of the forecast range below the then current market quote and 72% above. Those experiences produced CAGRs of +29%, slightly lagging HD's price trend of +33%. Profits were earned in eight out of every 10 prior experiences under our standard portfolio management discipline.
Which choice fits your needs best?
Not everyone is out for maximum price gains, regardless of the emotional stresses likely to be encountered. But if a situation of seeing an investment's price at a -5.5% loss below its entry cost doesn't bother you, then AAPL may be your stock, even if you come up with a loss in a quarter of your tries.
But if a win-loss record is important to you and others viewing your outcomes, then maybe MCD's experiences of winning seven out of eight tries makes it worth accepting net results only three-fourths as productive (in capital gains) as the AAPL choice.
Or if the notion of longer-term performance is more important than immediate opportunity, then perhaps the +32% average CAGR of HD's underlying price trend trumps AAPL's interim opportunity of an equal-sized likely reward.
Conclusion
One size doesn't fit all for investors, nor should it. Otherwise market liquidity would get severely limited. The implied prospects for price behavior derived from the behaviors of very well-informed, experienced, and essential players in the game are no guarantee of what may actually happen. Very few, if any, credible win ratios of 100/100 exist.
But knowing something about the other players you are contesting with should be a help in making serious decisions most appropriate to your situation and preferences.
Additional disclosure: Peter Way and generations of the Way Family are long-term providers of perspective information (earlier) helping professional and [now] individual investors discriminate between wealth-building opportunities in individual stocks and ETFs. We do not manage money for others outside of the family but do provide pro bono consulting for a limited number of not-for-profit organizations. We firmly believe investors need to maintain skin in their game by actively initiating commitment choices of capital and time investments in their personal portfolios. So our information presents for their guidance what the arguably best-informed professional investors, through their own self-protective hedging actions, believe is most likely to happen to the prices of specific issues in coming weeks and months. Evidences of how such prior forecasts have worked out are routinely provided. Our website, blockdesk.com has further information.
Disclosure: I/we have no positions in any stocks mentioned, and no plans to initiate any positions within the next 72 hours.
I wrote this article myself, and it expresses my own opinions. I am not receiving compensation for it (other than from Seeking Alpha). I have no business relationship with any company whose stock is mentioned in this article.