Pizza Pizza: Q1 Results Recap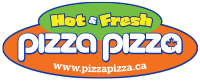 Last week, Pizza Pizza Royalty Corp (OTC:PZRIF) or ("PPRC") reported Q1 2016 results. Much like in Q4, the results highlighted weakness in Alberta and relative strength elsewhere in Canada. Overall system-wide sales increased 3.3% while same-store sales increased 2.5%. Adjusted earnings per share increased 1.4%.
This report will review the quarterly sales results, including the conference call, and highlight pertinent key takeaways for investors.
Note: The company has more liquidity on the Toronto Stock Exchange under the symbol "PZA".
Quarterly Results
Same-store sales growth driven primarily by strength at the Pizza Pizza ("PP") brand while Pizza 73 ("P73") continued to see sales declines as a result of weakness in the oil patch. PP increased 4.9% while P73 decreased 7.9%. P73's results provide us with some key insight into the magnitude of sales declines currently being felt in Alberta.
In Central Canada, PP continues to see some of its best results in years and management continues to push further into its core markets - Ontario and, now, Quebec. As PP contributes mores than 75% of royalties to PPRC, it is arguably the more important driver of results over the longer term than P73.
The dividend payout ratio was 100% in the quarter. The company has ~$5 million in cash reserves to cover any temporary income shortfalls, which is equivalent to about 1 quarter of dividends. Note Q1 is typically the softest sales quarter.
Conference Call Review
Management disclosed that both average check and traffic increased, which is good to see. Improved pizza quality and ongoing technology improvements (digital orders are ~50% of all orders) continue to make a modest impact each quarter. Technology will continue to be a "differentiator" against other smaller, value pizza brands.
Management believes quality improvements is one reason they are now seeing better sales results at PP. Customers are noticing and in addition to visiting more frequently, they are spending a bit more too. That said, price increases have also been passed through successfully.
With respect to Alberta, management is keen to use it as an opportunity to take market share. The company disclosed P73 stores have "solid bottom line profitability", which, in my view, puts them in a better position to invest and win traffic opportunistically. In addition, same-store sales comparisons should get easier in the second half of the year.
Lastly, management called out the success they are seeing in Montreal - a key growth region going forward - while highlighting that Ontario was "patchy" - some places are good and others not as much.
Relative to Peers
Given that most of the companies in the Canadian restaurant space have reported, I'll update my comparative same-store sales chart. While not completely comparable, it gives you a sense of how each company is doing beyond one quarter.
The best performer remains A&W with chains such as MTY (OTC:MTYFF) and Imvescor (OTC:IRGIF) seeing a modest sequential acceleration.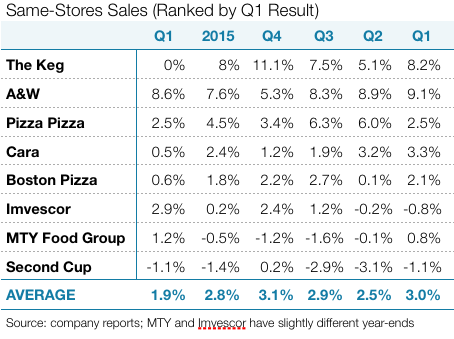 Key Takeaways
To finish up, here are my four key takeaways from the quarter:
PPRC increased the royalty twice last year and, as long as same-store sales continue to increase, we should see another this year. The current yield is 6.2%.
Results at PP are some of the best we are seeing amongst quick-serve restaurants.
The sales decline in Alberta accelerated and, in my view, is a bit surprising for a "value" brand like P73. In contrast, A&W inferred that Alberta was actually doing ok - even slightly positive. A&W's differentiated but higher-priced offering highlights that customers will pay up for quality - arguably, P73 may have problems bigger than just the economy.
I'll continue to watch PP's success in Ontario and Quebec, which, in my view, is the most important driver of the business. If these regions can deliver modest growth, the dividend should continue to grow. This remains a good-quality franchise with a network of great locations and significant brand recognition.
Disclosure: I am/we are long PZRIF, MTYFF.
I wrote this article myself, and it expresses my own opinions. I am not receiving compensation for it (other than from Seeking Alpha). I have no business relationship with any company whose stock is mentioned in this article.
Editor's Note: This article discusses one or more securities that do not trade on a major U.S. exchange. Please be aware of the risks associated with these stocks.