CCL: Checkpoint Acquisition Completed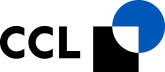 Last week, CCL Industries (OTC:CCDBF) announced it had closed the acquisition of anti-theft and label manufacturer Checkpoint Systems (NYSE:CKP). This marks CCL's latest (and, if memory serves me correctly, their largest) acquisition in recent memory. The acquisition - worth U.S. $443 million (including cash) or $10.15 per share - will expand the technical capabilities of CCL, which has built itself into the world's largest label maker through a disciplined and conservative acquisition process.
So who is Checkpoint Systems?
This article will review the acquisition for CCL investors and provide some investment takeaways. Note: CCL trades with better liquidity under the symbol "CCL.B" on the Toronto Stock Exchange.
Checkpoint Systems
Checkpoint provides security technology and labeling solutions to the retail and apparel industries, including some of the top global brands. In addition to helping retailers reduce shrink, they provide operational data as well (e.g. inventory tracking). The acquisition also adds a variety of hardware to CCL's portfolio (i.e. tags, specialized security) in addition to the labeling business (i.e. basic merchandising to electronic "smart" labels).
While Checkpoint is a global company with good technology, the business has seen its share of struggles recently. As demonstrated in the following section, Sales and EBIT have been declining and the company has incurred a variety of restructuring and impairment charges.
The company operates in nearly 30 countries and more than 2/3rd of revenue is generated outside the U.S.
Financial Results
Results at checkpoint have been hardly impressive. In addition to sales and EBIT declines, impairment and restructuring charges have led to GAAP losses in 4 of the past 5 years. The following profiles sales (down nearly 25%) and Adjusted EBIT (down nearly 30%) over the past 5-years, which, even as adjusted numbers, aren't impressive.
Restructuring and asset impairment charges have proven to be anything but recurring and the company incurred a ~$100 million goodwill impairment in 2012. Hopefully, CCL proves to be a better manager of this business than existing management.

Fortunately, despite the operational struggles, the balance sheet was in good shape - $33 million of net cash.
Acquisition Controversy
The acquisition made a little bit of news when one of Checkpoint's shareholders called it a "take-under". Wynnefield Capital argued that management is not acting in the best interest of shareholders and accepted an opportunistic (or in their words "disastrous") bid from CCL.
The deal price to which Checkpoint's Board has agreed is utterly inadequate and an affront to the Company's shareholders. Checkpoint is a company with a promising future - strong business fundamentals, including a blue-chip customer base, attractive recurring revenue, robust free cash flow and significant RFID opportunity growth. Checkpoint's Board has chosen to forego the Company's intrinsic value and accepted a take-under buyout based on a discounted EBITDA multiple and at a price that is 25% below where the stock traded just one year ago.
And after reading the acquisition presentation, it certainly seems that Checkpoint management has thrown in the towel. As justification for the transaction, they cited 1) negative analyst commentary 2) declining EBITDA estimates and 3) failures of management to improve the business.
If Wynnefield Capital is correct, CCL shareholders should rejoice at managements discipline - they potentially got a quite a deal. However, the historical financials suggest CCL has a lot of work to do (despite the supposed promising future) before this proves to be a good use of shareholder capital.
Price Paid
Checkpoints acquisition presentation gave us some good information regarding the transaction.
Relative to CCL's recent acquisitions, Checkpoint is one of the higher EBITDA multiples paid - and well above CCL's 5.2x average. For a business that has been in decline, we should be somewhat skeptical that CCL paid more for a low quality business.

This is where CCL's operational excellence and track record becomes critical. At the moment, management estimates they will extract $40 million in synergies from Checkpoint. If correct, it makes the price paid much more attractive (4.3x). Either way, we'll happily argue that Checkpoint is in far better hands at CCL than with current management.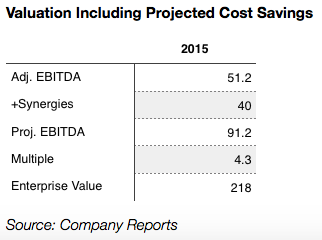 In short, while Checkpoint adds a new business unit within CCL's portfolio, management will, in my view, likely have their work cut out for them. This adds a new vertical and a struggling business. However, they've demonstrated success with a variety of labeling technologies, customers and end-markets before and, if they are successful here, Checkpoint will look like a good deal.
Investment Takeaways
Here are 4 of my takeaways from the acquisition:
On the Q1 2016 results conference call, management made a point of highlighting that, including Checkpoint, they have spent around $1 billion on acquisitions (including the large Worldmark deal from November) in the past 12 months. Going forward, the focus will be on successfully integrating and improving (in some case, fixing) the new businesses added.
As mentioned, management has guided to $40 million of synergies at Checkpoint. If you believe these are reasonably possible, the purchase price is attractive.
I expect CCL to implement a similar process at Checkpoint as it did at Avery - restructure, increase cash flow and de-lever the balance sheet. A bonus would be if they can once again turn around a struggling business like with Avery. Checkpoint will add about ~$500m CAD to the balance sheet bringing net debt to $1.1 billion - bringing debt/ EBITDA to 1.4x.
Looking at Checkpoints portfolio, we can see a variety of products that don't immediately fit with CCL's label background. I wouldn't be surprised to see some asset sales in order to refocus the acquired business.
Disclosure: I am/we are long CCDBF.
I wrote this article myself, and it expresses my own opinions. I am not receiving compensation for it (other than from Seeking Alpha). I have no business relationship with any company whose stock is mentioned in this article.
Editor's Note: This article discusses one or more securities that do not trade on a major U.S. exchange. Please be aware of the risks associated with these stocks.