On November 11th, 2015, Leatt (OTCQB:LEAT) reported Q3 results and hosted a conference call that guided for less-than-stellar Q4 results. The share price plummeted 25%, as a result.
On March 15th, Leatt reported the anticipated terrible Q4 results, but was very upbeat regarding the future. The share price plummeted another 25%, nonetheless.
The stock is now down over 50% from its peak and 30% from my initial recommendation (which I recommend readers read to gain a full knowledge of the company) due to these apparently horrid Q4 results. But what mere 3-month numbers could possibly decimate Leatt's valuation by so much? Let's take a look...
Q4 and 2015 Results
On the surface it looks bad: sales declined 38% yoy, from $7.3 million to $4.5 million, and the company became unprofitable. Further, new helmet sales contributed $1.4 million to Q4 2015, while they had no contribution in 2014. So the actual comparable decline in sales was 58% yoy, from $7.3 million to $3.1 million, which would probably be enough to justify the 50% plunge... if sales stay that way.
But that's not what's going on. Leatt's Q4 took the dual impact of an overinflated 2014 comp and a one-time seasonal switch that put some Q4 revenues into Q3. This caused the perception that sales had declined 58%, which caused the massive decline in share price and more importantly masked the impressive rollout of the new Leatt helmets.
In reality, initial stocking sales to OEMs in the U.S. positively impacted Q4 2014 revenues by $1.8 million, an amount that management knew wouldn't repeat in 2015 or beyond. Further, Leatt made a one-time decision to receive initial 2016 orders in Q3 instead of Q4; Leatt has historically seen higher Q4 revenues because of these orders, and not knowing about the switch could also cause a misperception.
In order to create more comparable numbers, we can look at the aggregate Q3+Q4 results, and subtract the $1.8 million one-time increase from 2014 revenues as well as the $1.4 million helmet sales from 2015 revenues. This shows a decrease of $1.2 million between the periods, from $9 million in 2014 to $7.8 million in 2015. Of course this still doesn't make 2015 results amazing, but it also doesn't make sense as rationale for a 50% decline.
Further, all of 2015, especially Q4, was even more negatively impacted by many factors that are unimportant in the long term. The well-known appreciation of the U.S. dollar has reduced Leatt's distributors' buying power and negatively impacted stated sales (which are in U.S. dollars). This has been a large impediment to sales growth, but the trend should likely slow or reverse soon, as it's simply impossible for the dollar to appreciate indefinitely. Also, my initial thesis on Leatt centered around the company's two segment system: neck braces and body armor, and how the body armor segment's growth was being masked by stagnation and even decline in neck brace sales. While it is very rough, this trend did occur in 2015, where neck brace sales declined 25% and body armor sales (absent helmets) declined just 9%. This doesn't account for the large OEM order in 2015, which likely bought more neck braces than body armor, as neck braces are Leatt's main product.
So all in all, Q4 was a fairly bad quarter, caused by the amalgamation of several disparate and mostly one-time negative factors. However, currency issues, difficult comps, seasonality switches and segmented decline should all go away in the long term, indicating that the bad Q4 results were mostly one-time, and that the market severely overreacted to the news.
Overall 2015 results, especially those of the latter two quarters, were also far from stellar, but again macroeconomic headwinds are negatively affecting the company, and should clear up in the future. Further, investors must recognize that companies as small as Leatt with nonrecurring sales have inherently choppy growth; it's more important to believe in the long-term story in this case, which will allow you to overcome a couple bad quarters of results.
The company's recently-released Q1 (historically the company's worst quarter) results show the company returning to previous levels, as, ex-helmets, they were flat yoy, with neck brace declines of 10% offsetting 10% growth in body armor.
Keep in mind that Leatt's growth is always going to be nonlinear due to the non-recurring nature of sales, aforementioned two segment system, and inexact timing of new product releases, which are the main drivers of growth. Remember also that Q1 results were achieved despite macro headwinds to Leatt's growth; once these headwinds clear up and body armor sales continue to grow, I see Leatt's growth picking up briskly, especially if they are able to introduce more new products. Speaking of which...
Helmets
Perhaps the most important effect of Q4 and the market's reaction to it was that it allowed Leatt to introduce their helmet into the market completely ignored. Shareholders can now buy into this potentially huge product for free, while at the same time capitalizing on the obvious overreaction to Q4 results.
Throughout this article I have backed out helmet sales in order to create a better comp for last year. But that doesn't mean they should be ignored. In Q4, helmet sales were a massive $1.43 million. In comparison neck brace and body armor sales are only ~$2 million each quarterly. In Q1 this number dropped down to $0.8 million, which is still a huge amount for just one group of products for Leatt. Also, I expect helmet sales to pick up from their Q1 amounts, as Leatt's usual seasonality involves very high Q4 numbers and very low Q1 ones. This year this trend was disrupted by them allowing 2016 orders in Q3, but the helmet wasn't yet out back then, so it is likely they instead took helmet orders in Q4. This implies that the sequentially lower helmet sales are only due to Leatt's general seasonality, and aren't the result of a good start and constant decline afterward. If helmet sales follow Leatt's general seasonal pattern, it wouldn't be surprising if they generated upwards of $4 million in revenues this year. This would represent almost 25% growth just off of one new product line.
Also, on the Q1 conference call, management let loose a bit of information arbitrage for those that were listening closely: although they already have orders in, Leatt still hasn't shipped the vast majority of their DBX helmets, and following company policy, therefore hasn't recorded them as sales yet. They expect this shipment to occur in Q2, which means two very important things: first, Q4 and Q1 helmet revenues were both almost exclusively GPX helmet sales with no DBX contribution, and Q2 results could be blowout with the DBX contribution, especially if its sales are as large as the GPX helmet's.
The helmet line could end up becoming a huge contributor to Leatt's sales in the future, and therefore help to define the Leatt brand as a comprehensive protective equipment company.
Valuation
After the terrible Q4 numbers I don't think it's prudent anymore to use an earnings valuation for the company, especially considering the large amount of operating leverage inherent in Leatt's business model. Even so, Leatt trades at 13x EV/OCF, which isn't really cheap or expensive.
So that 50% haircut only made Leatt fairly valued? I don't believe so.
Leatt also currently trades at 0.72x EV/S. This is the ratio people should be looking at. I don't believe Leatt's current earnings fully represent the company's earnings potential, which is what is most important, as they imply the continuation of subpar margins that should increase substantially with the slightest growth in revenue.
Consider that for 0.7x sales you're buying into 52% gross margins, minimal capex requirement and low operating costs, which even declined yoy while revenues were stagnant. This is not a commoditized, net zero industry. Rather, sales are driven by quality, not price, and premiums are paid for brand. It doesn't follow that such a company should trade at 0.7x sales (0.65x forward if you factor in my assumptions for helmet sales).
Also, Leatt has a substantial amount of operating leverage in its business model. Its current manufacturing facilities can support far more than current sales, historically stagnant executive salaries are collectively almost $1 million a year, and its network of third party distributors don't have many incremental costs to grow. Therefore, I see incremental gross profit dropping quickly to the bottom line, which could substantially increase the current 5% margins, which in context seem far too low to be sustainable.
Even with just 10% margins (remember this is a 50% GM brand business so this should be easy) Leatt would trade at 7x cash flow, which is simply too low for this recognized presence in the low-competition protective equipment industry that is growing sales rapidly, and has proven its ability to continuously churn out new products. Importantly, I believe just the addition of ~$4 million in helmet sales in 2016 can bring Leatt to 10% margins, or $2 million in cash flow; this implies $1 million in added operating expense to support the new venture. Further growth in body armor sales could also trigger this operating leverage. The below growth shows the strong correlation between Leatt's margins and revenues.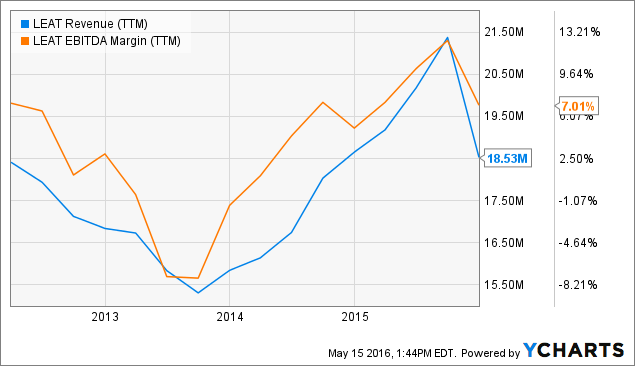 LEAT Revenue (TTM) data by YCharts
I don't think it's unreasonable to expect 15-20% margins if Leatt continues to execute and grow. These margins would imply 22-28% cash flow yields, respectively, on current sales, and would only likely require 20-40% growth (on top of helmet contribution this year) to achieve. Of course this is highly unpredictable, and is only meant to show the potential if Leatt garners real margins on its products.
Growth
Although I have previously backed out helmet sales to create a better comp, they really are now part of the business and should be considered growth, as should the company's past and future new products. I'm typically reluctant to just assume that a company will keep churning out products as Leatt does, as there is a large degree of uncertainty to it, but Leatt has continuously done it successfully for years, and is showing no signs of stopping. Therefore the ~20% growth caused by the introduction of these new products can and should be considered growth when valuing the company.
Last year the big product was the new C-Frame knee brace that significantly increased body armor sales ~$2 million. This year it's the helmet which will likely have an ~$4 million contribution (I'm confident future years will see the introduction of equally important products... especially as we shareholders are paying Dr. Leatt $500K a year to develop them).
The 10-20% growth these new products cause should be considered growth in a valuation calculation, as it is mostly predictable and sustainable. This, on top of perhaps 10% organic growth, driven by a large unaddressed TAM, continued body armor growth over neck braces and potential expansion into adjacent industries, think more casual sports should drive ~25% sustainable growth for Leatt going forward. The potential for Leatt to sustain this growth rate is being unfairly discounted by the current market valuation, in my opinion. In fact I see current valuations as assuming no growth whatsoever... forever.
We are currently at the point where just one semi-successful new product could double Leatt's margins and therefore halve its valuation. I believe the recently released helmet may be this product and implies significant upside to come.
Risks
Risks to the company and stock include:
Low liquidity, resulting from a tiny 3 million shares;
Above-average litigation potential;
Concentration of sales geographically and individually;
Small size, possibly augmenting the effects of a negative black swan event;
Low coverage of stock, resulting in possible misinterpretation of information;
Lack of voting power over management and advisors that own 51% of the common stock;
Continuation of macro headwinds negatively affecting the company;
Predicted market acceptance of the helmet not occurring;
Failure to develop new products;
Failure to execute on operating leverage; and
Sales declines, augmenting the negative effects of operating leverage.
Conclusion
Investors' misinterpretation of bad Q4 2015 results sent Leatt shares down 50% from their peak, to a price that far understates the company's intrinsic value. I see potential for margins to double just this year with new helmet sales triggering strong operating leverage, which leads to 7x forward EV/OCF (shares currently go for 13x trailing EV/OCF). This multiple could even be lower if the company grows organically, or if the DBX helmet's contribution (starting Q2) is anywhere near GBX helmet revenues.
I don't believe this valuation accurately represents Leatt's semi-monopoly in the neck brace industry, recognized global brand name and strong ability to grow both organically and through new product introductions.
Information for this article was compiled from Leatt's most recent 10-K and 10-Q, Q3 conference call, Q4 conference call, Q4 results press release and the website.
If you found this article interesting or like my writings, feel free to follow me by scrolling to the top of the page and clicking the gray "follow" word (desktop) or orange "follow" button (mobile) to the right of my name.
Disclosure: I am/we are long LEAT.
I wrote this article myself, and it expresses my own opinions. I am not receiving compensation for it (other than from Seeking Alpha). I have no business relationship with any company whose stock is mentioned in this article.
Editor's Note: This article covers one or more stocks trading at less than $1 per share and/or with less than a $100 million market cap. Please be aware of the risks associated with these stocks.