In my ongoing effort to build a portfolio, I'm turning my attention to what I consider to be high quality companies that sell luxury or mid-range consumer products. I can become more personally invested in these sort of companies than I can a railcar manufacturer, for example, because I know and enjoy the luxury industry on a personal level. My usual criteria applies to these companies as well. I'm looking for companies that are (irrationally) inexpensively priced, generate a high return on equity, and have high levels of institutional support. I'm particularly interested in companies that have a number of investors worried about the short term. The company that I think fits the bill is Michael Kors Holdings Inc (NYSE:KORS).
State of Luxury Goods Globally
Although there's some fear that Luxury Goods are stagnating, it could be said that the people who consume these products are the last to be affected by an economic slowdown and the first to recover from one. Also, although there are problems to be sure, the impact is not nearly as great as some bears are suggesting. If you read through some of the more pessimistic language in reports like this one, the message emerges that, although 2016 will be a challenging year, just like 2015, luxury goods sales are expected to rise about 3.5%, from $317 billion to $328 billion. This may be an overly optimistic assessment, but it's acceptable to say that the luxury goods world isn't heading to hell in a handcart. Prices of companies like Michael KORS implies the market believes things are more dire than they are.
State of Kors Specifically
Within a flourishing industry, there will always be winners and losers, so it's important to drill down further and see if Kors is positioned to do well. I want to see if the company can navigate the changing tastes of this unpredictable sector over time. A very sound argument could be made that the recent sympathetic selloff in Kors relates more to the fortunes of another company, which presents investors an excellent opportunity at the moment.
In spite of the volatile nature of the business, KORS Net Income and Cash From Operations have been impressive. Obviously the cash from operations is relatively more volatile, and seasonal, but it is on a nice upward path. The same can be said for net income.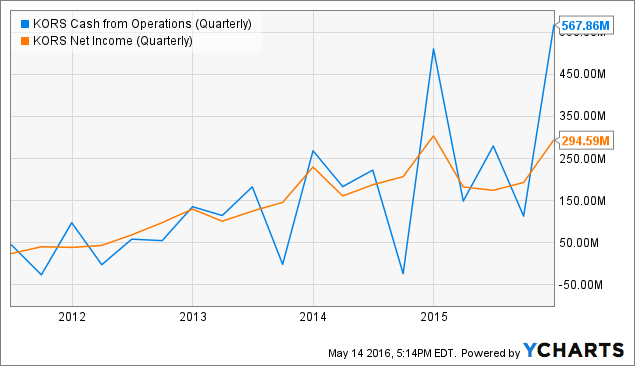 KORS Cash from Operations (Quarterly) data by YCharts
I am very mindful of the level of debt that my investments have taken on. If companies have high levels of debt, I want a clear trend that it's coming down. If companies have debt, I want to look at the maturities of that debt to make sure that they won't be forced to make massive repayments in the very near future. Thankfully, KORS has no debt, so the risk on that score is zero.
Institutional Ownership
Because I consider myself a novice investor, I like to focus on what more sophisticated investors are doing, as they have access to information and insights that I might not. If my views line up with their views, I'm happy.
Institutional ownership at Michael Kors has come down somewhat, but still remains quite high, at just below 80%. Another interesting thing to observe about this chart is that price and institutional ownership seem to be correlated fairly closely. If institutions abandon this company, it makes sense for investors to follow suit.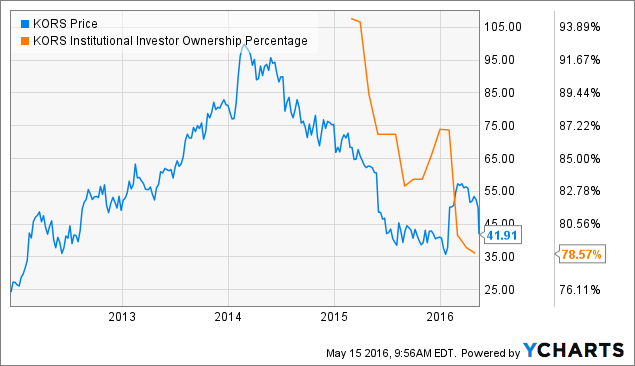 If we assume that institutional investors buy companies that have high return on equity, are inexpensively priced, and have good long term fundamentals, we can assume that institutional support will firm up at some point, and price along with it. Since price is already at a point where it could be called "cheap", there's less risk buying now and waiting for that institutional support in my opinion. If earnings halved from here (which would be the first time such a thing happened in the company's history), Michael Kors would trade as expensively as the overall market.
The company has a history of growing cash flows, albeit somewhat choppily on occasion. Investors shouldn't be surprised by this from a luxury goods company like this one. The company has no debt, which allows it greater flexibility and removes a great deal of bankruptcy risk. In my view, investors should take advantage of the short term pessimism in the markets and buy Michael Kors Holdings Inc. As usual, if you have a contrary view or believe that I'm missing something, please respond in the comments below.
Disclosure: I/we have no positions in any stocks mentioned, and no plans to initiate any positions within the next 72 hours.
I wrote this article myself, and it expresses my own opinions. I am not receiving compensation for it (other than from Seeking Alpha). I have no business relationship with any company whose stock is mentioned in this article.