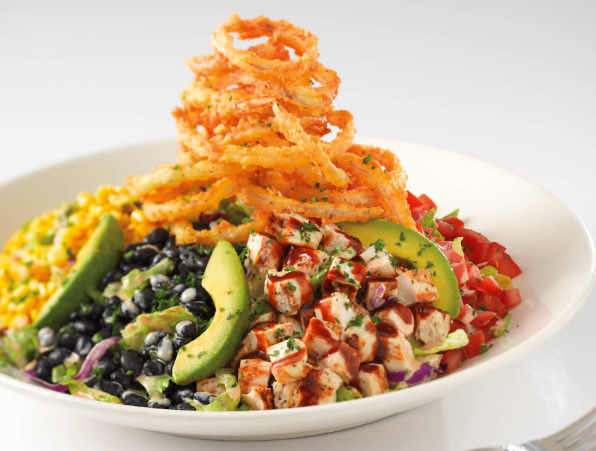 The restaurant group as a whole has separated somewhat in the last few months. Those that have failed to meet investor expectations have been punished - sometimes severely - while those that have toed the proverbial line have seen their shares hold up well. Cheesecake Factory (NASDAQ:CAKE) is in the latter group as it continues to string together decent growth numbers despite being fairly mature. It seems the softness of the industry hasn't taken its toll on CAKE's results and after a nice Q1 earnings report, the stock has held recent gains it made off of its February bottom. But looking forward, are investors too optimistic on CAKE?
I'll be using some charts from Simply Wall St. to help me out.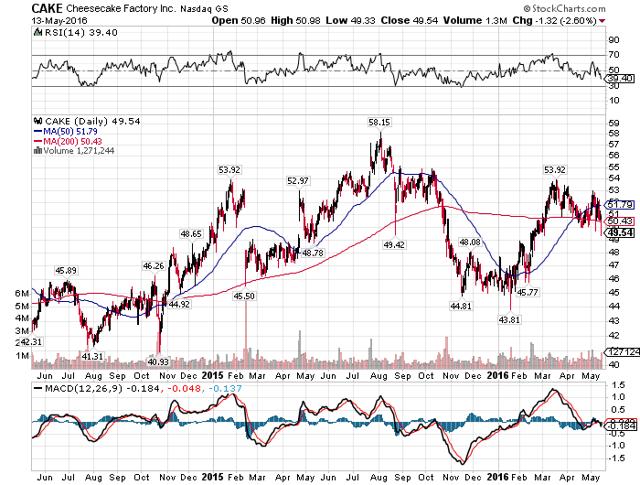 CAKE's terrific performance has been due in large part to its strong revenue growth. The company's blend of new stores and relatively strong comp sales growth has served it very well and in Q1, we saw more of the same. Total revenue was up 7% as the company's store count continues to grow at a high single digit rate and comp sales come in the low single digit range. CAKE has been doing this for some time and has now posted its 25th consecutive quarter of positive comp sales, something few restaurants can claim. And given the strength in the company's offerings, it would seem that streak may continue for a long time. CAKE's growth certainly isn't blistering but it is steady and with plenty of opportunity for new stores - particularly internationally - we could see CAKE grow its store count in the mid-single digit or higher range for many years to come.
Cost of sales fell 80bps to a rock-bottom 23.6% of sales in Q1 as the company's sourcing and pricing practices continue to produce terrific results. Unfortunately for CAKE, labor costs were up 50bps during the quarter, a common affliction among restaurants these days. Labor costs will likely be up all year for CAKE and the new normal is probably in the 34% range - give or take - as new labor laws come into the fray. At any rate, net profit was up a nice 60bps to 6.1% in Q1 as on the whole, CAKE continues to improve profitability. Were it not for the black eye taken from higher labor costs, CAKE's quarter would have been gangbusters.
That's all good news from Q1 but what about going forward? This chart shows what analysts foresee for CAKE over the next few years in terms of revenue generation.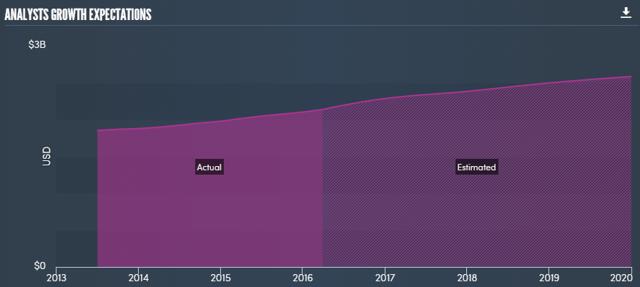 We can see the pace of revenue gains is going to be steady as CAKE continues to open new stores and produce nice comp sales numbers. Growth this year is expected to be about 9% but next year, only 4%. That leaves some upside potential for CAKE as it is slated to open 8 stores this year domestically and a handful internationally, all of which will be up and running for next fiscal year. In addition, even 1% in comp sales gains gets CAKE a quarter of the way to the EPS growth target so to assume 3% or less of revenue growth from new units seems very pessimistic to me. That is a nice setup for bulls because expectations are low right now.
On the profit side, expectations are higher as CAKE continues to see gains in its food costs and buy back stock.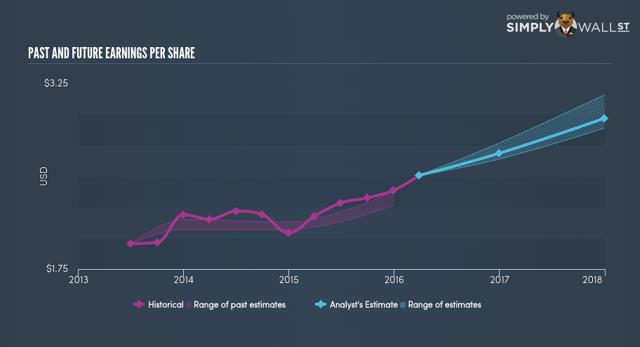 Analysts have bumped estimates slightly in recent weeks off of the strong Q1 report and that means this year and next year both have double digit EPS growth targets. This year shouldn't really prove any problem at all as CAKE produced net profit margin expansion in excess of 10% in Q1. That doesn't include any revenue gains or shares repurchased so even if CAKE can only produce half of the profit gain for the entire year, it will have a very low bar to step over.
Also in Q1, the company repurchased about 2% of the float as it continues to spend its FCF on buybacks. I like buybacks very much because when they are executed properly, they can be enormous value creators over time. CAKE's doesn't have that distinction but if it continues to grow fundamentally as it has been, buying shares today for $49 will have proven a strong use of excess capital. In addition, that level of buying is good for better than 8% EPS expansion annually so CAKE really does have an excellent shot at beating estimates this year and in particular, next year.
At 18.5 times this year's earnings, CAKE isn't all that cheap. However, it has a strong track record of moderate top line growth, it is unequivocally improving margins despite higher labor costs and it is buying back a lot of stock. Those things are difficult to find in a $2B company but CAKE has them all. If it can get labor costs under control EPS growth could have a lot of upside potential but even without it, CAKE is going to continue to do well. In addition, for a company that is growing earnings at double digit rates, 18 is not an expensive price to pay. There are lesser restaurant chains trading for much higher valuations than CAKE despite the fact that CAKE is a seasoned, proven player in the field and has several EPS growth levers.
For that reason, I think CAKE is a good buy here at $50. I like it fundamentally - its revenue growth, margin expansion and the buyback - and I also like that the stock is consolidating recent gains at the 200DMA. With management's proven leadership and willingness to return lots of capital to shareholders while expanding the business, I think CAKE will see steady gains. This is not a stock that is going to double in a year; if you want that, you'll have to look elsewhere. But for a proven leader in its industry with a bright future, CAKE is worth a look.
Disclosure: I/we have no positions in any stocks mentioned, but may initiate a long position in CAKE over the next 72 hours.
I wrote this article myself, and it expresses my own opinions. I am not receiving compensation for it (other than from Seeking Alpha). I have no business relationship with any company whose stock is mentioned in this article.