Oil prices should charge to $50 this week given several powerful factors working in the commodity's favor. Expectations are more confident now for another bullish draw from inventory storage levels this week, due to the Canadian supply disruption. The situation in Nigeria has deteriorated as well and is a support to higher prices. The economic outlook for the U.S. got a boost from April's retail sales growth, which is an important indication about U.S. energy demand. Finally, Goldman Sachs (NYSE: GS) made a bullish call on oil. With all these factors working in its favor, oil prices should rise into the $50 mark for Brent and I suspect for WTI crude as well this week.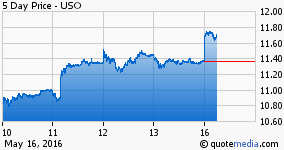 5-Day Chart USO at Seeking Alpha
Last week I benefited from a long position in United States Oil (NYSE: USO) derivatives as crude oil meandered into the reporting of U.S. inventory levels. We suggested the Canadian wildfires would make an impact to inventory last week and drive prices higher, and they did. After curious inventory data from the American Petroleum Institute (NYSEMKT:API), the Energy Information Administration (NYSEMKT:EIA) reported a significant draw from inventory. Crude prices gained and the USO surged about a dollar (roughly 9%) into its premarket level today, Monday May 16, 2016. This week continues to provide reason for appreciation.
The first catalyst this week is the ongoing benefit from last week's catalyst. The Alberta wildfires, occurring near critical oil sands mining properties, shut down about a million barrels per day of production. With that much production offline, storage had a bullish catalyst in hand, and a significant draw was reported. But production remained offline well past the May 6 close of last week's reporting period, and so this week's data could prove even more bullish; I expect it to.
Even though the issue is temporary in nature, the significant impact to supply, and uncertainty about the duration and significance of the impact, remain a strong support under oil. Significant "process" resources need to be restored for production to come back online. Also, larger more diversified energy producers operating in the area, like ConocoPhillips (NYSE: COP) and BP (NYSE: BP), benefit more broadly for as long as oil prices are rising because of the localized disruption. Thus, they do not necessarily have pure incentive to help it go away too quickly.
Secondarily, the supply disruption has media and markets looking elsewhere for other potential and active disruptions, and they re finding one in Nigeria to talk and worry about. Energy complex players including Chevron (NYSE: CVX), Royal Dutch Shell (RDS-A, RDS-B) and ENI (NYS: E) have been impacted by unrest and energy disruption in Nigeria, taking the leading national producer of Africa to 20-year low levels of production.
Friday's retail sales data marked an important shift in data trend, and reflected a better state of the U.S. economy in April than we saw in the first quarter of the year. Retail sales beat economists' expectations and increased 1.3% month-to-month in April. They were up a robust 0.6% when excluding auto and gasoline sales. A better economic growth outlook for the U.S., after disappointing Q1 GDP data, is a positive catalyst for energy demand and for oil prices.
Finally, Goldman Sachs is calling for higher oil prices, citing lower production from Nigeria, China and Venezuela as factors behind a shift from oversupply to a potential deficit in supply.
| | |
| --- | --- |
| Energy Complex Security | 05-16-16 |
| SPDR S&P 500 (NYSE: SPY) | +0.4% |
| United States Oil | +3.0% |
| iPath S&P GSCI Crude Oil (NYSE: OIL) | +4.3% |
| Energy Select Sector SPDR (NYSE: XLE) | +1.7% |
| SPDR S&P Oil & Gas E&P (NYSE: XOP) | +3.3% |
| VanEck Vectors Oil Services (NYSE: OIH) | +2.9% |
| Exxon Mobil (NYSE: XOM) | +0.6% |
| Chevron | +1.0% |
Oil prices and energy complex shares have opened higher Monday morning on the back of the factors discussed. Last week, in my report, I mentioned $50 as a target I expected we could hit for crude and $12 to $12.33 for USO. We have the drivers in place to get there this week for Brent Crude and I suspect for WTI as well. The $50 level has psychological pull, and traders should take it there, before evaluating whether it deserves a higher value or not. I'll discuss what happens next in future reports.
I cover the energy market closely, and invite relative investors to follow my column here at Seeking Alpha.
Disclosure: I/we have no positions in any stocks mentioned, but may initiate a long position in USO over the next 72 hours.
I wrote this article myself, and it expresses my own opinions. I am not receiving compensation for it (other than from Seeking Alpha). I have no business relationship with any company whose stock is mentioned in this article.