Introduction
Merck KGaA (OTCPK:MKGAY) (OTCPK:MKGAF), hereafter just 'Merck' but please don't confuse this one with the American Merck (NYSE:MRK) got my attention after making an offer to acquire all outstanding shares of Sigma-Aldrich (NASDAQ:SIAL) in 2015. I wrote an article on that transaction in September, and during the time needed to complete this buyout, Merck saw its share price slide by 35% and is currently still trading 25% lower than its peak value in April last year. That's a good enough reason to try to find out how the company has been doing, and if I should pick up some shares.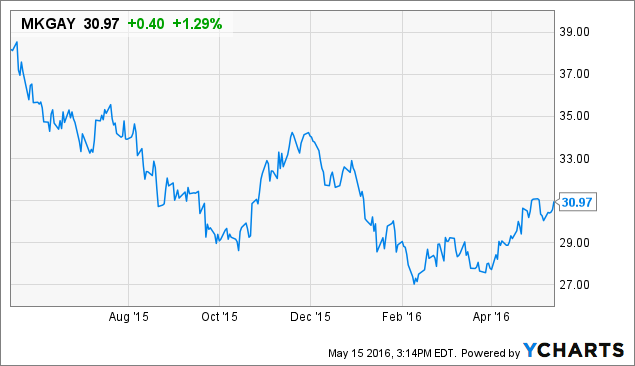 As Merck KGaA is the German part of Merck, you should trade in the company's shares on the German stock exchanges where it's listed with MRK as ticker symbol. The average daily volume is in excess of 550,000 shares, resulting in a daily dollar volume of approximately $50M.
The 2015 financial results indicate the company is in a pretty good shape…
2015 was a record year for Merck, as both its revenue (+13%) and EBITDA (+7%) reached levels the company has never experienced before. The nicest thing of this performance is the fact that the revenue growth was predominantly caused by organic growth in all three sub-divisions of the company, so 2015 was a good year, business-wide!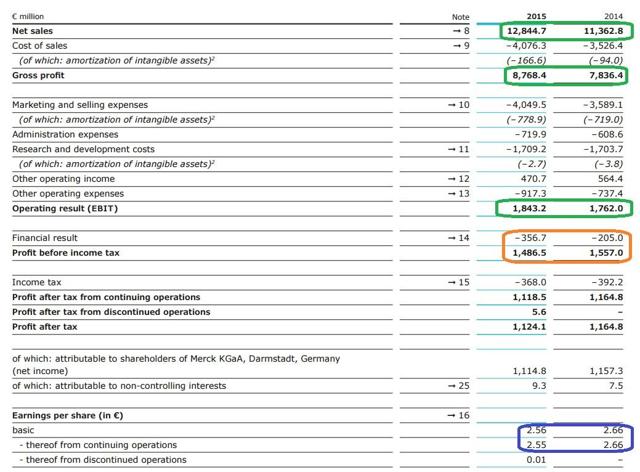 Source: annual report
So when you see a company's revenue increase by 13%, you'd expect the share price to move accordingly, but that was not the case for Merck, as its share price started to slide throughout the year (on the back of paying several billions of dollars for the Sigma-Aldrich acquisition, see later). The FY 2015 revenue was 12.8B EUR ($14.7B), resulting in a 12% increase in Merck's gross profit, to 8.8B EUR ($10B). That being said, the operating expenses also increased rather sharply (as the marketing and selling expenses as well as the administrative expenses increased by a double digit percentage), so the operating income increased by just 4.5% to 1.84B ($2.1B). That's great news, but the operating margin of 14.35% is clearly lower than the margin of 15.5% generated in the previous financial year.
The company was a loyal tax payer and forked over in excess of $400M in taxes, resulting in a net income of 1.115B EUR, or 2.55 EUR per share ($2.95), which was lower than the previous financial year due to the higher financial expenses. That being said, Merck decided to hike the dividend by 5% to 1.05 EUR/share ($1.21), and this dividend increase was subsequently approved by the annual general meeting.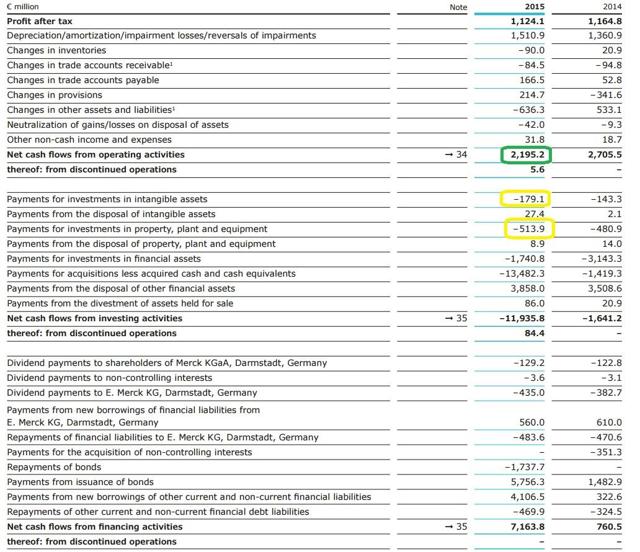 Source: financial statements
I'm also always curious to find out what percentage of the net income can be converted into free cash flow, and Merck has always been quite expensive on a free cash flow basis, and that's the main reason why I have never had a position in this company. The operating cash flow was 2.2B EUR, and after deducting the 700M EUR in capital expenditures, Merck had a positive free cash flow of approximately 1.5B EUR ($1.7B). That's a lot of money, but don't forget the company was trading at a market capitalization of 50B EUR ($57B) just 12 months ago, confirming my suspicions Merck was actually quite expensive.
… And Merck's acquisition of Sigma-Aldrich should improve its performance
But that will change with Sigma-Aldrich (hereafter 'Sigma' or 'SIAL'). Merck purchased Sigma in an all-cash deal at $140/share, which means the company had to explore the limits of its balance sheet. Merck didn't have a noteworthy net debt position before the acquisition, but did have to issue almost 10B EUR ($11.5B) in debt to fund the transaction.
But the benefits will be substantial. No new shares have been issued, so Merck is effectively adding leverage to its balance sheet for the right reasons; to fund an expansion rather than a special dividend or share repurchase. The Sigma transaction wasn't cheap (as Merck was acquiring the company on a FCF yield basis of less than 4%), and the net debt as of at the end of last year was 12.8B EUR ($14.7B), resulting in a net debt/EBITDA level of in excess of 3.5, and that's really high.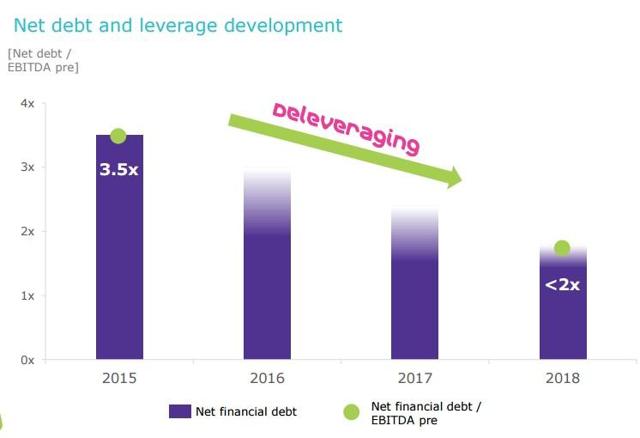 Source: company presentation
However, there are two things you need to keep in mind. First of all, the net debt/EBITDA ratio was based on an unadjusted EBITDA result (so this doesn't include the benefits from 12 months of Sigma-revenue and EBITDA being added to the consolidated entity), and if you'd take the EBITDA from Sigma into consideration, the net debt/EBITDA level would be approximately 3.
That's still very high, but Merck has pledged to make debt reduction its priority numero uno. This year's free cash flow should be approximately 1.9B EUR ($2.2B) (as the higher interest expenses will have an impact on the operating cash flow) and even if the dividend would be hiked by an additional 5 cents to 1.10 EUR ($1.26), the total cost of the dividend would be lower than $575M, resulting in $1.6B of 'useful' free cash flow which would immediately reduce the net debt to $13B. Throwing in the higher EBITDA as well, the net debt/EBITDA ratio would decrease from 3.5 last year to 2.75 by the end of this year, and 2.3 by the end of next year.

Source: company presentation
And as Merck's debt repayment schedule is pretty well distributed over the next few years, Merck could just retire the debt whenever it comes due to reduce the gross debt and the interest expenses. Theoretically, Merck could repay all debt on time without having to refinance. And just to give you an idea of how important repaying the debt is, if Merck repays all debt in 2016, 2017 and 2018 on time, the annual interest expenses will fall by $29M per year (as the debt due in 2017 basically is free, considering the LIBOR and EURIBOR rates are negative, so it would make sense for Merck to refinance this debt at the same terms as it doesn't cost the company a dime).
Investment thesis
Merck is everything I have been looking for. Yes, the balance sheet is now a bit stretched with a net debt/EBITDA of in excess of 3, but this should be less than 2.75 by the end of this year and below 2 by the end of 2018. Merck is using debt to finance accretive acquisitions, and once Sigma will be fully integrated in Merck's corporate structure, the annual free cash flow should be north of $2.3B.
As Merck's current market capitalization is approximately $41B, the company's adjusted free cash flow yield is approximately 6% and that's definitely a better value proposal than the 3% we had last year before the Sigma-Aldrich acquisition. This free cash flow ill repair the balance sheet, and I would expect the free cash flow to increase to in excess of $2.7B before the end of this decade on the back of lower interest expenses and capturing synergy benefits. Merck is a long-term buy and hold company and definitely deserves a place in a quality portfolio.
Disclosure: I/we have no positions in any stocks mentioned, but may initiate a long position in MKGAF over the next 72 hours.
I wrote this article myself, and it expresses my own opinions. I am not receiving compensation for it (other than from Seeking Alpha). I have no business relationship with any company whose stock is mentioned in this article.
Editor's Note: This article discusses one or more securities that do not trade on a major U.S. exchange. Please be aware of the risks associated with these stocks.