SolarEdge (NASDAQ:SEDG) dropped more than 20% last week. The company managed to beat the fiscal Q3 revenue and EPS consensus, but the fiscal Q4 guidance was lower than expected and SolarCity's (NASDAQ:SCTY) guidance was also weak, prompting a very negative investor response. I think that the market overreacted and that last week's correction represents a solid buying opportunity for long-term investors. The company is still expected to deliver robust top line growth and margins should continue to expand leading to even faster bottom line growth. The company's cash flow is increasing and the company has a very strong balance sheet and a low TTM and forward valuation.
SolarEdge drops on lower than expected fiscal Q4 guidance and reacts to SolarCity's plunge
The two main reasons for last week's plunge are:
And while analysts are openly questioning SolarCity's business model, they are mostly defending SolarEdge's:
So, unlike SolarCity, no one is questioning SolarEdge's business model. In fact, the rapid penetration into the commercial market should be very positive in the long term.
Growth should remain strong in the short and medium-term based on the following drivers: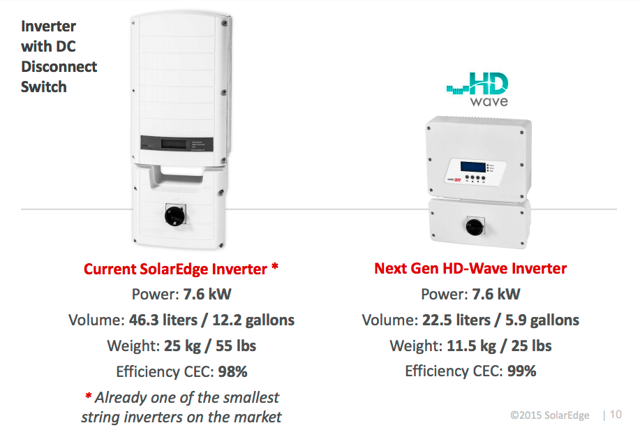 Source: Electrek.co
All of these growth drivers should help mitigate the potential negative effects coming from the residential solar market.
Growth is slowing down, but SolarEdge is not being valued as a growth stock
SolarEdge's quarterly revenue growth has slowed down over the last few quarters and the growth might additionally slow in the following quarters, but SolarEdge is not being valued as a growth stock. The company's TTM and forward P/E's are 10.5 and 8 respectively. Gross and net margins are expanding and the trend is likely continue in the following years. The TTM gross margin is 30.4% and the company expects it to be in the 32% to 37% range in the long run. Additional scale and a higher gross margin should lead to a 500 to 1,000 basis point expansion for the net margin, which should significantly increase the future earnings even with modest revenue growth. Given the solid long-term revenue growth expectations and the margin expansion potential, I believe that SolarEdge is substantially undervalued at current levels and that a P/E ratio in the 20 to 25 range is appropriate for its growth profile. Most analysts agree and the median price target on SolarEdge is $34.
Additionally, the company has a strong balance sheet with $172 million in cash and no debt and its fiscal Q3 operating cash flow was $15.3 million -- not bad for a rapidly growing company with a $715 million market cap.
Conclusion
SolarEdge is being punished for the sins of other companies (mainly SolarCity) and I think that the recent selloff represents a strong buying opportunity for long-term investors. The growth of the commercial segment and the new HD-Wave inverter should drive solid top line growth in fiscal 2017 and the current valuation is very attractive and rarely seen with companies that have such strong growth profiles. The negative investor sentiment might keep the stock depressed in the near-term and the slowing growth in the residential segment is a risk, but it's a risk that is largely factored into the current valuation.
Disclaimer: This article reflects the author's personal opinion and should not be regarded as a buy or sell recommendation or investment advice in any way.
Disclosure: I/we have no positions in any stocks mentioned, but may initiate a long position in SEDG over the next 72 hours.
I wrote this article myself, and it expresses my own opinions. I am not receiving compensation for it (other than from Seeking Alpha). I have no business relationship with any company whose stock is mentioned in this article.