Introduction
I didn't like Tahoe Resources (NYSE:TAHO) two years ago just for the simple fact its only operating asset was located in Guatemala, which isn't exactly the safest (mining) place on earth. However, the company's recent acquisitions of Rio Alto (NYSE:RIOM) (with projects in Peru) and Lake Shore Gold (NYSEMKT:LSG) with an operating underground mine in Canada, have reduced the risk profile.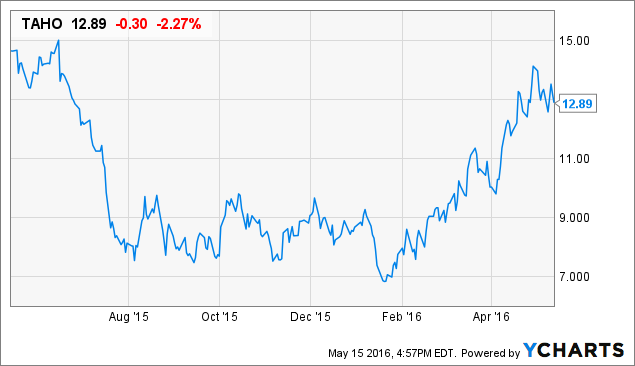 An impeccable first quarter…
Tahoe's operating performance in the first quarter of the year was pretty good as the company produced 5.7 million ounces of silver as well as approximately 54,000 ounces of gold at its Guatemalan and Peruvian mines. Keep in mind the acquisition of Lake Shore Gold only closed in April, so the production results have not been taken into account.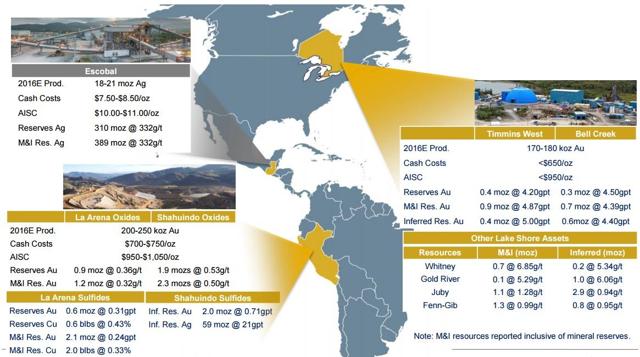 Source: company presentation
The total revenue in the first quarter was $132M and whilst this is indeed pretty low, the real reason behind this is the fact that the company sold just 4.6 million ounces of silver and less than 51,000 ounces of gold, which means approximately 1.1 million ounces of silver and 3,000 ounces of gold were added to the inventory level on its balance sheet (at least that's what I would assume). And that's not really a negative thing as it does look like Tahoe will be able to sell the silver and gold at a higher average price than the average price in the first quarter.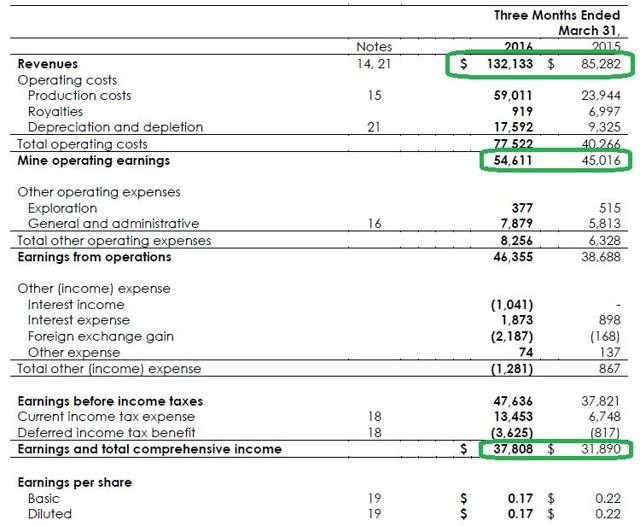 Source: financial statements
Despite this, the company's mine operating earnings increased by approximately 20% to almost $55M and even though the G&A expenses also increased rather sharply, the operating income was $46.4M, or in excess of 35% which does emphasize Tahoe's low cost production results. The net income was $37.8M or approximately 17 cents per share. As the company is still paying a monthly dividend of 2 cents per share, the payout ratio was less than 40% based on the net income, so the dividend does seem to be safe.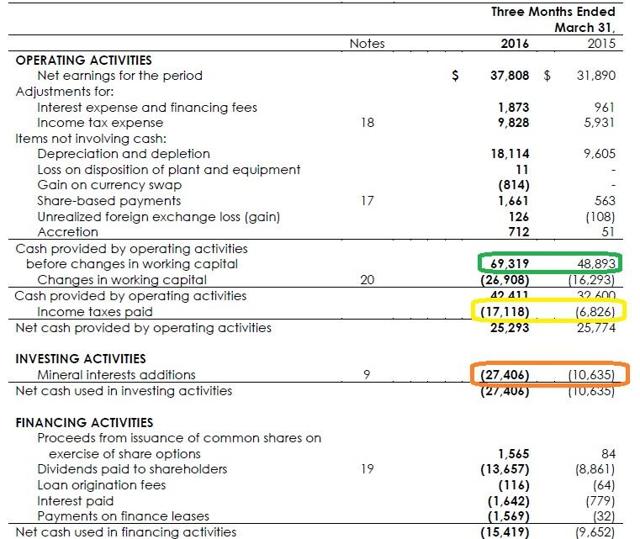 Source: financial statements
That being said, you can't pay a dividend with an accounting profit, so I was also very curious to find out if the dividend was also covered by the company's free cash flow. The cash flow provided by the operating activities was $69M and after paying the $17M tax bill and $1.6M interest expenses, the adjusted operating cash flow was approximately $50M. This was most definitely sufficient to cover the $27.4M in capital expenditures, and Tahoe Resources reported a total free cash flow of approximately $23M on an adjusted basis. As the dividend was costing the company less than $14M (based on the share count before the acquisition of Lake Shore Gold), the dividend was indeed fully covered on a cash flow basis as well.
… which will soon be boosted by the Lake Shore cash flow
Now the Rio Alto operations have been integrated in Tahoe's corporate culture, Tahoe was looking for a new addition for its asset portfolio and entered into an agreement to purchase Lake Shore Gold in an all-share deal. As this deal only closed in the first week of April, not a single dollar from Lake Shore's assets was included in Tahoe's Q1 results.
It doesn't look like Lake Shore Gold has filed its Q1 financial results yet (and I'm not even sure the company will ever do so), so I had to fall back on its FY 2015 results to try to figure out how much free cash flow Lake Shore's operations would contribute to Tahoe's bottom line. According to those financials, Lake Shore generated approximately US$32M in free cash flow in 2015, but this amount will obviously increase a bit on the back of the higher gold price, as well as the lower G&A expenses (LSG's G&A expenses were approximately $12M in FY 2015, and I like to think Tahoe will be able to reduce these expenses by a few million dollars). So I think it's safe to say Lake Shore will add at least $40M in free cash flow to Tahoe's cash flow statements in the current financial year.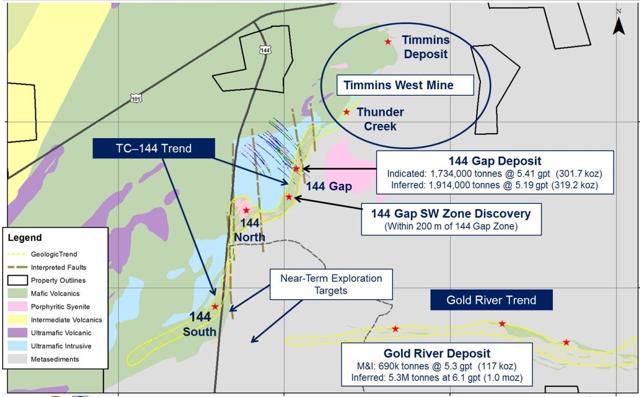 Source: company presentation
This would mean Tahoe is on track to generate in excess of $150M in free cash flow in 2016 (considering the higher gold and silver price will have an impact on its existing operations, and the Shahuindo project should see its production rate increase throughout the financial year).
The official production guidance calls for a silver production of 19.5 million ounces and 400,000 ounces of gold at an AISC of $10.5/oz and $975/oz (using the midpoint of the guidances). At $17 silver and $1275 gold, the net cash flow should be $240M, and after deducting the taxes due on the operating profit, I would guesstimate the full-year sustaining free cash flow to be approximately $175-200M.
Investment thesis
The current market capitalization of Tahoe Resources is approximately $3.9B, so a free cash flow of $200M wouldn't really make this company a huge bargain as I'm not particularly impressed by a company with a free cash flow yield of just 5%. That being said, I do like Tahoe's diversification towards 'safer' regions (Peru and Canada), and as its balance sheet is pretty clean (with a net cash position rather than a net debt position like a lot of its peers), Tahoe could easily take on an additional acquisition.
This is underpinned by a 2% dividend which is costing the company approximately $70-72M per year, which means the net cash position will be increased by roughly $100M per year. Instead of buying stock at $13/share, I could be interested to write a put option, and I'm looking at P 10's expiring in September of this year at $0.50 or December for $0.95. In the last case I'd buy Tahoe-stock at $9.05 and a free cash flow yield of 7%, or just keep the 9.5% return in 7 months in my own pockets.
Disclosure: I/we have no positions in any stocks mentioned, and no plans to initiate any positions within the next 72 hours.
I wrote this article myself, and it expresses my own opinions. I am not receiving compensation for it (other than from Seeking Alpha). I have no business relationship with any company whose stock is mentioned in this article.