Current market action and environment make me think about the often cited Ernest Hemingway's quote from The Sun Also Rises:
"How did you go bankrupt?"
Two ways. Gradually, then suddenly."
Well, with regard to stock markets behaviour, I guess we are gradually very closely approaching "suddenly".
Quite a lot of time has passed since I published my last Instablog: "I'm Selling". It was on Saturday, Nov 29, 2014.
Since then, things just got worse.
Governments and central banks all over the world are trying their best to kick the can down the road, so to speak. I guess we are closer and closer to the endgame.
Worldwide debt is huge, it is bigger than at the start of the last crisis. Cash flows are not able to service the debt and pay down it.
Stock markets are overvalued, everybody knows this. Here are a lot of charts from Hussman Funds. And yet, many people still are invested, because they think there's no other place to go to "earn" some return.
Bond markets, on the other hand, are experiencing a bifurcation: many governments' debt trades at sub-zero yield, while most of the rest already is in a bear market. I just read that Deutsche Bank is offering 5% yield deposits. Not a good sign in my book.
It is my belief that the world is drowning in debt. An example is here.
I don't buy the Keynesian economic theory. The cure to debt is not more debt.
We are living in uncharted economic territory. Never before the world experienced negative interest rates.
Everybody is asking where to put their money. Emphasis these times is not about return on capital but return of capital.
While I don't have a crystal ball, here is my shortlist:
#1. Have Cash
Rationale: Cash is going to protect you from a stock or bond market crash. You do want to sell high and buy low, don't you? Today, it's very high. While it's impossible to time the market, it is my opinion that it is much more risky to be long the stock market than to be liquid with cash.
#2. Buy Gold
You do want to buy physical gold. Not an ETF. I mean gold coins.
Rationale: Throughout history no paper currency has survived in its original form. Paper currencies are normally inflated away until they are worthless. The purchasing power of the US dollar has declined by 90% since 1950. The situation is the same for most currencies. When governments come under financial pressure they can never resist printing money to pay for debts, be they war debts or just excessive spending. Gold is the only currency which has no liability attached to it.
It is also easy to hide and portable (just in case).
#3. Buy Gold Miners
Gold is going to go ballistic. Think about it: there's no other place where to go (this is my educated opinion). If that is true, then gold miners' stock prices are going to magnify gold price gains.
I selected a few companies, according to: the costs they incur to get the stuff out of the ground (to further magnify gold price gains); where they have their operations (to minimize geopolitical risk); their financial stability (those that have a manageable debt).
My shortlist is:
You might want to minimize exposure to any single miner, so you might want to buy a basket of miners. Here they are:
VanEck Vectors Gold Miners ETF (NYSEARCA:GDX); the fund normally invests at least 80% of its total assets in common stocks and depositary receipts of companies involved in the gold mining industry - the largest ones
VanEck Vectors Junior Gold Miners EFT (NYSEARCA:GDXJ); this fund invests in smaller capitalization gold and (at a lesser degree) silver miners
While the above ideas are strategic ones, the following is tactical:
#4. Short Deutsche Bank (NYSE:DB)
Deutsche Bank is widely recognized as the most leveraged bank in the world. You can try this: "Is Deutsche Bank the next Lehman?".
As shown above, it is offering 5% yield on three-months deposits.
Chart is not inspiring: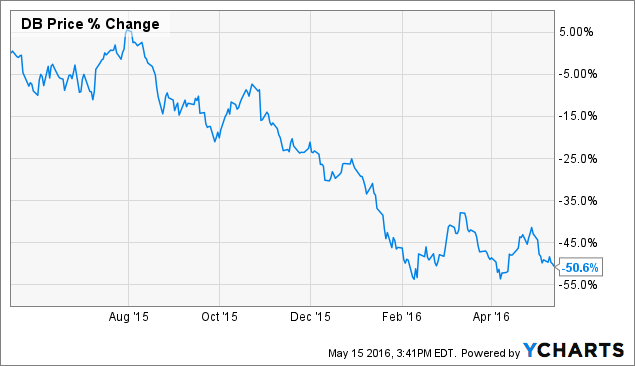 I think that the purchase of DB Jan 20, 2017 $15 puts and/or DB Jan 19, 2018 $10 puts is going to be a profitable way to play Deutsche Bank's crisis.
Disclosure: I am/we are long AUY, CDE, KGC, GDX, GDXJ.
I wrote this article myself, and it expresses my own opinions. I am not receiving compensation for it (other than from Seeking Alpha). I have no business relationship with any company whose stock is mentioned in this article.
Additional disclosure: I'm short DB. Material presented here is for teaching and entertaining purposes only. It is not intended to be taken as financial advice, a recommendation to buy or sell the stocks mentioned above. Investing includes risks, including loss of principal.