At the start of this year, I wrote an article titled, 2016 Recession is Imminent, with the prediction that a recession would start in either Q2 or Q3. The line of reasoning in this article has led me to only speak positively about a stock in one instance this year (my article on McDonald's (NYSE:MCD)). I also haven't owned any stocks this entire year besides the first week. I have picked my spots shorting stocks with a heavy emphasis on picking on financials because of the decline in M&A activity and the lack of any rate hikes this year.
While I'm sure some commenters would say shorting stocks is very risky, I would argue being fully invested in cyclicals is much more risky. So far this year, we are right where we started which means investors may have a second chance to sell depending on what they own. I'm more than satisfied with my performance since I'm up over 5% year to the date. I could easily cash out of my current positions and take my gains, but I remain ardent in my negativity on the economy. I will lose money if the stock market makes new all-time highs and I'm okay with that.
Lending Is Tightening
The most important indicator I look at when I make my judgment on the health and direction of the economy is the credit cycle. Our economy runs on credit. This drives the short-term debt cycle. When a bank is easing its lending standards because the economy is strengthening, more spending occurs. Some of spending is on capital equipment which is the good sort of spending and some is on consumer goods (or buybacks) which is the bad sort of spending. Eventually, the economy overheats and lenders start to tighten their standards. This has the reverse effect on the economy as even worthy borrowers sometimes can't get loans.
This makes lending standards one of the most critical indicators I look at to determine where we are in the cycle. As you can see from the chart, the commercial and industrial lending standards have been tightening for three consecutive quarters. The rate of easing had been decelerating for a few quarters before this. The last quarter had the most tightening, signaling acceleration which has momentum. Two consecutive quarters of tightening always signals a recession. As you can see from the chart, the recession came quickly after the tightening in 2008. It took over two years in the 2001 recession. The key determination will be when the tightening really spikes. Right now we are at risk for an immediate recession, but may take a year to materialize.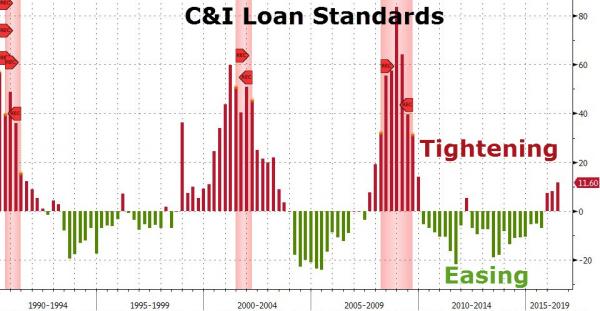 Earnings Are Weak
The second reason why I am bearish is the declines in earnings. We now have had four consecutive quarters with negative earnings. While economy may or may not fall into a recession, the stock market should fall with this earnings environment. As you can see from the chart below, earnings are down 8.5% so far this quarter with almost 90% of companies already reporting. I am astounded that the market is near its all-time highs. The weakness is broad based with financials down double digits.
Anecdotally, you can tell earnings are weak when even most of the TFAANG (Tesla (NASDAQ:TSLA), Facebook (NASDAQ:FB), Amazon (NASDAQ:AMZN), Apple (NASDAQ:AAPL), Netflix (NASDAQ:NFLX), and Google (NASDAQ:GOOG) (NASDAQ:GOOGL)) had weak reports. I believe Facebook and Amazon are not trading based off their own fundamentals. They are part of the few firms which had good reports which has led to hyper euphoria in their stock prices. If the earnings picture was healthy, then there wouldn't be calls for Amazon to go to $1,000 per share or a $3 trillion market cap. The minute the macro environment catches up to these two names, all the leaders of the market will be gone.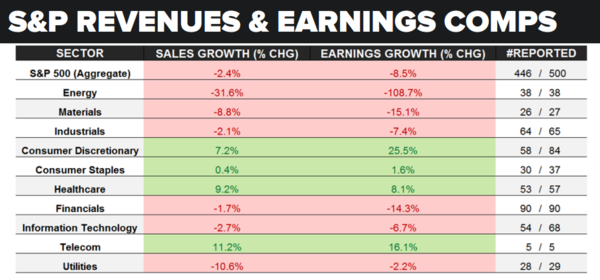 The following chart shows the expectations for earnings in Q1 and Q2. Focusing on Q2, you can see that the bottoms up EPS estimates for S&P 500 (NYSEARCA:SPY) firms is down 9.4% in the past 26 weeks and down 2% since March 31st. In the face of these bad metrics, the market has rallied until the past 3 weeks where we have seen a moderate decline. There are much more positive estimates for Q3 earnings, but I consider that data meaningless because analysts base their numbers off of guidance that firms give and there is less guidance for Q3 than Q2. Of the 83 firms which have given guidance for Q2, 70% (58 firms) have given negative guidance. Anyone can call for a rebound in the future, but the cold hard truth is we may be about to see a fifth straight decline in earnings
These declines in earnings mean valuations are stretched to expensive levels. FactSet has the forward P/E of the S&P 500 at 16.6, but I don't take that number seriously because it takes into account a rebound in earnings in the 2nd half which is based on no evidence. While no one truly knows what the future for the economy will be, the credit cycle indicates more pain ahead, not a swift pickup. According to David Stockman's calculations, the LTM GAAP earnings are $87 meaning the market is trading at almost 24 times earnings. While I believe in looking forwards, not backwards, if earnings are declining, then the market should get a discounted valuation, not a premium.
While some investors pitch buying stocks as the only means for a return because bonds offer low yields, I believe this is a faulty argument. This is the same argument used to buy Facebook because it is one of the few firms growing earnings. This argument ignores valuation and, most importantly, it ignores the business cycle turning over. You don't have to have your money fully invested in stocks or bonds. You can have a large cash hoard of about 20% to take advantage of the almost inevitable drawdown.
Yield Curve Flattening
Finally, we have the spread between the 10-year bond and the 2-year bond shrinking to its flattest point in the cycle. Usually the spread goes negative before a recession and we are currently at a 0.95 differential. I do wonder if the unconventional policies the Fed has undergone such as ZIRP and QE have made it so that the economy can slide into a recession in congruence with an inverted yield curve instead of afterwards. An important thing to note is that the yield curve has flattened even as stocks have rallied recently showing that the bond market is not confirming that the recession potential has diminished.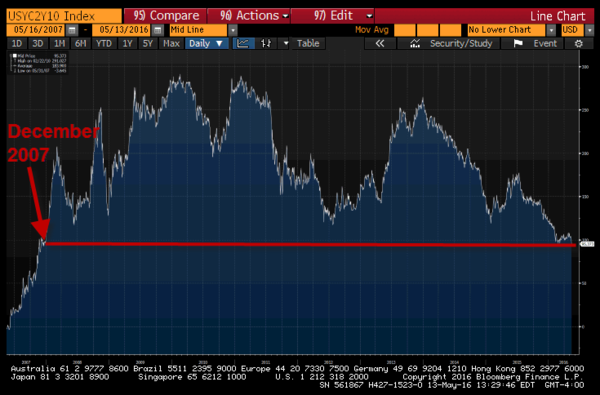 The Future
The future is potentially filled with a weak Chinese economy, negative interest rates, and a Trump presidency. China had over a decade of breakneck growth. When growth is funded by debt that growth is essentially pulling forward or stealing from future growth. The deleveraging of China will coincide with the demographic issues the nation faces as the population is set to start declining in 2035 as the past one child policy starts to take an effect. Suddenly what was once the country which dragged the world out of the despair of the 2008 recession, now looks like it could be facing the stalled out growth that Japan has seen in its lost decade.
If the economy and the stock market do fall this summer, the Fed will be in a bind because it is already near zero interest rates. Negative rates have been discussed, but considering that they have caused the Nikkei to fall and the Yen to strengthen, which is the exact opposite of what should happen, I don't think the Fed will be willing to repeat this policy mistake. The other option is QE4, but it seems that some officials believe each round of QE is having a diminishing effect. Don't get me wrong, the Fed will probably come up with some policy response to try to boost stock prices, but I don't think it will work because the Fed cannot stop the cycle from turning over. If you think the Fed being accommodative is a reason to buy stocks, answer the question as to why the market hasn't moved higher in over 18 months. The cycle has peaked and it is time for the market to follow it lower.
Finally, we have the possibility of a Trump presidency. There has been a correlation with the election as the market has been falling whenever Trump's chances of winning increase. This election is particularly difficult to predict, but I think that there will be time over the next few months where Trump's odds increase even if he doesn't win. I highly doubt Hillary will maintain an approximately 70% chance of winning throughout the entire season leading up to the election. I think Wall Street views Clinton as more consistent an d Trump as more unpredictable which leads it to favor a Clinton presidency irrespective of whether her actual policies will be better or worse for the economy.
The other factor to keep in mind is the possibility of helicopter money which would take a coordinated fiscal and monetary response. This seems unlikely given the current political environment with a lame duck president and a highly contentious election about to take place. Any policy response may be attacked by Donald Trump and hurt Hillary's chances of winning. Of course, the president and the leading Democrats should focus on what they think is best for the country, but as good politicians their principal focus is on getting Hillary elected, not improving the economy.
Conclusion
The economic picture has dampened while the stock market is at the same point as it started the year. I'm maintaining my bearishness on the stock market given the tightening lending standards and declining earnings environment. The best way to express this position is to short financials and buy consumer staples. Specifically, a pairs trade could be to buy Reynolds (NYSE:RAI) and short Morgan Stanley (NYSE:MS). However, it is important to remain cautious about putting too much money in safety stocks like Reynolds and McDonald's because they have rallied so steadily given the slow growth environment. If the market does crash, these stocks will also fall along with the market. The best advice is to raise cash and prepare to buy stocks at a discount after the crash.
Disclosure: I am/we are short FB, MS, AMZN.
I wrote this article myself, and it expresses my own opinions. I am not receiving compensation for it (other than from Seeking Alpha). I have no business relationship with any company whose stock is mentioned in this article.
Additional disclosure: Please consider hitting the follow button at the top of this article next to my name if you thought this article was well done. I also have a YouTube channel linked on my profile page.