Rubicon Project (NYSE:RUBI) is down almost 30% since reporting strong Q1 earnings. I think that the market overreacted to the Q2 guidance and management's cautious tone on the conference call. The company is now trading at an EV/Sales ratio below 2, which represents a historical buying opportunity. The valuation has never been lower and growth expectations remain strong. The company is also known for providing very conservative guidance, especially for quarterly and annual EBITDA, which leaves room for positive surprises going forward.
A very strong Q1 report gets neglected due to the conservative Q2 guidance and management's cautious tone
Rubicon's Q1 revenue increased 71% Y/Y to $63.6 million, which was $4.2 million above the analyst consensus, while EPS was $0.31, significantly above the $0.03 consensus. Revenues declined sequentially due to seasonal factors - Q4 is always the strongest quarter for Rubicon. Adjusted EBITDA was $15.4 million, which was $10.4 million above the mid-point of the guidance, and the EBITDA margin was 24.3%, representing a significant increase from 11.3% in the same quarter of 2015.
One may wonder why the stock plunged almost 30% in just a few days and after such a strong report. I think that these are the two main reasons:
1. Q2 revenue guidance came below views. The company expects Q2 revenues between $61 million and $64 million, which was below the analyst consensus of $65 million. The consensus has since moved down to reflect the negative change.
2. Management's tone was very cautious on the Q1 call. They warned about ad spending shifts from month to month and from quarter to quarter, which may affect quarterly revenues going forward. Spending in Q2 should also increase, leading to some EBITDA margin pressure and the EBITDA guidance was between $9 million to $11 million, below Q1. This is a surprise since the Q1 margin is typically the weakest. Management also warned that the take rate will likely decline going forward. The take rate was 25.6% in Q1 compared to 18.9% in Q1 2015. The higher mix of RTB and buyer cloud transactions has positively affected take rates recently and the company expects them to decline over time.
I found no other significant reasons for the decline since the Q1 report. Here is what I think about these issues:
1. Q2 guidance was a bit disappointing, but readers should note management's significant conservatism. Since the company went public, the difference between the guided and delivered EBITDA was $9.8 million on average and the outperformance of the quarterly revenue guidance was $5 million (see the table below). Based on the very conservative revenue and EBITDA guidance history, I expect the company to significantly outperform its own expectations for the second quarter. I would be satisfied with just half of the average outperformance - $66 million for Q2 revenues and $15-$16 million for EBITDA.

Source: Rubicon earnings reports
*The company started providing non-GAAP revenue guidance from Q3 2015. The guidance numbers represent the mid-point of the provided range
2. The cautious tone is consistent with number one - management is likely being too conservative about near-term expectations and is probably trying to manage Street expectations going forward. This has been counterproductive this time, but it's better to beat-and-raise than it is to overpromise and then not deliver. The take rates were quite high in Q1 and it is normal for them to come down going forward and the lower rates will be countered by higher volume.
The company also has a lot of room to grow going forward. Some of the recent and future growth drivers include:
International expansion. Revenues in Japan have grown 5x Y/Y in Q1 and the company is seeing great progress in Brazil and expects significant growth in EMEA, APAC and Latin America.
The advances in the Open Platform Initiative should increase the value of Rubicon's marketplace to both buyers and sellers. The platform offers comprehensive solutions and is designed to provide maximum flexibility and control. The company compares it to Salesforce.com - "it enables customization by its end clients, our open product architecture provides multiple integration points for our buyer and seller customers through APIs, or application programming interfaces."
Mobile and especially video are secular growth drivers. I wrote about these opportunities in my previous article and it's worth repeating that video's early growth trajectory has exceeded mobile's at the same stage of development nearly three years ago. Since mobile revenues accounted for 30% of total revenues in Q1 (and their contribution is rapidly growing), we can expect an even steeper trajectory for video over the next three years.
Valuation is very attractive
The EV/Sales chart tells the real story about the valuation. The ratio is below 2 as of this writing, the lowest since the company went public. The EV/EBITDA ratio is around 7.5, which is also very low for a company that is expected to grow revenues and earnings in double digits over the next few years.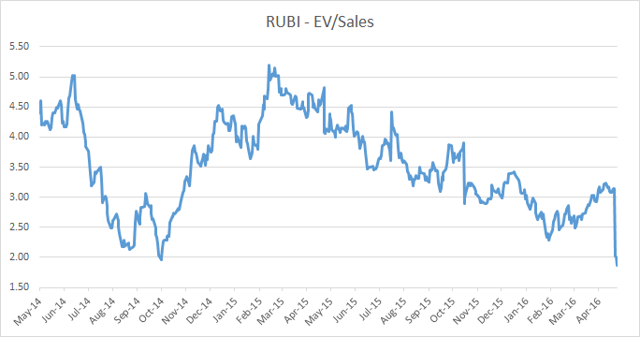 Source: Rubicon earnings reports, Yahoo! Finance
The risks, such as ad-blocking and increasing competition are largely priced in at this point. The company also has a healthy balance sheet with $167 million in cash and no debt and could once again become active on the M&A front, which might increase the value of its platform in the long run. I am reiterating my bullish view and still think that the company is worth at least $27. The analyst median target is $23.
Conclusion
I think that the market has overreacted to the conservative guidance and that the stock is worth more. Growth is on track, the company has reiterated its FY revenue guidance and has raised its FY EBITDA guidance. Mobile and video should drive strong growth in the following years. I am reiterating my bullish view and the $27 price target.
Disclosure: I am/we are long RUBI.
I wrote this article myself, and it expresses my own opinions. I am not receiving compensation for it (other than from Seeking Alpha). I have no business relationship with any company whose stock is mentioned in this article.
Additional disclosure: This article reflects the author's personal opinion and should not be regarded as a buy or sell recommendation or investment advice in any way.