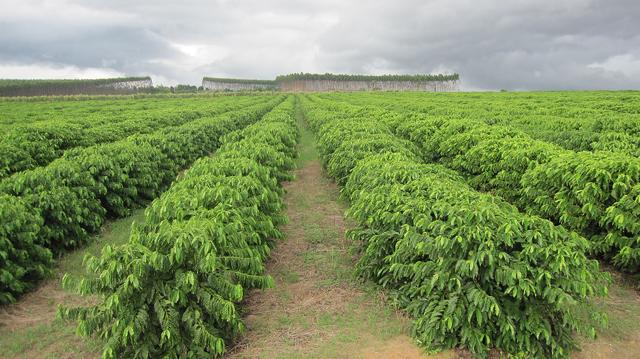 It took a little while, but eventually we saw a reasonably good gain from the iPath Dow Jones-UBS Coffee ETN (NYSEARCA:JO). We had previously called out a price target of $21.00 due to the expected overwhelming demand for the bean behind everybody's favorite morning caffeine fix. However, recent news may indicate that the rise in coffee prices may begin to slow.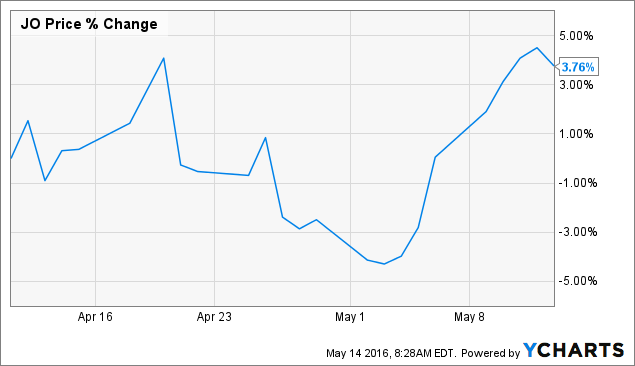 Previously, following research by Dutch multinational bank company Rabobank, we were expecting low levels of output in Brazil. Rabobank conducted the largest crop survey ever undertaken by a financial institution, but its forecasts appear to have been off the mark somewhat. As we wrote last time, Rabobank's survey pointed to a 24 percent drop year over year in Brazilian robusta output for the 2016-17 season. This would have been a real hit to the global supply chain considering Brazil is the world's second-largest producer of robusta coffee.
But recent analysis is now pointing to Brazil actually increasing output year-over-year in the 2016-17 season. The consensus now is for Brazil's coffee crop to grow by 10 percent and exceed 54 million bags. Furthermore, we highlighted Colombia as being another producer that was likely to be inflicted by droughts and subsequently suffer from lower output, but they too are also expected to raise output this year as well. The market is expecting around 14 million bags of coffee to be produced in Colombia.
Unfortunately, this news completely changes our thesis and thus we are no longer bullish on coffee. We still believe there are possible catalysts to taking coffee prices higher, but we are not sure they are compelling enough to warrant an investment.
Brazil is going through volatile times right now following the possible impeachment of its President, the Zika virus, and a spot of social unrest. All these issues are causing strong fluctuations in the Brazilian real.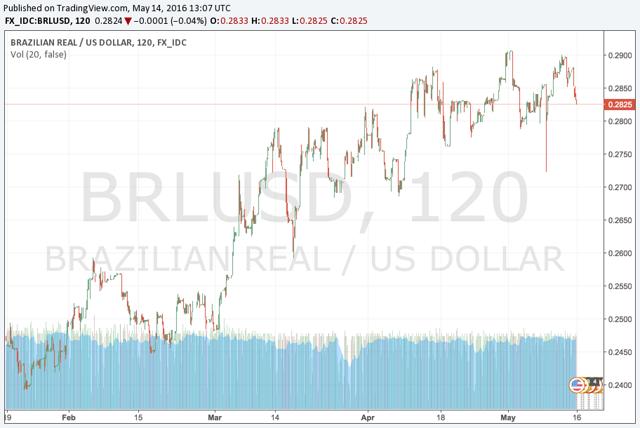 Sourced from TradingView
The possible impeachment of Dilma Rousseff had been sending the Brazilian real all over the place. Clearly, the market wanted her out of the top office and the currency would rally whenever there was a sign that it was happening, and dropped when there were delays. But now she is out, weakness in the Brazilian real may be returning as many believe the impeachment rally is fading. If the rally does in fact fade, then we believe that coffee prices may fade along with it. As a key producer, a rising Brazilian real will usually bring the price of coffee up with it, and likewise when it weakens. This, along with the forecast for a stronger crop than previously forecast, could mean coffee prices are not going to rise much higher and may even drop lower.
But currencies have been full of surprises this year. The U.S. dollar (NYSEARCA:UUP) is up by 14.5 percent on the Brazilian real in the last 12 months. The economic outlook for Brazil has been quite dire, but a new leader could reinvigorate this possible future superpower and strengthen its currency. However, this is still perhaps not enough to justify going long with either the real or coffee right now.
Which will be great news for companies such as Starbucks (NASDAQ:SBUX), Dunkin' Brands (NASDAQ:DNKN), and Krispy Kreme (NYSE:KKD), which for a little while may have been expecting certain cost of goods sold to increase and put a bit of pressure on margins. But if anything, we now see coffee remaining at low levels for at least the next 12 months, which should prove to be a bit of a tailwind for them.
In the ultra long term, it is inevitable that coffee prices will go up. As we mentioned previously, demand for coffee worldwide is growing at a high rate. Even with strong production this year, eventually we believe demand will start to outstrip supply. We once again pinpoint the aggressive expansion of Starbucks into China as playing a key part of the growth in demand worldwide. The International Coffee Organization believes that worldwide coffee consumption will grow by 25 percent in the next four years. This means growth from 141.6 million bags of beans (132 lb per bag) to 175.8 million bags in 2020.
So right now we would avoid an investment in the JO ETN and instead focus elsewhere. We believe that investors wanting exposure to coffee could do a lot worse than investing in Starbucks. If coffee prices do drop and are sustained, we see this having a positive effect on Starbucks' margins over the next couple of years at least due to hedging. We also believe it is well positioned to prosper from the growth in consumption in key growth markets like China. The aggressive expansion in the Chinese market should provide the company with a robust set of earnings for many quarters to come.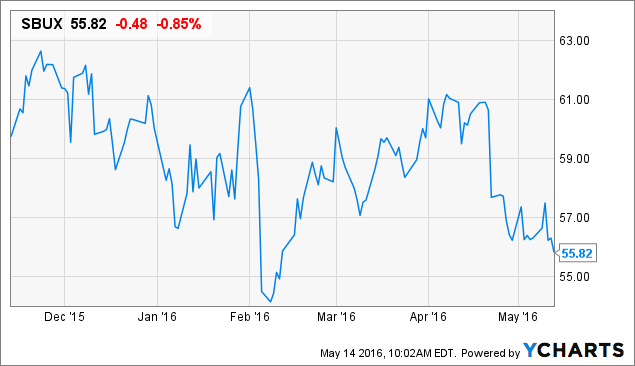 The share price has taken a real dive in the last month, providing a great opportunity to pick up shares on the cheap. We expect there will be around 10 percent upside from Starbucks in the next few months, making it a worthy investment today with limited downside.
Best of luck with your investments once again!
Disclosure: I am/we are long SBUX.
I wrote this article myself, and it expresses my own opinions. I am not receiving compensation for it (other than from Seeking Alpha). I have no business relationship with any company whose stock is mentioned in this article.