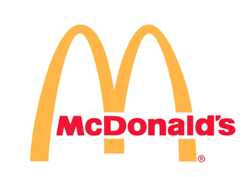 The year 2015 was great for McDonald's (NYSE: MCD), observing a 25%+ climb in share price. Despite the market also being a mixed bag thus far in 2016, MCD has seen close to another 10% climb. Despite being a well-known mega-cap stock, it has been one of my better performing investments over the past eight months. When I initially went long in the mid-$90s, I set a price target in the mid-$130s. One of my recent projects has naturally been to re-analyze MCD based on new information collected from the previous quarter and into Q2 2016 and determine how to act going forward.
Recent Financial Performance and Near-Term Outlook
The company bins its revenues into four main general market classifications - U.S., International Lead Markets (i.e., developed non-U.S. countries, such as the UK, Australia, and Canada), High Growth Markets (e.g., China, Russia), and Foundational Markets & Corporate. Of these four markets, revenue increased in the U.S. only compared to corresponding performance in Q1 2015 (to account for seasonality), but dipped in the other three. However, operating income increased in all four regions, with global comparable sales up 6.2% over Q1 2015 (slightly lower if adjusted for the extra day associated with leap year) and beat consensus earnings estimates by $0.07/share (Source: most recent 10-Q filing). U.S. comparable sales increased 5.4%, largely due to the popularity of its expanded menu options (e.g., all-day breakfast) and the introduction of the "McPick 2," which, despite some early shuffling with its pricing options, has worked to expand consumer choice. Consolidated expenses decreased by 1%.
In terms of these metrics' effects on projected earnings, a 1% change in comparable sales in the U.S. or International Lead segment is expected to add about $0.04/share. In near-term expectations, restaurant expansion is expected to add 1% to top-line growth over 2016. Commodity-based expenses are expected to fall approximately 4% in the U.S. (flat in the International Lead segment), as defined by the basket of ten goods that comprise 75% of MCD's commodity costs. Interest expense is expected to rise 40%-45% over 2016 due to the $6 billion in debt that was issued in December 2015.
The company also bought back 31.3 million shares last quarter (3.6% of its current fully diluted total) at an average price of $117.42 per share - a cumulative total of $3.68 billion. Including share repurchases and dividends, MCD released $4.5 billion back to shareholders during the previous quarter. For the company to meet its three-year, $30 billion shareholder return goal concluding at the end of 2016, MCD will need to release another $9.7 billion in the final three quarters of the year.
MCD's 2016 initiatives largely rely on further menu enhancements, simplification of restaurant operations and convenience strategies, while continuing its restaurant expansion process with an expected net addition of 500 restaurants by year-end, which will be expected to consume approximately half of its 2016 capital expenditures. The company also expects to issue additional debt by the end of the year, some of which will help return the near $10 billion allotment to shareholders.
Valuation
For purposes of valuation, I integrated the aforementioned near-term expectations while allowing for the following additional longer-term assumptions over a projection period of ten years:
Constant 2% annual revenue growth
EBITDA as a consistent 35% of sales
Depreciation and amortization expense at a constant 6% of sales
Capex at 7.5% of sales
Change in net working capital/change in other operating assets and liabilities at just under 1% of sales (i.e., positive value)
Perpetual growth rate of 2%
MCD has ten debt tranches at a weighted-average interest rate of approximately 3.5%. This percentage falls to 2.4% with debt's tax-deductibility worked in. I calculate MCD's cost of equity at approximately 7%. Weighting the capital proportionally, MCD's weighted-average cost of capital (WACC) is approximately 5.5%.
This model would give MCD an enterprise value of nearly $143 billion. This falls a bit above the current value of $133 billion at which collective opinion puts it at currently. Valuing the equity alone would place fair value price at nearly $140 per share, or around 9% above its current price.
Though MCD has converged to what I believe is close to its intrinsic value, I believe it still has some level of upside remaining. The downside risk is not necessarily low enough to encourage selling off the position, and other risk factors perpetually facing the business do not warrant any change in sentiment regarding its competitive prospects in the near term. Even though MCD plans to issue additional debt in 2016, the dilution in equity value from that act alone will not outweigh the accretive effect it will have on shareholders by helping to optimize the company's capital structure going forward. Despite MCD's growing debt-to-equity ratio and interest expense, it presents little risk to the business or its credit rating. On top of that, if we compare a time series of the company's returns volatility to that of its immediate peer group (e.g., Domino's Pizza (NYSE:DPZ), Starbucks (NASDAQ:SBUX), Darden Restaurants (NYSE:DRI), Yum! Brands (NYSE:YUM), and Chipotle (NYSE:CMG)), it's easily observed that MCD (represented by the black line in the chart below) is comparatively less prone to macroeconomic shocks.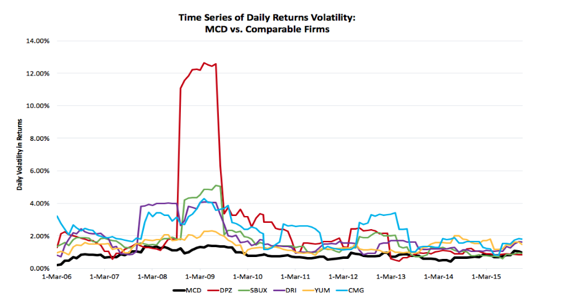 (Source: author)
Even if we knock the model's perpetual growth rate down to 1.5% from 2.0% (to emulate macroeconomic headwinds, such as the very mediocre GDP growth in the U.S.), our fair value price still stands at $125 per share. Even at 1%, we would still be at $113 per share. Even if we assumed zero revenue growth over the course of the ten-year projection period, based back on our original assumptions, MCD's share price still comes in at $115 per share.
Conclusion
Is it time to sell? My best judgment says no.
For retirees or soon-to-be retirees, MCD is often considered a long-term hold given its relative lack of volatility and steady dividend yield. There is also a slight chance of further capital appreciation as the year moves forward. MCD has phenomenal ROIC, and its cost of capital is expected to fall in near future through debt issuance while placing little strain on its operating performance. For other types of investors who might wish to chase a higher level of expected return going forward, there might be better options out there as the market is finally pricing the stock pretty accurately. For now, MCD is basically a hold.
Disclosure: I am/we are long MCD.
I wrote this article myself, and it expresses my own opinions. I am not receiving compensation for it (other than from Seeking Alpha). I have no business relationship with any company whose stock is mentioned in this article.