By Scott Tzu
Tesla (NASDAQ:TSLA) has been on the forefront of driverless technology, but at a point where the market seems the most skeptical of the company as it has ever been. We think the negative headlines surrounding normal "trial and error" from these technologies could be a pronounced negative for Tesla investors.
Tesla has been an innovator in everything it has done so far. It has basically brought electric vehicles to the mainstream and is arguably making the best product available when it comes to the electric vehicle market. That is one positive the company has going for it that we have never argued against. Our continued skepticism about Tesla revolves on how the market has chosen to value and price the company's equity.
We've said several times over, in a few of our skeptical Tesla articles, that the company's execution and the innovation it has put into electric vehicles has been fantastic. Unfortunately, these fantastic developments come at the shareholders' expense, as new equity issuances will likely be the fuel that allows the company to operate for the foreseeable future.
In keeping with the company being on the front of the automotive adoption curve, it has also been one of the first companies to implement automatic driver assistance.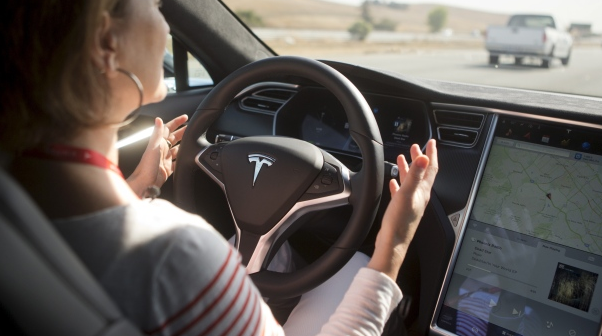 We all know that a lot of companies in the auto market are now working on driverless vehicles to be released in the future. Tesla is considered to be one of the companies leading the charge with this new innovation, but we are finding out that this technology can (at least now) be a positive as much as it can be a negative.
There was an article out this morning in Teslarati talking about another instance of a Model S owner blaming her auto pilot for getting her into an accident on the Los Angeles Freeway.
In this case, and as it will be in many future cases, it's the driver's word versus Tesla's. The article states:
A second Model S owner has come out to blame Tesla Autopilot for causing an accident. Arianna Simpson was driving her Model S on the I-5 north of Los Angeles with Autopilot engaged when "All of a sudden, the car ahead of me came to a halt. There was a decent amount of space so I figured that the car was going to brake as it is supposed to and didn't brake immediately. When it became apparent that the car was not slowing down at all, I slammed on the brakes but was probably still going 40 when I collided with the other car," she says. Simpson blames her car for the accident. Fortunately, there were no injuries.

Not so, says Tesla. As soon as Simpson hit the brakes, she immediately disabled Autopilot and the Traffic Aware Cruise Control. It also overrode the automatic emergency braking system that was rolled out starting with firmware update 6.2 last year.
You can read from Tesla's defense that it may not even be the one to blame for this accident. But a couple things are for sure:
As long as Tesla is on the forefront of driverless technology, it is going to have to absorb the negative blow of all kinds of negative headlines from every instance or something goes wrong.
This is true whether it is Tesla's fault or not. Even in a case like this, where the driver seems to be the one at fault, but she chooses to blame the autopilot, it is going to create a negative stir for the company's technologies.
We saw something similar to this once Tesla first started releasing the Model S. There were several impactful stories reporting on Model S cars that had caught fire after being involved in an accident. There was an enormous debate as to whether or not these vehicles were combusting any more than a normal vehicle would after getting into the types of accidents that these vehicles were getting into.
It ultimately became something that the company was able to get over, and those stories are now really a distant memory. We think the same thing will probably happen with these driverless technologies, but to a bit more of a exhaustive degree.
Taking on such a large task as self driving vehicles that have the power to hit the brakes for you is undoubtedly, no matter what company is doing it, going to lead to some negative press.
We think the company will eventually get over it, but these negative headlines could continue to trickle in at the worst time possible for the company. Tesla looks like it is at a pivot point where investors may be catching on that the company's lack of profit and lack of cash generation could put it in a precarious financial position moving forward. This chart shows anything but momentum, and it seems like the stock is already just a couple more negative headlines away from again moving under $200.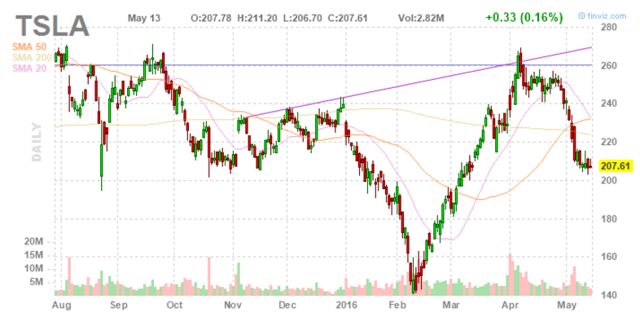 Despite receiving 500,000 pre-orders of the new Model 3, Tesla's stock still doesn't seem to have the robust strength that it once did on this type of news. We think that retail investors, as well as the sell side are both starting to understand that this company is not going to be able to fund itself for the foreseeable future without selling stock.
Co-mingled with this, we expect future headlines on problems that owners have with the company's autonomous driving systems. This could "add fuel to the fire" as we move into the back half of 2016, where we expect equity markets to continue to pull back.
Innovation is a beautiful thing and Tesla has done some fantastic work. But being the first isn't always the best, as we expect these continued negative headlines to compound and already negative sentiment for Tesla heading into the back end of 2016.
Disclosure: I/we have no positions in any stocks mentioned, but may initiate a short position in TSLA over the next 72 hours.
I wrote this article myself, and it expresses my own opinions. I am not receiving compensation for it (other than from Seeking Alpha). I have no business relationship with any company whose stock is mentioned in this article.