ESPN subscribers ("subs") have started to increase
Sometimes we focus so much on the present that we forget to reflect on what got us here in the first place. In late November of last year, Disney (NYSE:DIS) was trading near its 52-week highs of $122.08/share. Until the report of the 7 million lost ESPN subscribers came into the picture.
(Source:The Walt Disney Company Interective Stock Chart)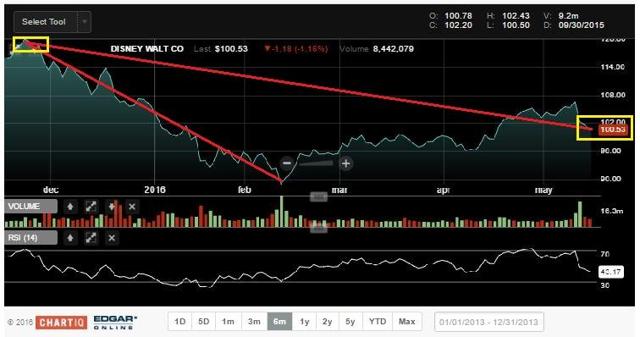 Disney's stock price declined by ~25% following the news that ESPN had lost seven million subscribers. This happened because most people started opting for basic skinny bundles that did not include ESPN.

Fast forward to FY2015, the total number of ESPN subscribers dropped by ~7 million from 99-to-92 million subscribers.

Among investors, this created an unsolvable problem for ESPN. This is because ESPN has fixed sports rights cost over the next several years. ESPN has this fixed cost structure terms with Multichannel Video Programming Distributors ("MVPDs") until the contracts renew. This positioned ESPN to start loosing money because subs revenues started to decline while fixed cost remained constant.
But from what has transpired in the last few months, the future for ESPN is looking brighter. The total number of subs has and will continue to increase because of expanded basic bundles that include ESPN and because people still love watching sports. In addition, ESPN is trying to create more touch points with the consumer by giving subs the opportunity to watch ESPN via mobile and by investing in engaging and entertaining content.
Why Disney's stock price should rise again
This brings up a very interesting discussion. Should Disney's stock price be valued way higher given that Disney's ESPN subscriber numbers are positioned to rise again?
A subs growth story: Victory over Verizon
I believe that the subscription based model will take off because of the new basic bundles that include ESPN. One source of subscriber growth emanates from Disney's lawsuit victory over Verizon Communications Inc. Disney wanted to challenge how much freedom the phone company has to repackage pay-TV networks for its FiOS customers.
Disney wanted to "simply ask that Verizon abide by the terms of our (their) contracts." To avoid more legal action, Verizon decided to introduce a TV package with two low-cost bundles: one that includes sports channels and one without them.
This was a great victory for Disney, because we have now noticed that the demand for ESPN is still strong and sub numbers have already started to reflect that.
"...We launched with Sling as you referenced. We also launched with Sony Vue. And the numbers on both of those platforms have been encouraging and they were a driver of sub. They did contribute incremental subs for ESPN this last quarter...But we're also in discussions with a number of entities, some current distributors that are coming forward with new packages and some completely new distributors, all have expressed an avid interest in having ESPN and our other channels included in their initial offerings, and we're very, very encouraged by the discussions/negotiations that we're having." - The Walt Disney Robert A. Iger on Q2 2016 Results - Earnings Call Transcript
The above statement shows that Disney has made good progress towards diversifying its ESPN revenue stream from normal packages. The Sling and the Song Vue partnerships shows that. Also, the probability that Disney's ESPN can expand topline growth via "new packages and some completely new distributors' and from being included in basic skinny bundles is very high.
Revenue growth story: Strong ESPN demand
I am optimistic that the new expanded basic bundles that include ESPN will be catalysts to ESPN's subs and sales growth as more people subscribe to them. Consumers are likely to subscribe because the love of ESPN is still strong.
"In 2015, 95% of all people who had multi-channel service watched sports in some form or another...ESPN was accessed in some form by 200 million different Americans - not just the channel, but all platforms." - Bob Iger at the Deutsche Bank 2016 Media, Internet & Telecom Conference on March 8, 2016.
Implying that if given an opportunity, most of the lost seven million ESPN subscribers might choose skinny bundles that includes ESPN. This is true because the love of sports is not dead. The enthusiasm is still there. The demand for sports is still there. All Disney has to do is to tap back into the lost demand and hopefully, overtime, expand its customer base.
In addition, the brand power of ESPN cannot be overlooked. It is one of the biggest brands in sports, with over 200 million people connecting with ESPN for live sports and sports news on TV, online, on air, on radio, or on all of the above.
This is what makes skinny bundles with sports great catalysts to ESPN's revenue growth prospects moving forward. ESPN is still loved. It has a proven demand and a strong brand recognition.
An ad revenue growth story: The increase in subs
In addition to new operational efficiencies, ESPN sub numbers have already started to improve. On the other hand, Disney also experienced a "decrease in advertising revenues." I think this was due to advertisers reluctance to advertise with them due to the ESPN uncertainty.
But this is going to change. During the conference call Robert A. Iger said that there were incremental subscribers for the quarter. Therefore, I believe that as the total number of subscribers continue to increase, advertising revenues will also increase.
In addition to advertising revenues, the more subscribers ESPN gets, the more it begins to have a stable, predictable revenue stream. This is because ad revenues are cyclical by nature but sub revenues are more stable and recurring sources of revenues.
Conclusion - operational efficiencies and live sports advantage
Operational efficiencies - low programming and production costs will drive margins for ESPN
During Q2 2016, Disney's ESPN was the primary driver for the 9% growth in Disney Media Networks' operating income. Operating income increased due to new operational efficiencies. Disney confirmed these new operating efficiencies in the aftermath of the ESPN scandal during Q2 2016. Management said that "the higher results at ESPN benefited from lower programming and production costs in the second quarter." This is a great margin development for ESPN.
A "live" advantage
The move towards live news is a critical instrument of success for ESPN. The growing demand for anything "live" is best seen through people's reception of Facebook Live or Twitters Periscope.
Because Disney heavily invests in original content and digital, it is well positioned to benefit from an increase in live sports. I think there is great value in live sports. This is because ESPN live sports are valuable to consumers, advertisers and to distributors. This is good for ESPN because distributors, for example, "sell local avails in ESPN and they bring in more revenue from ESPN in terms of local avails than any other channel that is out there." Meaning that the more people ESPN can engage either via television or social media, will help boost its advertising revenues.
Lastly, I believe that ESPN has already strengthened their competitive position in the marketplace. Their victory over Verizon, the fact that people still love sports, ESPN's new operational efficiencies and the increased demand for live streaming, will all drive top and bottom line sales for ESPN.
Disclosure: I/we have no positions in any stocks mentioned, and no plans to initiate any positions within the next 72 hours.
I wrote this article myself, and it expresses my own opinions. I am not receiving compensation for it (other than from Seeking Alpha). I have no business relationship with any company whose stock is mentioned in this article.