The purpose of the Learning From the Start Portfolio has always been to look to discover different ways of comparing, learning and analyzing companies. By doing so in small purchases it allows me to have some ownership of the results which I hope will lead to more successful investing in the future, and a learning experience for readers over time. This is a long term project to be funded over the next decade with the results followed and a notes shared to see what can be learned through the process, be the results positive or negative.
January 2014 was our families first purchase of Costco COST stock using Scottrade's Flexible Reinvestment Plan, we purchased two shares at $116.35. We continued adding through this program over the next 18 months until we built up a 35 share position with an average share purchase price of $130.02, which is currently up roughly 12% on the average share. As consumers we like Costco, we shop there at least once a month and its business model is one that has shown to have staying power. With each passing year we find we are purchasing more products from Costco and expect that it is not a trend that will be broken any time soon.
One of the hardest parts of investing is finding the right entry points for each stock you purchase. Remembering back to the start of the Flexible Reinvestment Purchases into Costco, I had long discussions with Seeking Alpha Contributor Mike Nadel , we both lamented that it was nearly impossible to find a good value point to enter Costco at. It was partly these conversation that led me to using the dollar cost averaging strategy that I used to make the purchases. However, those same conversation got me wondering if there was any metrics out there that would help find a good entry point for Costco, if so was it something that could be traced over time and from that could investors find added security when purchasing at certain values.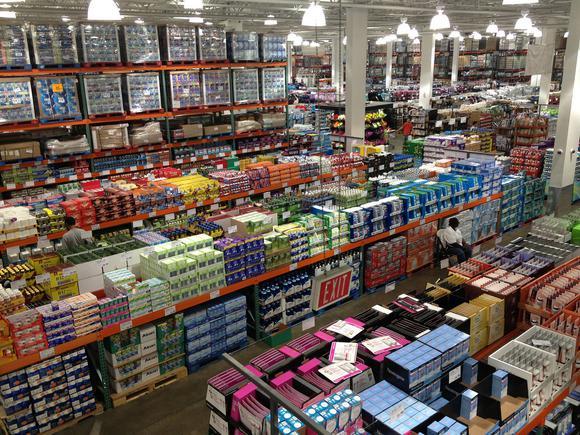 I did not start contributing to Seeking Alpha for nearly another year and it was six months after that before I made the first purchases for this portfolio. Over that time I had continued to watch earnings reports and analysts projections to see where support levels would stabilize the stocks price. With Costco I noticed that it seems that when the stocks price drops to between 22 and 24 times the following years earnings projections the stock seems to have a natural level of support. In looking back it appears that it hit a low of about 21.5 times earnings for a short period of time, then rebounded. On the upside of the earnings reports the company has sold at a high of 28 times 2017's earnings estimates. What I am hoping to find is at what point investors enter the market and stop the price from falling which will allow investors to safely enter the company giving them additional security on those purchases.
To test this going forward I am using the consensus estimate as compiled by MerrillEdge for 2017. As I look to how to track this in the future I have decided that at the end of the third quarter each year I will start to look at the earnings projections for the following year. As of today Costco's 2017 earnings are projected to be $6.06 per share. I set my limit order to buy at $145.44 which is exactly 24 times the expected earnings. I could have tried to set the limit order a bit lower and there's a chance that given the current market it will drop a bit more in the short run, but I felt that with a small investment I would rather ensure that I have the limit order placed at an exact level so I can track the results over the long term.
From a long term investors perspective there are multiple reasons to invest in Costco. Unlike other pure retail outlets, Costco has a percentage of its revenue that is created from Membership to its locations. At $55 per year per membership (with an additional fee to upgrade to an executive membership) this gives the company a baseline of revenue per year as memberships auto renew. That baseline revenue helps build in earnings expansion that other retail outlets do not garner. By the halfway point of the year it is expected that Costco's partnership with Visa (NYSE:V) to be fully operational. For years American Express (NYSE:AXP) was the only credit card company that consumers were able to use at Costco locations, last year this changed and now Visa is the exclusive card. At this point I think expectations from this have been built into the stocks price, but the change does make it easier for a larger number of consumers to use credit cards at Costco. The advantage for me alone will allow me to receive roughly 5 dollars back for each trip I make to Costco.
Costco is not a stock for all investors however. It's current dividend yield at purchase was just under 1.25% which falls below a lot of investors comfort level. I do not have a minimum yield that I expect from my investments so that is not something I am concerned with. While the initial yield is low, the growth of the dividend has been excellent. In each of the last two years the company has increased its dividend by 12.5%, this would lead to a doubling of the income stream every 6 years, not including any reinvestment. With a pay out ratio of only 28% the company has plenty of room to continue to reward investors. For younger investors the growth of that income stream over time is likely to be combined with capital appreciation resulting in solid total returns.

Previous Trade Updates:
In mid January I added Amazon (NASDAQ:AMZN) to the portfolio. This addition has worked out very well, with the stock being up 18.37% since the transaction. The theory behind that trade was built on the theory that environment may have an impact on investors, I don't think I'm nearly far enough into my ownership to know whether or not there is validity to the theory or not. What I do know is that Amazon is performing very well, and that they've exceeded my expectations as an investment. They're definitely more volatile than I'm used to with my usual investment style and it does add something interesting for me to follow. I'll be interested in seeing how they continue to grow, with the expansion of Amazon Primes delivery window shrinkage as well as movements into other areas which help streamline the delivery process.
The other purchases have not gone nearly as well. Both Umpqua Holdings (NASDAQ:UMPQ) and Columbia Banking Systems (NASDAQ:COLB) have had negative total return since the initial purchases were made. What is important to remember about these purchases is that I was looking to see which companies dividend policy increased shareholder value the most. On the day after Amazon reported a great quarter, Columbia Banking Systems had a terrible earnings release. At the time that the two regional banks were very close to break even and in an odd coincidence so was Amazon. Since then Amazon has gone on a huge run up, while the two banks have suffered. At each update since the two companies were purchased, UMPQ has performed better even though at this time outperformance simply means that the shares are down less.
Conclusion:
It has been interesting coming up with different ways to look at stock performance and through the next three months I will continue to look for opportunities to add another company or two. My hope with this purchase is that I may find a good time to make much larger purchases of Costco that can show in much clearer terms when good entry points are for the company. I look forward to keeping tabs on how earnings growth effects Costco in the future, and also seeing if there are other companies that have the same effect. If the results show through well, I may decide to use Flexible Reinvestment Program dollars in my own personal account to add shares as well. Does anyone have any triggers they use to decide if this is the right time to add Costco? What are some other trigger points that investors use to try to maximize their own personal alpha? Let me know your thoughts in the comment sections below, and here is hoping the next few months continue to treat investors well.
Disclosure: I am/we are long COST, AMZN, V, COLB, UMPQ.
I wrote this article myself, and it expresses my own opinions. I am not receiving compensation for it (other than from Seeking Alpha). I have no business relationship with any company whose stock is mentioned in this article.