Company Overview
New Oriental Education & Technology Group Inc. (NYSE:EDU) is the most recognized brand in Chinese private education. Since founded, EDU has had over 24.2 million student enrollments, including approximately 2.9 million enrollments in fiscal year 2015. As of February 29, 2016, EDU had a network of 64 schools, 727 learning centers, 23 New Oriental bookstores, over 5,000 third-party bookstores, and over 17,700 teachers in 54 cities, as well as an online network with approximately 12.9 million registered users. EDU possesses significant competitive advantages over others due to its i) market leader position in a variety of fragmented sub-market segments; ii) significant business scale, economies of scale, and existing expertise in education services industry; and iii) the ability to access capital.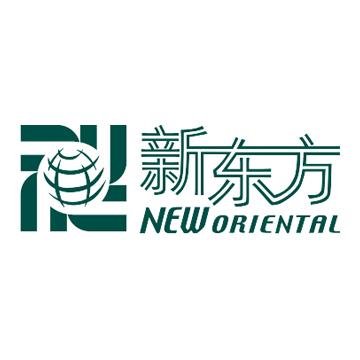 Favorable Environment
The business environment is favorable for EDU on multiple fronts. From a political standpoint, Chinese government committed approximately 4% of its annual GDP in education budget from 2010 to 2020. As a result, I expect to see significant education infrastructure improvements in rural areas and lower tier cities in the next few years. Consequently, EDU is well positioned to benefit from the political tailwind, as more students will use EDU's quality services to improve their ability to compete in standardized tests. From a job market perspective, Chinese businesses seek to hire top talents with a high level of academic achievement, as they are perceived as more capable and skillful. Therefore, millions of young, hungry and ambitious individuals are willing to work extremely hard to improve their skills and knowledge. EDU leveraged its successful business expertise in English language preparatory program and established high quality preparatory exam preparation and skill set training programs for career improvements. I believe that EDU is well positioned to take advantage of the political and social-economic tailwind in China.
Business Model Strength and Weakness
Part of what I like about their business model is that i) customers often pay upfront before they receive any educational training/services, and ii) EDU operates under an asset-light model (as their most important asset is their brand name and teachers). This means that EDU has short cash cycles and highly retained cash flow (low capital expenditure and working capital investment). Their current investments in opening new learning centers are not capital intensive in nature. One negative is that the management team needs to improve shareholder value with its $1.3B cash and equivalent. The table below summarizes the deferred revenues and profitability during the past 5 years:

Quarterly Result
My biggest takeaways from the quarterly earnings release are that i) K-12 revenues and enrollment rose 35% and 31% YoY respectively; ii) POP Kids revenues and enrollment improved 40% and 31% YoY respectively; iii) ASP declined 1% YoY in U.S. dollars (+5% in RMB); iv) O2O investments will decline going forward; and v) next quarterly revenue will improve in the range of 15%-19% YoY.
I think the growth of K-12 enrollments, POP Kids enrollments, and Koolearn user traffics growth will remain strong (+25% range) in the foreseeable future because of i) the high level of market fragmentation and ii) EDU's brand influence and market penetration. On another note, I believe that the expectation of O2O investment decline is very reasonable as EDU extended a portion of its offline services to online users. Looking forward, the profit margin is expected to rise.
Valuation
Based on the annualized FY 2016 earnings, the P/FY'16 Earning is ~24.4x. The PEG (TTM) actually declined significantly as the stock price rose. On another note, the current valuation at ~25x P/E is lower than the 40x or 50x P/E multiple if EDU were to list in China.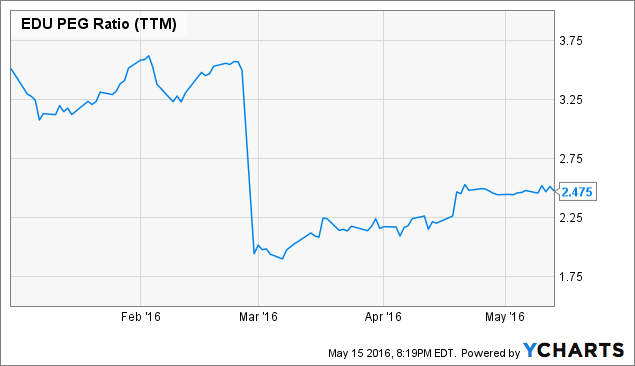 EDU PEG Ratio (TTM) data by YCharts
General Thoughts on Price Improvement
The stock price rose 28% during the past three months before the announcement of a strong quarter. Investors rewarded EDU for the margin expansion. EDU seems to be a good stock to gain Chinese exposure without being affected by the weakness of Chinese growth.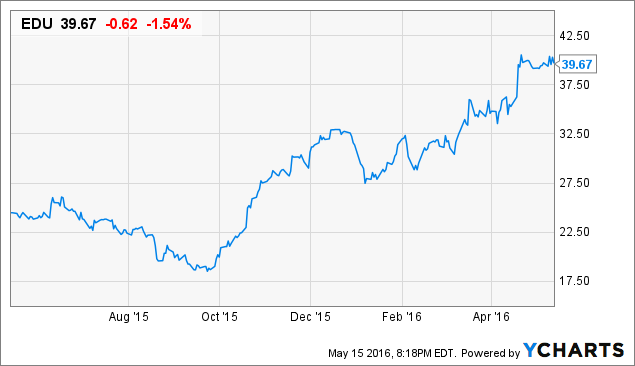 EDU data by YCharts
Catalyst and Final Thoughts
Macro tailwind, future margin expansion, and solid K-12 growth pipeline will continue to drive the future performance. I think that the management team will use the $1.3B cash balance for additional educational services related acquisitions to beef up the future growth pipeline (as they are already doing so). Going forward, additional investments in the online-related educational platform will make sense from a strategic planning perspective to not only strengthen product offerings but to increase customer retentions throughout life stage of their customers. I am looking forward to another strong quarter, earning multiple expansion, and additional pipeline growth.
Disclosure: I/we have no positions in any stocks mentioned, and no plans to initiate any positions within the next 72 hours.
I wrote this article myself, and it expresses my own opinions. I am not receiving compensation for it (other than from Seeking Alpha). I have no business relationship with any company whose stock is mentioned in this article.