Qualcomm: Taking Artificial Intelligence To A New Level
Summary
Qualcomm has made its first machine learning SDK available to OEMs.
The company's adjacent market opportunities are growing at a CAGR of 18% for the next five years.
Its Zeroth platform and neuromorphic computing initiative will help drive growth by capitalizing on the opportunities.
Qualcomm (NASDAQ: NASDAQ:QCOM) announced a few days ago that its subsidiary Qualcomm Technologies will offer OEMs its first machine learning SDK for running their own neural network models on devices powered by Snapdragon 820 SoCs. The devices include smartphones, cars and drones among many others. Gary Brotman, director of product management, Qualcomm Technologies, said:
With the introduction of the new Snapdragon Neural Processing Engine SDK, we are making it possible for myriad sectors, including mobile, IoT and automotive to harnesses the power of Qualcomm Snapdragon 820 and make high-performance, power efficient on-device deep learning a reality.
Qualcomm said in its Q2 earnings call that the company is broadening its presence in "adjacent opportunities," i.e., in adjacent markets where it has growth opportunities. The company has such opportunities in the sectors Brotman mentioned, as presented above in bold. Clearly, Qualcomm's aim is making machine learning an integral part of mobile compute, IoT and automotive.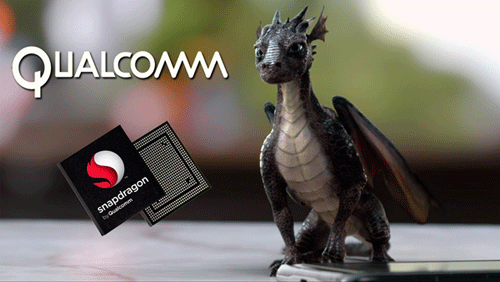 Qualcomm's Adjacent Markets Strategy
As per Qualcomm's internal estimates combined with third-party estimates, the addressable opportunities in the adjacent areas have a CAGR growth rate of 18% over the next five years. Qualcomm mentioned this in the recent earnings call. The company expects these opportunities could drive nearly $2.5 billion in QCT revenue in FY16.
Although Qualcomm is referring the new opportunities as adjacent market opportunities, the opportunities are primarily part of the evolving IoT and connected devices market. Qualcomm's strategy for ensuring growth in this market is building a solid cognitive computing platform based on its Zeroth AI (artificial intelligence) technology.
In a previous article I mentioned that Qualcomm's IoT strategy is different from that of Intel (INTC). Intel's IoT growth strategy isn't driven by cognitive computing and Chipzilla is aiming at powering as much connected devices as possible by its next generation Atom processors. Although Intel acquired cognitive computing startup Saffron in October 2015 for deploying its technology in servers as well as IoT, building a platform like Zeroth based on Saffron's technology doesn't seem possible as of now. In contrast, Qualcomm is trying to make the Zeroth platform its engine of growth in the IoT and connected devices market.
Zeroth Platform: Qualcomm's IoT Growth Engine
Qualcomm is developing technologies for the connected cars, healthcare, education and wearables market. In addition, it has already built a host of innovative networking solutions for tomorrow's smart homes and smart cities. Qualcomm, unlike Intel, is transcending from a chipmaker to a technology provider.
In order to make homes, cities, cars, wearables and even the education system smart, Qualcomm is building a cognitive computing platform based on neuromorphic computing modeled on biological brains. The platform will support neural networks, which in essence are AI systems capable of analyzing and interpreting sensory data such as image and sound, much like the human brain. Such networks will help the smart devices connected to the network make decisions like humans.
How the smart devices will make decisions? Well, Qualcomm is planning to develop an NPU (neural processing unit) for this purpose. According to an article published in IEEE Spectrum, neural networks experts believe that if neural network-friendly features can be placed inside the SoCs, the devices can perform more sophisticated functions. An NPU, which will be the heart of a neural network, will have a huge but scalable number of neurons capable of performing billions of synaptic operations per second.
Qualcomm's recently announced Zeroth machine learning SDK will allow developers to create software for various smart devices, such as cars and drones, which will be compatible with the neural networks and able to make decisions. For example, if a drone faces an eagle while flying, it can move away from the eagle by making the right decision. The camera fitted in the drone will first notice the eagle, a sensor powered by the Snapdragon 820 chip will perceive that the creature can collide with the drone, and finally the drone's OS will tell it to move away.
Qualcomm's Competitive Landscape
Qualcomm's nearest competitors in the IoT and connected devices market are Intel and IBM (IBM). Intel's IoT strategy primarily revolves around generating revenue by selling IoT-friendly processors. Although Intel offers analytics as a part of its IoT products, it isn't developing any groundbreaking cognitive computing technology like Qualcomm.
Intel's cognitive computing initiative is limited in running machine learning optimized algorithms on the processors for supporting various cognitive computing functions at the software level, such as k-means clustering, logistic regression and collaborative filtering, to name a few. Although Intel's strategy seems more practical for the near-term because the market hasn't become mature yet for neural networks, Qualcomm's initiative will pay off in the long run. I've no doubt about it.
In addition to Qualcomm, IBM is also upbeat about developing cognitive computing technologies. In fact, IBM has already built a brain-inspired chip known as TrueNorth. Despite that, Big Blue isn't interested to commercially exploit the NPU. However, IBM's Watson AI platform could pose a serious threat to one of Qualcomm's adjacent opportunities, which is mobile compute.
In July, 2015, IBM's Watson team released an SDK for both iOS and Android platforms. As part of its MobileFirst initiative, IBM's goal was developing voice-driven interactive apps. IBM can develop more such apps based on Watson, which could create significant competitive pressure for Qualcomm's mobile compute business.
Conclusion
Qualcomm's QCT revenue will rise substantially from today's level as a result of its emphasis on IoT. Going forward, its QTL revenue from IoT patent licensing could also rise significantly. Based on LexInnova's patent landscape analysis in IoT, Qualcomm has the potential to become the market leader in terms granted patents in the IoT space.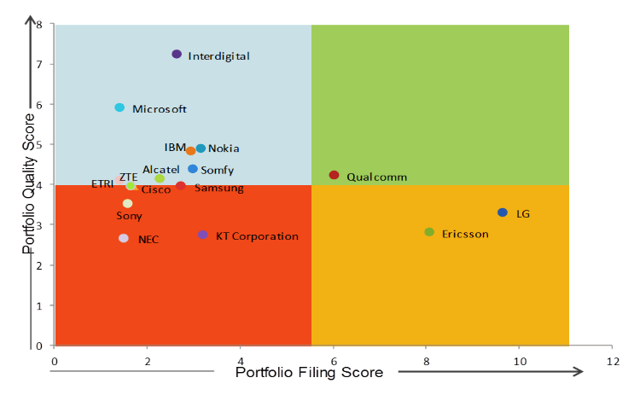 Image Credit: LexInnova
In the chart presented above, LexInnova's proprietary LexScore framework has exclusively placed Qualcomm in the leadership zone, the green portion of the chart. That's why Qualcomm is my most favorite long-term IoT play.
This article was written by
Alpha Max no longer writes on Seeking Alpha.
Analyst's Disclosure: I am/we are long QCOM, INTC, IBM. I wrote this article myself, and it expresses my own opinions. I am not receiving compensation for it (other than from Seeking Alpha). I have no business relationship with any company whose stock is mentioned in this article.
Seeking Alpha's Disclosure: Past performance is no guarantee of future results. No recommendation or advice is being given as to whether any investment is suitable for a particular investor. Any views or opinions expressed above may not reflect those of Seeking Alpha as a whole. Seeking Alpha is not a licensed securities dealer, broker or US investment adviser or investment bank. Our analysts are third party authors that include both professional investors and individual investors who may not be licensed or certified by any institute or regulatory body.