Magellan Midstream Partners (NYSE:MMP) is a great stock to buy right now in my view, as the company runs a low-risk, fee-based petroleum pipeline system that makes money in any commodity price environment.
Recent quarterly results were particularly strong, and I think results in the next quarter should be even stronger as oil prices rally. I think the company will be able to continue growing its dividend, making it an attractive long-term stock pick. While the stock isn't necessarily bargain-priced here, I feel that the risk/reward is very favorable for investors.
The company transports, stores and distributes oil and refined products in 15 states. Its assets consist of 9,500-miles of refined products pipeline, 1,600 miles of crude oil pipelines and storage facilities with total storage capacity of 21 million barrels, and marine storage terminals that carry storage capacity of approximately 26 million barrels.
Magellan is focused on expansion, as the company has invested over $4 billion in organic growth projects and acquisitions in the past decade; the company expects to spend close to $1 billion over the next two years to continue growing the business and increasing its distributable cash flow. Investors also benefit from a healthy annual dividend payout of $3.21 (paid quarterly), which gives the stock a current yield of 4.55%.
Year to date, the stock is up 4.08%; over the past five years, shareholders have been rewarded with gains of 140%, and this does not include dividends. An initial investment of $10,000 in 2010 would be worth over $30,000 today, according to Morningstar.
(Note: MLPs such as Magellan makes distributions (also referred to here as dividends) on a quarterly basis, which is based on what it earns in taxable income. MLPs are not subject to income tax).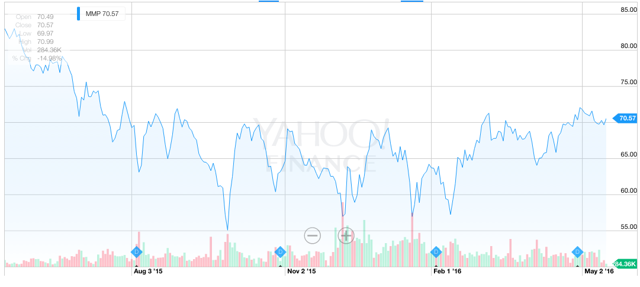 Solid First-Quarter 2016 Results
I thought Magellan had a really strong first quarter which further proves the strength of the company's business model. In the quarter, Magellan reported net income of $207.1 million, which was up from $183.6 million last year, with $205.3 million in distributable cash flow. Net income per unit was 91 cents, up from 81 cents last year. While some oil producers teeter on the brink of bankruptcy, Magellan's business has held up quite strong.
The company's operations are broken up into three segments: Refined products, crude oil and marine storage. The best performer this quarter was crude oil, as it produced $100.7 million in operating margin, an increase of $16 million, due to higher average rates and increased shipments at its Longhorn pipeline systems, and higher shipments at the BridgeTex and Double Eagle pipeline systems, which are 50% owned by the company.
The refined products segment was also strong; operating margin was $170.9 million, down $12.5 million. Marine storage margin was unchanged at $27.9 million. As for the balance sheet, Magellan ended the quarter with $3.8 billion in debt outstanding and $210 million cash on hand.
The company has set a max leverage ratio target of 4X, and with the ratio currently at 3X and more than $1 billion in available credit, the balance sheet looks fairly conservative, especially when compared to peer Enterprise Product Partners (NYSE:EPD), which had total debt of $22.9 billion to end the first quarter.
2016 Guidance Increased
Management has increased its 2016 discounted cash flow guidance by $10 million to $901 million, due to solid financial results and higher commodity prices than initially expected.
As a result of the increased guidance, the dividend is now covered by 1.2 times cash flow. Management has set a goal of increasing its annual cash distributions by 10% this year and by at least 8% in 2017, while still maintaining the 1.2X coverage ratio.
Valuation
Looking at Magellan's valuation metrics, the stock looks somewhat undervalued here. The stock carries a P/E ratio of 19 and a forward P/E of 18.6; Magellan also has strong profit margins of 38.6% and operating margins of 40.73%; finally, its EV/EBITDA stands at 18.48, according to Yahoo Finance.
Here's how Magellan compares to peers Enterprise Product Partners, Kinder Morgan (NYSE:KMI) and Williams Companies (NYSE:WMB). With profit margins of 38.6% and lower net debt as a percent of its market cap, Magellan has substantially higher profit margins and lower leverage than its peers.
| | | | | | |
| --- | --- | --- | --- | --- | --- |
| Stock | P/E | Forward P/E | Profit Margin | EV/EBITDA | Yield |
| EPD | 21.06 | 17.96 | 10.37% | 15.83 | 6.02% |
| KMI | 658.08 | 21.70 | .99% | 12.11 | 2.92% |
| WMB | N/A | 16.47 | -9.67% | 12.08 | 13.23% |
Summary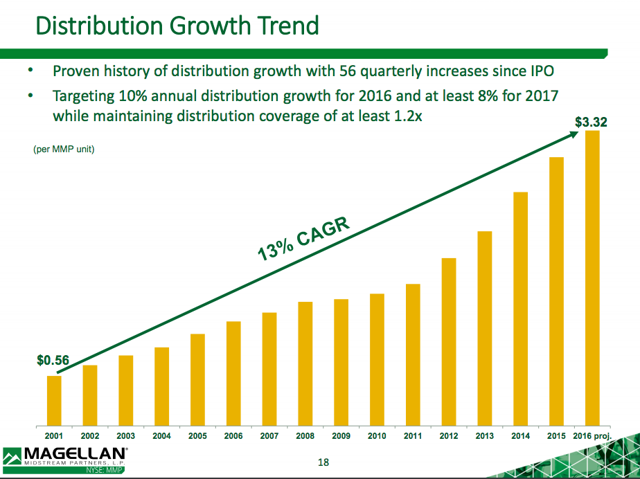 (Credit: Magellan Corporate Presentation)
You'll see above the company's strong history of paying distributions, with its annual payout increasing from $.56 per unit in 2011 to $3.32 per unit projected in 2016, which represents a 13% compound annual growth rate. This is expected to grow at least 8% in 2017.
With strong earnings, numerous expansion projects in the pipeline, and low leverage on the balance sheet, I think there's a great chance Magellan continues to grow its distribution over the next few years. So while the stock doesn't look all that cheap here, I think it's a great long-term pick that will reward investors handsomely.
Disclosure: I am/we are long MMP, EPD.
I wrote this article myself, and it expresses my own opinions. I am not receiving compensation for it (other than from Seeking Alpha). I have no business relationship with any company whose stock is mentioned in this article.