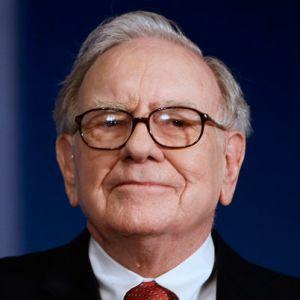 UPDATED: This article has been updated with the following information:
We recently learned that Berkshire purchased 9.81 million shares of Apple in its high-profile move into tech. An average of $99.49 sits on the books for Berkshire - As of June 17th, the stock is approximately $95. And as discussed below, chances are the Oracle of Omaha likes its move down and could be buying more.
News broke Monday about Warren Buffett's new $1bn dollar position in shares of Apple (NASDAQ:AAPL). Berkshire Hathaway (NYSE:BRK.A)(NYSE:BRK.B) and Buffett have tended to shy away from the technology sector, which made the position in IBM (NYSE:IBM) taken a few years ago a bit curious. It's this purchase of IBM that has shone some light on Buffett's investing philosophy, something we can learn from today as he begins his foray into Apple.
In the 2011 Annual Report to shareholders, Buffett posed the question to readers:
What should a long-term shareholder, such as Berkshire, cheer for during that period? I won't keep you in suspense. We should wish for IBM's stock price to languish throughout the five years.
Looking at the five-year chart, it seems as though Buffett got his wish: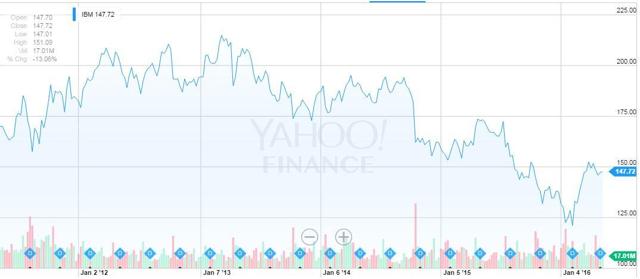 But let's dive into Buffett's reasoning. IBM would be engaging in a sizeable share buyback throughout the period. If the stock price is higher, the company will be forced to buy fewer shares; if the price is lower, the company can buy more shares. Thus:
If IBM were to earn, say, $20 billion in the fifth year, our share of those earnings would be a full $100 million greater under the "disappointing" scenario of a lower stock price than they would have been at the higher price. At some later point our shares would be worth perhaps $1 1⁄2 billion more than if the "high-price" repurchase scenario had taken place. The logic is simple: If you are going to be a net buyer of stocks in the future, either directly with your own money or indirectly (through your ownership of a company that is repurchasing shares), you are hurt when stocks rise.
So not only is the company able to buy more shares at lower prices, Berkshire can also buy more shares, increase its ownership stake, and lower its cost basis. That is why time and again Buffett has commented that he "loves when [a company's stock] goes down." So what's that mean for Apple?
Buffett has also famously commented that "be greedy when others are fearful." In regards to Apple, we have seen the infamous exit of Carl Icahn, who cited anxiety over China and growth as reasons for selling his position in the company. We have seen David Einhorn's Greenlight Capital pare back its stake by 44 percent. The stock price has also fallen in the last several months, down 20% in the last six months alone: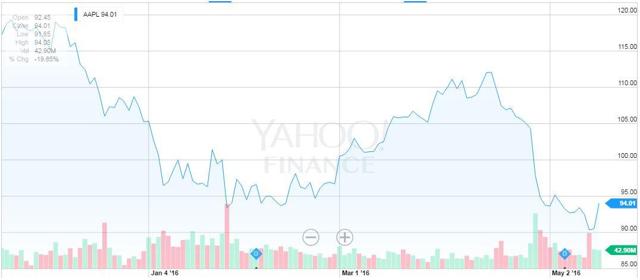 The fear, then, seems to be widespread in the stock. It appears Buffett has taken the temperature of this widespread negative sentiment, decided it was a time when "others are fearful" and decided to be greedy.
Apple investors, though, should recognize this purchase against the wider context of Berkshire's investing philosophy. Buffett does not want a stock, such as Apple, to go up too fast when the company is engaging in a large buy back program. He may also wish the price to stay lower or fall so that he can add to this new position as well. What we can expect is that if Buffett intends to be a net buyer of Apple in the future, he will take this preference of lower prices towards the company. He wants Apple to continue to draw down its outstanding shares. You won't see Buffett trumpeting and cheerleading, "talking his book" because of the large amount that Apple is slated to spend on buying back stock in the future.
Conclusion
Long-term net buyers of Apple should rejoice, along with Buffett, when Apple's share price falls. This allows lowering cost basis as well as allowing Apple to buy more shares at lower prices. Future earnings will dictate the future of Apple's share price, and with a trailing PE of 10, the market is telling investors like Buffett that the price is inexpensive.
Disclosure: I am/we are long AAPL, BRK.B.
I wrote this article myself, and it expresses my own opinions. I am not receiving compensation for it (other than from Seeking Alpha). I have no business relationship with any company whose stock is mentioned in this article.