After surviving the retail carnage last week, Home Depot (NYSE:HD) is set to announce Q1 earnings on Tuesday, 5/17, before the market opens. We think HD is set to release strong numbers that will top analyst estimates. While we remain tethered by the current valuation relative to long-term growth potential, we think shares have upside in the near-term following a strong ER, which will stand in stark contrast to last week's department store ERs.
On the heels of a series of department stores stumbling on earnings, the retail sector sold-off heavily last week as the thesis surfaced once again that Amazon (NASDAQ:AMZN) is killing brick-and-mortar retail. HD, though, survived most of the retail carnage, shedding only ~2%, while the SPDR S&P Retail ETF (NYSEARCA:XRT) shed more than 4.5%. Clearly, the market is making a distinction between department stores and HD.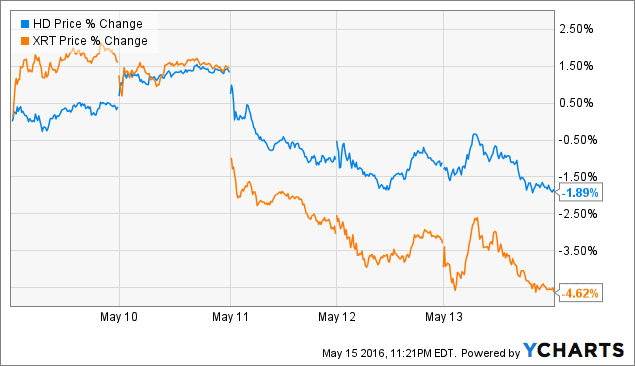 HD Price data by YCharts
Qualitatively, we feel this distinction is warranted. AMZN is being labeled as the nemesis of brick-and-mortar retail, but there really isn't much of an overlap between what AMZN sells and what HD sells. While there is some overlap in tools and hardware, we don't think this overlap has accelerated over the past few months. This, though, will be something to watch in the quarter to see how AMZN has gained share in this market. We don't think they have gained much share since the company didn't highlight its hardware business in its most recent press release (while the company did highlight multiple other segments).
In the Q1 press release, AMZN did highlight the growth of its Home Services business. According to the press release, Home Services now serves more than 40,000 U.S. zip codes with more than 1,200 service options across 45 categories. In the longer term, Amazon Home Services is a growing threat to HD's in-store installation business. At the current moment, however, Home Services is still small and new relative to HD, and we do not believe these quarterly results will reflect much of a hit from Home Services.
Quantitatively, macroeconomic data seems to support our qualitative thesis that HD is "un-Amazonable." The 9.2% Y/Y sales gain building material / garden equipment stores posted in March was followed by an 8.2% Y/Y sales gain in April. Overall, in the three months from February to April, building material / garden equipment stores have seen sales increase 9.6% Y/Y. This makes building material / garden equipment stores the strongest performing segment over the past 3 months, even stronger than nonstore retailers (+8.8%), which includes the likes of AMZN and other high-growth, online-only retailers. By comparison, clothing stores saw sales inch up only 0.7% in that same timeframe, while general merch stores posted a 0.2% Y/Y gain and department stores saw sales fall 3.6% Y/Y.
In our opinion, the quantitative and qualitative stories agree here. This gives us confidence that HD will report a strong quarter. The current consensus revenue estimate calls for 7% Y/Y growth, and this is 260 basis points lower than the three-month Y/Y sales gain the building material / garden equipment sector reported. We think HD can easily post a sales gain much higher than 7%, and expect this stronger-than-expected sales growth to flow-through to a bottom-line beat as well.
The problem with HD here is the valuation. We have a company that grew sales 6.4% in Fiscal 2015 on comps of 5.6%. The 2016 guide calls for 5.1% to 6% sales growth on 3.7% to 4.5% comps. Earnings grew nearly 16% in 2015 and are guided to grow 12%-13% in 2016. In essence, we have a company with slowing growth. Over the next 5 years, comps will likely fluctuate in the LSD to MSD range, depending on AMZN's intrusion with Home Services and Hardware. This will likely lead to sales growth in the MSD range and earnings growth in the HSD to low-DD range. In our opinion, then, investors are paying 25x earnings and 13.5x EBITDA for HSD to low-DD earnings growth over the next 5 years.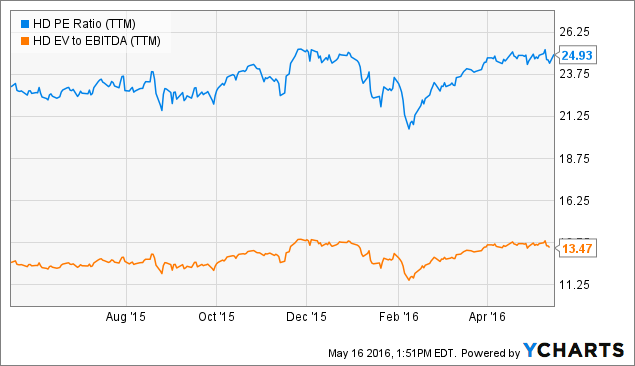 HD P/E Ratio (TTM) data by YCharts
This isn't an attractive multiple relative to long-term growth. The valuation, though, is only at a slight premium to where the stock has traded over the past year. A strong quarter against the backdrop of weak department store earnings could cause an influx of HD buyers tomorrow. Despite our concerns about the valuation, we think shares could pop following a strong Q1 earnings beat.
Disclosure: I/we have no positions in any stocks mentioned, but may initiate a long position in HD over the next 72 hours.
I wrote this article myself, and it expresses my own opinions. I am not receiving compensation for it (other than from Seeking Alpha). I have no business relationship with any company whose stock is mentioned in this article.