Latin America has been hit in recent months by the weaker global economic growth and trade, volatility, corruption scandals, and significant challenges in local politics. It is important to realize that the magnitude of the crisis is not minor; it is not only affecting few and small countries, it has reached LatAm's wealthiest nation. We analyze here the situation of the Chilean economy. In short, we do not love the country's short-term outlook: chances are that the economy will not pick up and that stocks will remain relatively expensive. Thus, we do not foresee an attractive entry point in the country's bullish ETF (NYSEARCA:ECH). We rather prefer Mexico's ETF (NYSEARCA:EWW).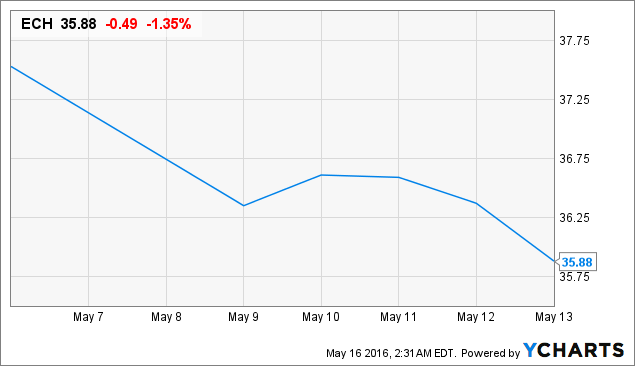 ECH data by YCharts
Over the last years, rapid economic growth, low inflation, trade surpluses and a strong currency had made Chile the region's star. Economic reform and trade allowed Chile to control inflation, reduce its debt levels and reach the highest purchasing power per capita in the region. However, 2016 is proving challenging for the Andean nation, as weaker growth, unemployment, fiscal deficit and volatility in the peso loom. Corruption scandals have also taken an important place in Chile's agenda.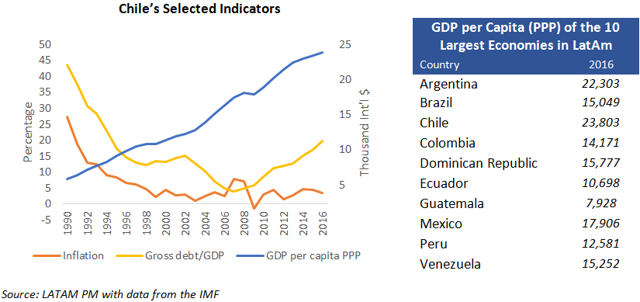 The latest figures show that Chile's economic activity rose 2.1% year-on-year (y/y) in March and that manufacturing production increased 2.7% y/y, its fastest pace in more than a year. The numbers immediately made Chile's Finance Minister Rodrigo Valdes state that "information keeps indicating that the low point of the cycle already occurred a while ago."
Although we still think that Chile remains a stability oasis in a turbulent region, we do not share the optimism of local officials. A weak business and consumer confidence, rising unemployment and less expansionary monetary and fiscal policies are likely to take a toll in the Andean nation.
Chile's central bank expects the economy to expand between 1.25 and 2.25% this year as China's demand for copper, Chile's main export, holds the country's rebound from the mild 2% growth of the last two years. The IMF expects Chile to grow 1.5% this year, the slowest pace since 2009.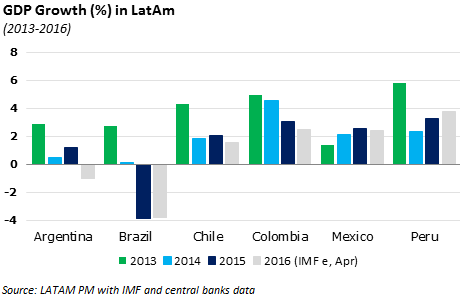 But risks loom for the already subdued growth rate expected for 2006. Chile's national unemployment rose more than expected to 6.3% in Q1, while Santiago's jobless rate jumped 2.6% to a six-year high 9.4%, according to Universidad de Chile. The unemployment level is bad news for an economy that has been dependent on consumer spending to maintain growth after the commodity boom came to an end. Unemployment might create a feedback loop as real wages growth rates of 4% to 5% in 2008 have been decreasing progressively to the current 0.5%.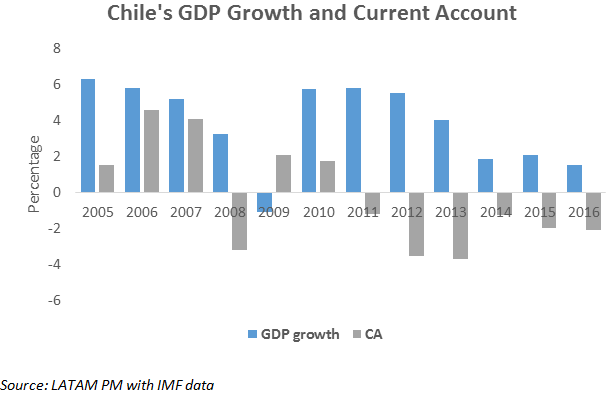 Last week, we also had a reminder that turbulent times are not over and that global demand will continue to affect Chile's economy. China reported on Monday that imports unexpectedly fell 11% in April from a year earlier, undermining the outlook for the price of copper. This caused the Chilean peso to have its worst week in almost a year weakening by 4% as investors increased their short positions on the peso in the currency forwards market.
In 2014, Chile sent in exports around 8.1% of its GDP to China, making of the Andean country one of the most exposed countries to China's demand, only after Costa Rica. The peso, currently at 690.5 per USD is likely to depreciate on disappointing Chinese data.
The fact that the market is expecting an interest rate increase not earlier than December is not helping either. Lower rates give little incentives to profit from local interest.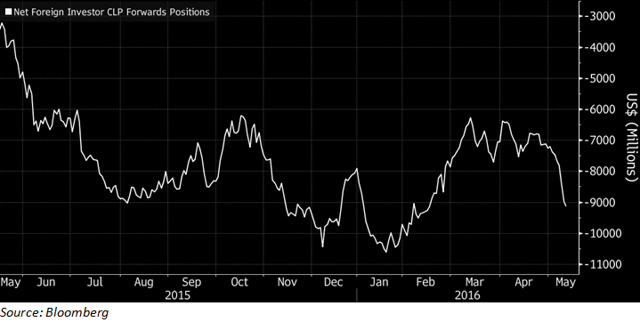 LATAM PM's Take: We continue to believe that Chile offers interesting opportunities versus its regional peers. But this is a cautionary tale that the Chile's era of fast growth will take a pause. Even with the announced budget cuts, the country is also starting a trajectory of fiscal deficits and increasing debt. The $23 billion amassed in Chile's two sovereign wealth funds have the country covered for now, but that does not save Chilean officials from having to demonstrate their ability and commitment to start fiscal consolidation going forward.
To achieve the required fiscal consolidation, political capital will be crucial. Unfortunately for Chile's president Michelle Bachelet, her approval rate remains at low levels as her son is involved in a corruption scandal, while economic growth remains weak and unemployment rise. Politicians will have to show a skilled ability to escape the negative feedback loop in which the country's economy and politics are immersed.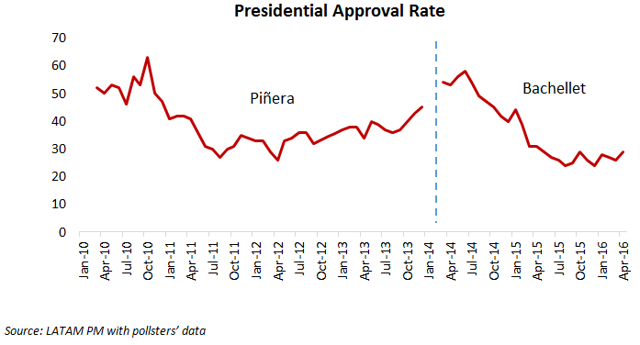 Disclosure: I/we have no positions in any stocks mentioned, and no plans to initiate any positions within the next 72 hours.
I wrote this article myself, and it expresses my own opinions. I am not receiving compensation for it (other than from Seeking Alpha). I have no business relationship with any company whose stock is mentioned in this article.