In its first quarter Jack in the Box (NASDAQ:JACK) came under pressure in the 10:30 to noon time slot following McDonald's (NYSE:MCD) launch of its all-day breakfast menu. We were critical of management, as they appeared a little slow to react to these changes and lost market share in the time slot. But a great performance in the second quarter has given us confidence that the company can win back market share and grow its bottom line.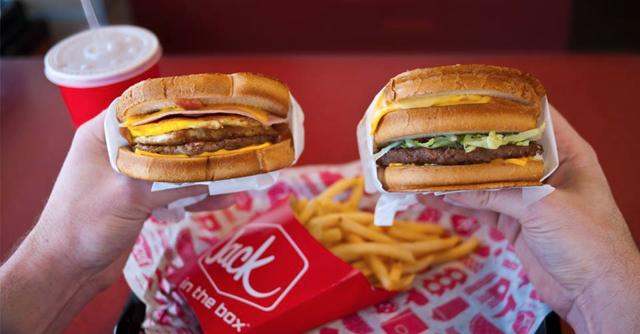 Although the Jack in the Box brand is still experiencing a spot of weakness in the 10:30 to noon time slot because of McDonald's all-day breakfast, things are definitely improving. Initiatives it has taken have helped it report that overall breakfast sales were positive during the entire breakfast day part, with mix reaching an all time high of 23%. This is a great response to the weakness in the first quarter and gives us confidence that management is getting to grips with things. As well as this, it has indicated that it can isolate the 10:30 to noon time slot and focus on strategies that will protect and then grow it once again. We believe that eventually it will win back market share in the time slot.
One thing we do like about Jack in the Box is its approach to value. Despite offering many value options, the company is still able to preserve its margins. If it can continue to provide the consumer with winning value options without pressuring margins, then we feel confident it will produce strong results for shareholders.
The upgrade of its menu appears to have been a success. All in all Jack in the Box upgraded 30 core products which we expect will resonate well with the consumer. It wasn't just a facelift either, the aim was to make the product quality better and anecdotally it appears to have delivered on this. By producing high quality products, for that particular price range, we expect it will prove to be a true alternative to the big players such as McDonald's and Yum Brands (NYSE:YUM) and produce strong sales growth. Especially as time-poor consumers, with a penchant for eating quick service food, have a growing pocket of disposable income.
Looking at the other brand in its arsenal, Qdoba, shows similar promise. Sales growth was solid which was driven by traffic growth. Many have speculated that Qdoba could have benefited from the Chipotle (NYSE:CMG) debacle, but the first quarter showed now signs of this. We feel it is unlikely the increase in traffic is from Chipotle defectors, but rather from increased marketing and strong product offerings. While the eponymous brand may have had flat same store sales, Qdoba produced a positive 2.1% increase.
If the brand can carry this level of performance through to the third quarter then we should be in for a strong quarterly performance. Cinco de Mayo and graduation season are key events for the brand which fall into the third quarter. We expect these to be a great success.
We are intrigued to learn more about the company's plans for remodelling its store. Although it may take reasonable investment, store remodels have proven to be very successful for the likes of Panera (NASDAQ:PNRA) and Wendy's (NASDAQ:WEN), producing stronger sales and increasing profitability. Anything that accomplishes a good IRR is encouraged by us.
There is little doubt falling commodity prices have been a big help to both brands. Should key commodities stay at low prices then we would expect margins to continue to hold firm. But should they increase it could start to pressure them unless management attempts to pass these costs onto the consumer. Thankfully, this is not something they have to worry about at the moment, but it is worth considering that the tailwinds the company has currently could turn into headwinds in the future that no amount of cost-cutting can alleviate. Especially with the cost of labor already putting pressure on margins.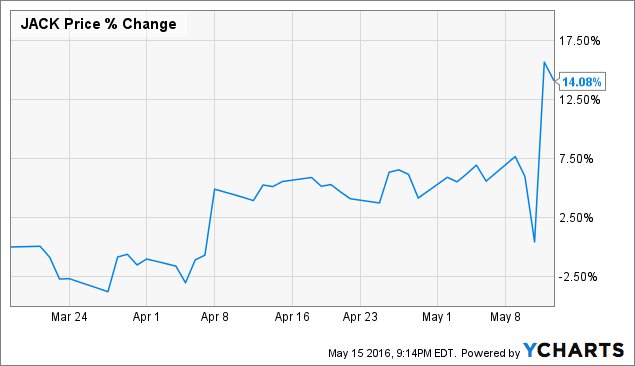 Since we recommended Jack in the Box in March, the shares have climbed by over 14% and reached our short-term price target of $74.50. This was what we deemed to be fair value if the company had a good second quarter, which it did. It could be wise to lock in gains now, but equally so, we do see a chance of further upside coming if the company can continue this good performance in the third and fourth quarter.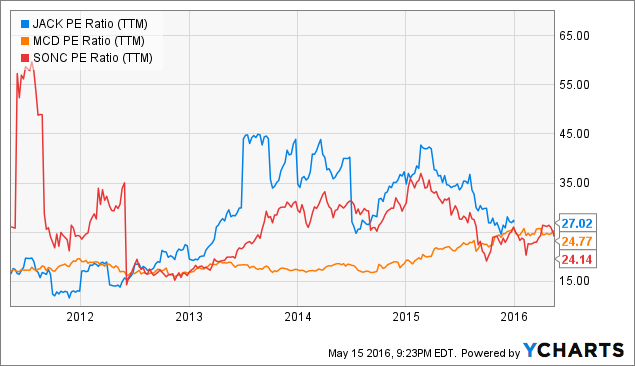 For the full year we are now expecting earnings per share of $3.55 which, based on a PE ratio of 25 which we feel is fair, gives us a price target of $88.75, representing significant upside in the region of 20%.
We feel things are looking positive for Jack in the Box right now. Although management was slow to react to McDonald's all-day breakfast launch and lost market share as a result of this, we feel the action they have taken has positioned the company for strong long-term growth.
Disclosure: I am/we are long JACK.
I wrote this article myself, and it expresses my own opinions. I am not receiving compensation for it (other than from Seeking Alpha). I have no business relationship with any company whose stock is mentioned in this article.