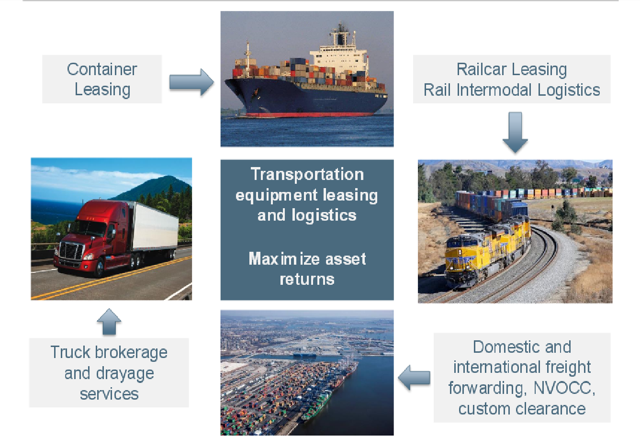 Source
In the shipping container leasing industry, few companies are expecting high single-digit year-over-year revenue growth. CAI International (NYSE:CAI) is, however, just such a company. The transportation finance and logistics provider undertook a diversification of its business in 2015. In addition to its inventory of shipping containers, CAI significantly built its railcar inventory and added logistics services - meaning the service of delivering better utilization and better positioning of inventory. CAI is now expecting those two revenue streams to contribute 25% of total revenue in 2016.
When full-year results for 2015 were reported in February, 2016, CAI was valued at less than 4 times analysts' average EPS estimate for 2016 and at a price-to-book ratio less than 0.33. The upside reward was notably greater than the downside risk. Yet, for those skittish about industry headwinds, there were progress points specific to CAI's 2016 first half that interested investors could monitor:
Railcar leasing revenue should grow at least 25% in the first quarter of 2016 when compared to the fourth quarter of 2015.

Logistics revenue should grow at least 33% in the first quarter of 2016 when compared to the fourth quarter of 2015.

A slight uptick in container leasing utilization should appear in the 2016 second quarter if the seasonal upturn materializes in May.
CAI reported 2016 first quarter results on May 3rd. It increased total revenue 14.5% year-over-year and beat analysts' revenue estimates by 1%. Specific to the progress points, railcar leasing revenue increased 28.2% compared to the fourth quarter of 2015 and 149% year-over-year to $7.3 million. Logistics revenue for the first quarter of 2016 grew 35.4% to $8.2 million compared to the fourth quarter of 2015. The two revenue streams accounted for just over 23% of the first quarter's total revenue. The shipping container leasing revenue even turned out to be an encouraging indicator. This revenue was basically flat compared to the 2015 fourth quarter which halted the downward skid from the 2015 third and fourth quarters.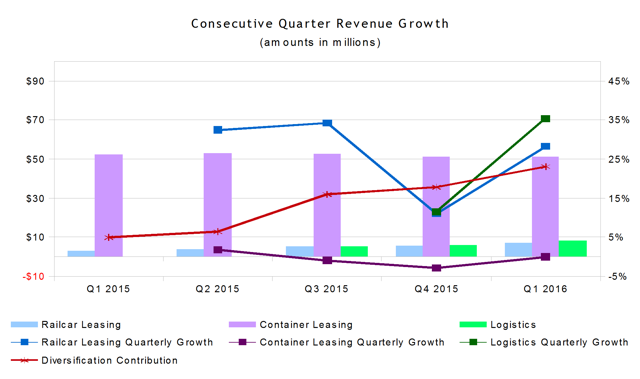 Source: Author-created from company data
In the first quarter, CAI accumulated 242 used and new railcars. On July 1, 2015, it announced a commitment to 2,000 newly-manufactured rail cars to be delivered between the 2016 second quarter and 2018. In the 2015 fourth quarter, the company agreed to a 300 railcar purchase that will be delivered during the 2016 second and third quarters. Leasing revenue occurs in the subsequent quarters following delivery. CAI shared it is seeing pressure on railcar leasing rates but still expects these assets to deliver strong performance.
"We expect that our rail assets will represent over 20% of revenue earning assets by the end of 2016."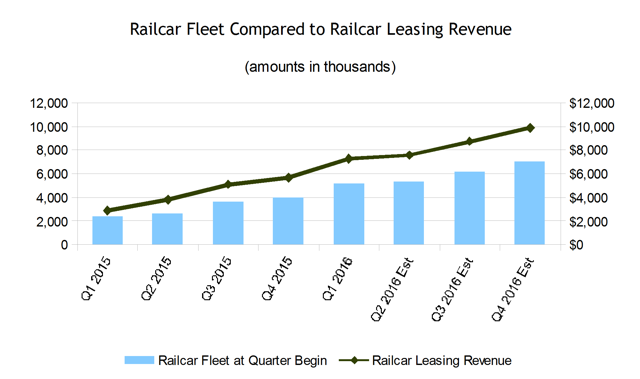 Source: Author-created from company data
CAI's logistics revenue growth in the quarter was substantially a result of its acquisitions of ClearPointt in the 2015 second quarter and Challenger Overseas in February, 2016. The annualized run rate from the two businesses is approximately $40 million. CAI reported it is already winning new customers with its logistics offerings. Even beyond a strict definition of logistics, CAI is experiencing beneficial impact.
"We do a lot of movement of containers globally, one way moves..... All of that is in the interest of getting units out of depots and into places where we can sell them and sell them for a better price than where they originated from."
Just as CAI is investing in railcar assets, it is also investing in its logistics business. It had planned to add headcount throughout 2016. Yet, because it found the right talent, CAI accelerated the pace of hiring in the first quarter. Additional acquisitions are not off-limits.
"We will look at acquisitions to the extent it gives us a capability that we would think we don't have or it would take us too long to develop."
Logistics capability becomes key as the year progresses because CAI is facing long-term lease expirations. As of the 2016 first quarter-end, 6% of leased CEUs had expired and 13% are set to expire by year-end. Long-term leases represent 73% of CAI's leases. But, long-term leases average staying on lease approximately one year after expiration. Further, the company is still expecting a seasonal improvement.
"From a container demand standpoint, the market is following the traditional path to a seasonal upturn. And, if the pattern holds, we are expecting utilization of our fleet to improve over the next three to six months."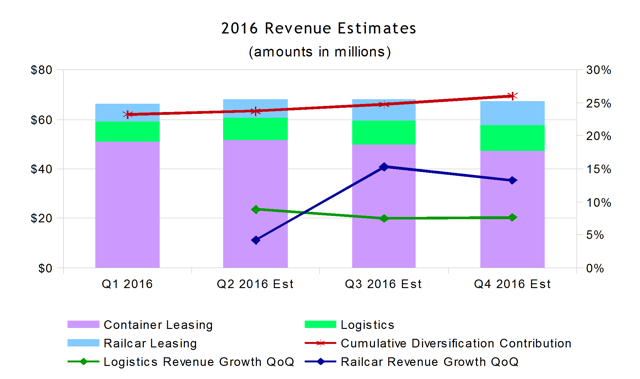 Source: Author-created from author estimates
CAI's revenue position is improving due to its diversification efforts. But, there are increased costs associated with the efforts. Depreciation expense naturally increases with the railcar inventory build. There are costs associated with the logistics business beyond the increased headcount. And then, as a result of the softness in the shipping industry, CAI's storage and handling expenses for off-lease containers increased year-over-year.
The company's net income decreased 47% from $13.5 million in the 2015 first quarter to $7.2 million in 2016. CAI missed analysts' average estimate for EPS by $0.09. Comparatively, though, operating cash decreased just 12%.
The growth in railcar leasing revenue will increase net income as the margins in that business are greater. Container utilization rate improvement will also increase net income as storage and handling costs decrease. CAI also expects to continue to see bottom-line impacts from expanding its logistics services. Matching off-lease assets with cargo owners gives the company the ability to cross-market all of its services.
Recognizing the importance to shareholder value, CAI updated its share repurchase authorization. Beginning in 2016, approximately 1.7 million shares were authorized for buyback. In the first quarter, the company repurchased approximately 700,000 shares. This brings the total to approximately 3.3 million shares repurchased in two years. Under the current authorization, approximately 1 million shares remain for buyback.
Just prior to CAI's reporting of its 2015 full-year results, its share price was struggling to stay above $5.00. In the three months following, it managed to, at times, double to over $10. For most of that period, analysts' average estimate for full-year EPS was $1.86. Analysts are now forecasting an average EPS of $1.58 for the full year and the share price has pulled back to the $7 to $8 range. Between net income gains and a lower outstanding share count, the forecasted EPS should be easily achievable.
In a $7 to $8 range, CAI's P/E multiple equates to less than 5. Competitors Textainer Holdings (NYSE:TGH) and TAL International (NYSE:TAL) are trading at multiples of 19.6 and 9.4 respectively. Textainer's price-to-book ratio is 0.61; TAL International's is 0.75. CAI's book value per share has increased from $23 at year-end 2015 to $23.88. Yet, its price-to-book ratio is just 0.31.
Without argument, CAI International is the smallest player of the three in the shipping container leasing market. Perhaps its market value is punished because it is not a dominant player. But, provocatively, CAI International is the one of the three redefining its business model with diversification efforts generating noteworthy revenue growth. Perhaps comparing CAI International to Textainer Holdings and TAL International is no longer apropos.
Disclosure: I/we have no positions in any stocks mentioned, but may initiate a long position in CAI over the next 72 hours.
I wrote this article myself, and it expresses my own opinions. I am not receiving compensation for it (other than from Seeking Alpha). I have no business relationship with any company whose stock is mentioned in this article.