Fitbit's (NYSE:FIT) Q1 2016 earnings results easily beat analyst estimates, however the key focus of the market remains on the company's future and sustainability of its business model. And with every passing quarter, there are growing concerns about rapidly slowing revenue growth, and lately also declining earnings. On top of that, Fitbit's product portfolio is steadily moving upmarket where strong competitors are already established. FIT's future remains uncertain.
Q1 2016 results
Fitbit delivered solid Q1 2016 results in absolute terms, however, looking at the big picture, there are many worrying trends. Revenue of $505M was up 50% year-on-year, but that is a significant slowdown from 210% in the year-ago quarter. The company's revenue guidance for Q2 2016 calls for another big drop in growth, from 253% in Q2 2015 to just 44% in Q2 2016. This is disappointing given Fitbit's low revenue base.
Investors are also highly concerned about declining earnings. Non-GAAP EPS was down 63% year-on-year, while the consensus estimate for the next quarter represents a huge 81% y-o-y drop. Fitbit is ramping up investments in sales, marketing, and R&D, and the bottom line heavily feels the impact. If the company is having trouble growing earnings now, what happens when the competition further intensifies and consumers demand more advanced, R&D-intensive features?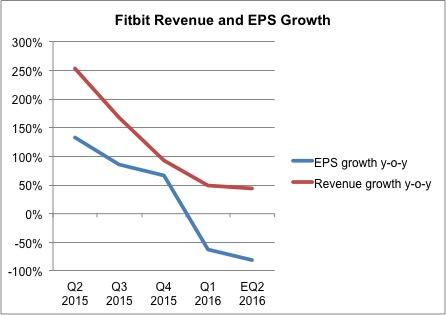 (Source: Company reports, Zacks Investment Research)
Heading upmarket
Fitbit's Q1 2016 further highlighted the company's increasing focus on innovation, adding new product features, and slowly moving upmarket. This is evident in the company's latest products like the Blaze and Alta (together made up 47% of the Q1 2016 revenue), rising ASP (up ~50% from $68 in 2014 to $100 in the last quarter), and increasing investments in R&D. Add CEO James Park's recent comments about opportunities in making wearables more integrated with "the cars or homes or buildings or payments", and it increasingly looks like Fitbit wants to embrace the smartwatch market and compete more directly with the Apple (NASDAQ:AAPL) Watch.
Adding features and moving upmarket allows Fitbit to avoid the race to the bottom in the low-end of the wearables market (see Xiaomi's $15 Mii band), and, importantly, to align its product strategy with the inevitable direction of the wearables market. Mass-market consumers are more likely to ask for more utility on the wrist, not less. It is the lack of utility which makes traditional watches increasingly irrelevant, and vice versa, companies like Fitbit exist because customers value new and exciting use cases for wrist-worn devices.
Fitbit's problem
However, there is still a significant problem with Fitbit's strategy. As I wrote in 'Does Fitbit Stand A Chance Against Apple?', moving its product portfolio upmarket also means that Fitbit will inevitably go head-to-head against much larger corporations like Apple or Samsung (OTC:SSNLF). In fact, there is already a narrow pricing gap between Fitbit's Surge ($249) and Apple Watch Sport ($299 for the 38mm model). That difference will likely get even smaller in the future as Apple traditionally moves downmarket with older versions of its products.
As Fitbit moves towards full-fledged smartwatch products, it will inevitably find itself disadvantaged in the world of large and vertically integrated companies which benefit from their global brands, deep pockets, and proprietary hardware, software, and services. Fitbit's resources and competences are currently well aligned with the early adopter stage of the wearables market. Consumers have embraced the basic health and fitness trackers as these work well as an easy introduction to the new wearable technology. However, will Fitbit be able to make the jump from relatively simple devices to the world of big-budget, cutting-edge hardware as the wearables market evolves?
Investor takeaway
Fitbit is the current market sales leader and a wearables pioneer. However, the stock market is a forward-looking mechanism. A young hardware company dependent on a single hit product (see 'Fitbit: 5 Things Bulls Are Missing') and about to compete with industry giants - this is certainly not the recipe to predictable and recurring cash flows. This is a huge risk.
Author's Note
If you have enjoyed reading my article and found its content valuable, please take 5 seconds to follow me by clicking the Follow button next to my name at the top of the page.
Disclosure: I/we have no positions in any stocks mentioned, and no plans to initiate any positions within the next 72 hours.
I wrote this article myself, and it expresses my own opinions. I am not receiving compensation for it (other than from Seeking Alpha). I have no business relationship with any company whose stock is mentioned in this article.
Additional disclosure: This is no recommendation to buy or sell securities as that carries with it very high risks. The information contained in this article is for informational purposes only and subject to change at any time. Do your own due diligence and consult with a licensed professional before making any investment decision.